Are you in search of a new way to add décor to your home? Easily add a stunning showpiece by displaying your favorite memories with Triptych canvas prints. With this canvas style, you can add 3-panel wall pictures above your fireplace or sofa, creating a beautiful focal point in the home. By learning more about triptych can help you to create custom art pieces in the home.
What is Triptych?
Technically, Triptych is a fancy word used to describe taking one image and splitting it into three panels. The image is sectioned off and instead of applying one large canvas to your walls, you can create a split image to add dimension and interest to the space. Triptych Canvas Prints are a wonderful way to show off landscape shots in your home, or images that have an off-center subject or images that fall into a theme. This type of installation can easily tell a story in your home. Newly married? Use 3-panel wall pictures to show off your love story. Split an image from your wedding or even engagement to have a lovely art piece that helps you enjoy a favorite memory on a daily basis.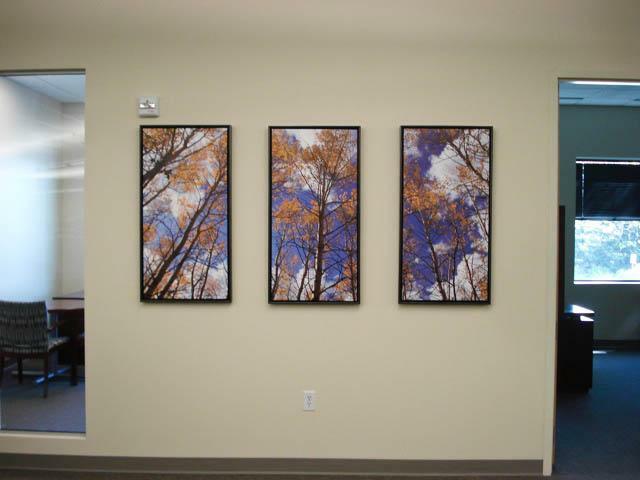 Choosing Your Photo
When creating Triptych Canvas Prints, you must take the time to consider the photo you will use for the project. You will need basic Photoshop skills because the image will need to be split into three sections and remain in high quality, flowing together. The best photos for this type of project are landscape images or a photo with an off-center main focus. Let's start with a landscape. If you took a recent trip to the Grand Canyon or other beautiful areas, and have landscape photos, you can split the image into three sections and have the images applied to the canvas. Pull the image up on your computer. Use photoshop or an equivalent editing app to split the image into three images. Each section of the image will need to be saved separately. This way, when you create your canvas, you will apply the separate images to the canvas. Once the order is complete, you will receive three canvas pieces that you can install anywhere inside your home. You can also use Triptych Canvas Prints with off-center photos. An engagement or wedding photo is perfect if you have one where the couple is off to the right or left side of the image. This way, the couple would be one section of the Triptych while the other area of the photo will be cut into two more sections.
Creating Art for Your Home
If you are like most people, you have photos that you love, but you don't print or display them. Why not go big and use Triptych canvas prints to create a massive art piece displaying an event or time that you cherish? Because you create this type of art installation yourself, you have full creative control. You choose the photo and how it will be displayed. In general, 3-panel wall pictures will be hung vertically. You can opt for a long and skinny display with three canvas pieces or you can choose to go with larger square sizes. The type of display you create will depend on the type of image you choose. A large landscape looks beautiful when placed on a larger canvas that is taller instead of shorter. You can create a large installation that fits a large wall when you have a quality landscape photo at your disposal.
Placing the Photo on Canvas
Once you have your image chosen and saved in separate image files, you are ready to apply it on canvas. Log online to Canvas Press and begin to create your project. You will select your canvas print size and then apply the photo online during the creation process. Adding photos is a simple process and once you have your three canvas pieces ready, you order your project.
Takeaway
The Triptych Canvas Prints will arrive ready to hang. Once installed, you will have a wonderful art display that shows off your favorite image and creates a lovely showpiece in your home that you will love!