Decorating your home can be fun. There are so many new ways to add features to your home, especially when it comes to canvas prints. A new way that homeowners are adding décor to their home is with multi-panel canvas prints. You can easily section off a photo on canvas to create a unique piece of wall art for your home. These prints can be added in small, medium and large sizes based on placement as well as design needs. General options for your home include Diptych, Triptych and Quad arrangements. With the Diptych option, you will have one image that is split into two separate images. With Triptych, one image is split into three images. And of course, the Quad option is when one picture is split into four images. Learning more about these formats can help you choose the right splitting process for your new canvas prints décor.
Single Photo
This option is one of the most popular among homeowners as it is easy to do and works well with images of landscapes or other elements of nature. To use this option for your next canvas print project, you will want to crop the photo and save each cropped image as a separate image file. When you make a multi-panel print, you will use a single image for each canvas. This way, each image you are using will be of the highest quality. You can choose to create two panels, three panels and even four with one image. Play with your options and determine if a horizontal layout or vertical layout will work best.
Using Different Images
Instead of using just one image for your project, you can use different images and combine them together for an art display. This works well when you have a large wall and you want to hang a larger installation. If you have several landscape images that blend well, you can use the familiarity of the landscape to blend the photos with your hanging style. The theme should be cohesive, so the art installation flows well once it is hung in your home. You can consider adding a color border to your multi-panel canvas print so that they blend well together to create a quality design element in your home.
Selecting Your Images
When it comes to ordering canvas prints, you want to select your images and prepare them beforehand. Think about where you will be installing the artwork. Are you going for a personal touch? If you want to create an installation involving personal photos, such as family photos or from your wedding, you would want to install the pieces in your family room. Landscape installation can also be placed in common living areas or in such areas as your dining room.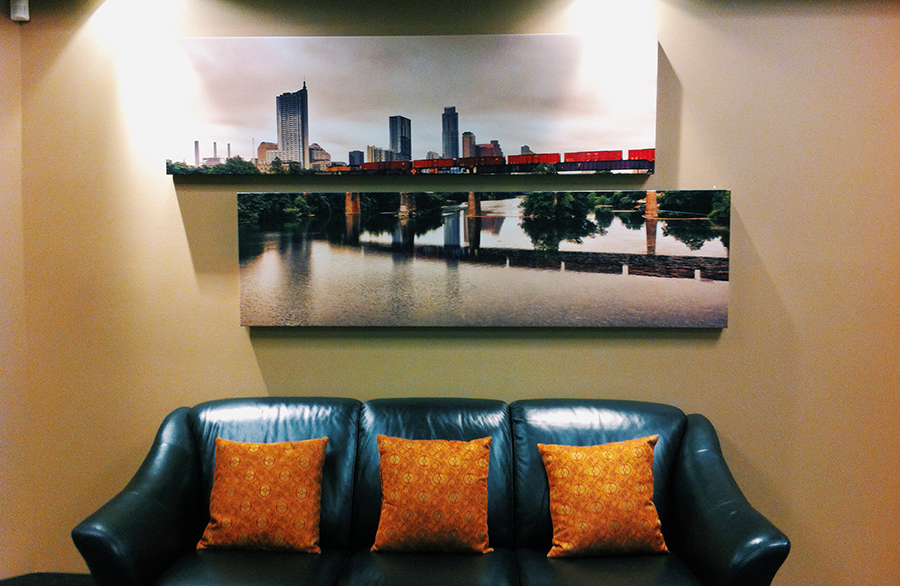 Consider the photos you want to use and determine how much space you have. If you have an open wall, a Quad installation will work well. But you have to be sure the photo or photos you want to use will separate well and be high quality once saved as separate image files. If the image is not high quality, it will not print well on the canvas. You must also consider what design shape you want to go with. For a split canvas, you could go with two horizontal canvas pieces or you could go with two rectangle shapes. When using varying shapes, such as a rectangle with two squares underneath, you want to make sure your sides line up when the images are applied to the canvas. If not, when your panels are hung together, they will not appear as one solid image.
Takeaway
Taking these tips into consideration can help you to create unique art pieces in your home featuring multi-panel canvas prints. Play around with your creations and order after you find a configuration that works for your design style.