To be a good father, you have to put in the effort, show up and show your kids they matter—which is exactly why a personalized canvas print of a favorite quote or photo is the perfect gift for Father's Day. No matter how much time he spends at work, how many times he embarrasses you in front of your friends, or how often he can't remember where he put his keys, there's no better way to say "Thanks for everything!" than by giving him something that reminds him that family always comes first. Here are some ideas for choosing the perfect canvas print for your dad:

A canvas print of a favorite quote
A quote is a great way to personalize a gift and make it special. Quotes can be inspirational or funny, they can be about family, friends and even yourself! The possibilities are endless so you don't need to worry about searching out the perfect words for your dad. A quote will give you something to talk about when you look back at his new artwork and will remind him of your thoughtful gift every time he sees it on his wall!
You can also create your own quotes for this personalized gift idea. If you want to keep it simple and sweet, try something like "I love my dad" or "You are my hero". Take some inspiration from the ideas listed above and come up with your own quote!
Personalized photo collage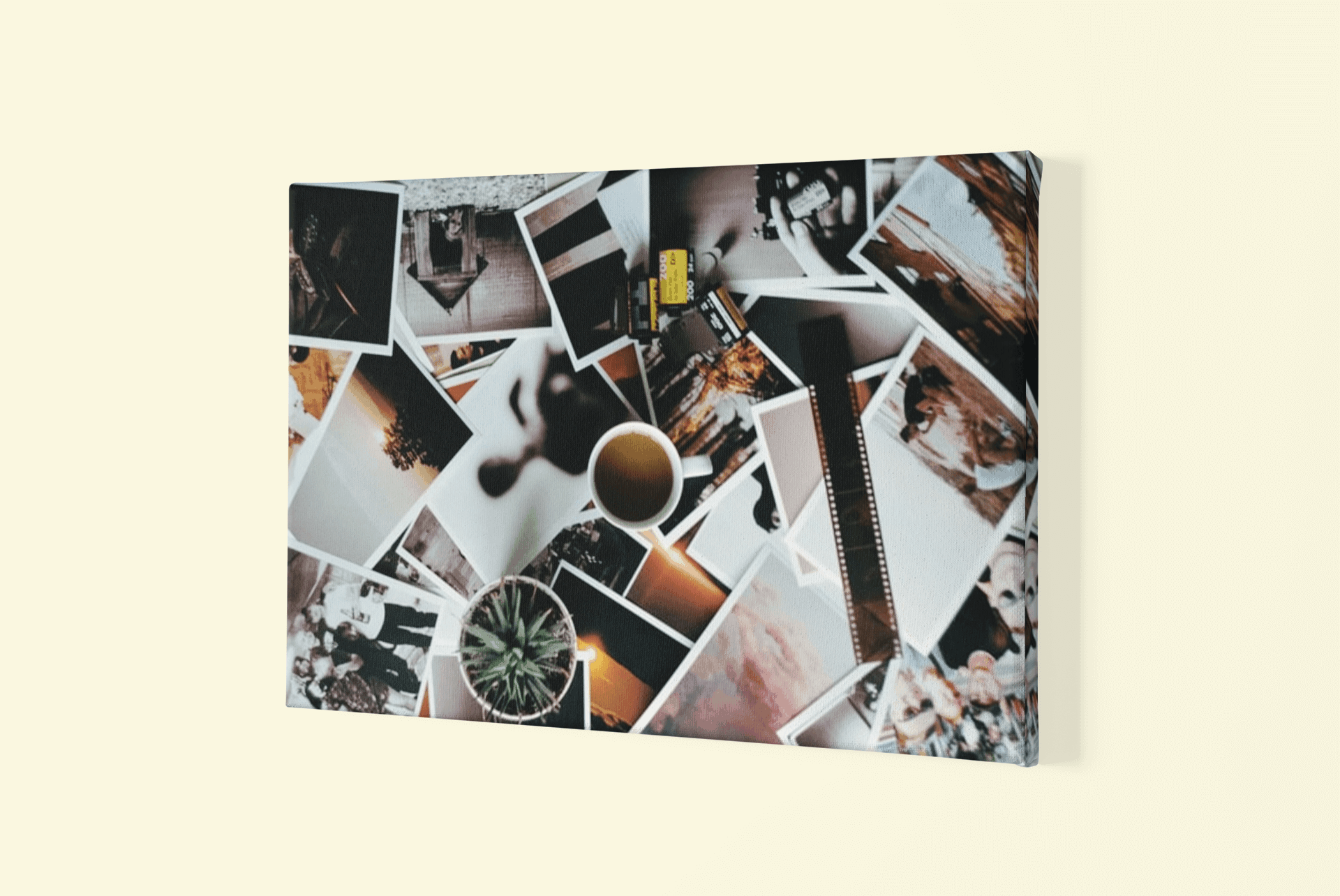 You can easily add a personal touch to your canvas print by adding a photo collage. Make sure that you have enough photos to include in the collage, and decide on the layout. You can use simple squares or circles, or go for more sophisticated layouts like the one below:
A canvas photo of him and the kids
A canvas print of Dad with his children is a perfect way to celebrate Father's Day. Whether they're playing sports, music or video games, it will be a lasting reminder of their bond and the years of fun they've had together.
You can show the dad in your life how much he means to you with a canvas print that captures a special moment in his life. Whether it's an image of him playing with the kids, or all of you enjoying time together as a family, these canvas prints will make Dad feel like the most important person in the world.
A canvas map of his hometown
A canvas print of his hometown will make him feel like he's back home.
It's a great way to show him you care about the place where he grew up, and it makes a unique gift that he can hang in his office or study.
This is an especially good option if you don't have time to make something handmade this Father's Day. You can create this item on CanvasPress.
Canvas art of him and his dad
Another great way to honor your dad on Father's Day is by creating a custom canvas print with a picture of him with HIS dad. Honor your father and grandfather in a unique way that will last a lifetime.
Create the feeling of nostalgia by using an old photo from his childhood. This can be especially meaningful for dads that are missing their own father–or to commemorate the legacy of great fathers that have made a difference in your life.
A canvas print of all the people who matter most to him
For the dad who has everything, a custom canvas print from CanvasPress is the perfect way to show your love for him. Create a custom canvas print that features all those who matter most in his life—his family, friends and kids.
You can even customize the text and colors of this canvas print by adding your own personal messages and changing its background color! So whether it's a Father's Day gift or just something to fill space on his wall at home, this one-of-a-kind gift will be sure to make him smile.
A canvas print of you and Dad on your wedding day
One of the most precious times in Dad's life is that moment when he gives you away. Weddings symbolize the end of an era and celebrate a new beginning. Remind your dad this Father's day how important his role is in your life.
It may feel like he's lost a part of you, but a canvas print of you and your dad on your wedding day will honor his lifelong commitment to fatherhood– and how special his presence is to you on your journey from childhood into adulthood.
He can hang his canvas print in his favorite room whether it's his office, bedroom or family room. This custom Father's Day gift will mean the world to him!
A canvas print of a family vacation
A family vacation is a great way to spend time with family and create lasting memories. You can choose from many different options, but one of the best ways to celebrate dad this Father's Day is to choose a canvas print that includes all of you on your last family vacation.
Choose a photo of everyone making funny faces or doing something else silly while waiting for the shot! Candid shots are fun and a great way to show everyone's unique personality.
Family vacation canvas prints combine beautiful backdrops and a feeling of togetherness that will take him back to that space in time every time he sees it.
A family photo sesh!
A family photo session is a great option for a custom canvas print. Surprise Dad by giving him a lasting memory on canvas instead of photo paper! This unique way of preserving his precious memories will look great hanging on any wall.
You don't even need a professional photographer, just follow some of these tips below:
Make sure everyone is dressed nicely—no sweatpants or shirts with holes allowed! And don't forget to clean up any stains on any clothing items before taking photos.
It's helpful if there is some sort of lighting direction as well—either natural light coming into a room (if possible) or lamps placed strategically around subjects for even coverage across faces and bodies. The last thing anyone wants is an unevenly lit photograph where half of someone's face ends up being completely dark while other parts are overexposed due to harsh lighting conditions!
Lastly: make sure everyone looks good together! You can do this by choosing one color scheme throughout which works well together--like reds/purples/blues--or creating contrast between everyone wearing black-and-white with a pop of color; this creates visual interest for viewers without distracting them too much from what matters most: YOU AND YOUR FAMILY!
Include your fur babies
Don't forget to include your family pet in your canvas print! Dads are always the last to say yes to the addition of a new family member (pet) and oftentimes end up with a special bond that no one could have predicted.
Give Dad a canvas print of him snuggling with the cat sleeping on his head, taking the dog out in the rain with an umbrella, or hand feeding lettuce to the tortoise in the backyard.
You could also create a canvas print with your family pets in the foreground of a family portrait like this: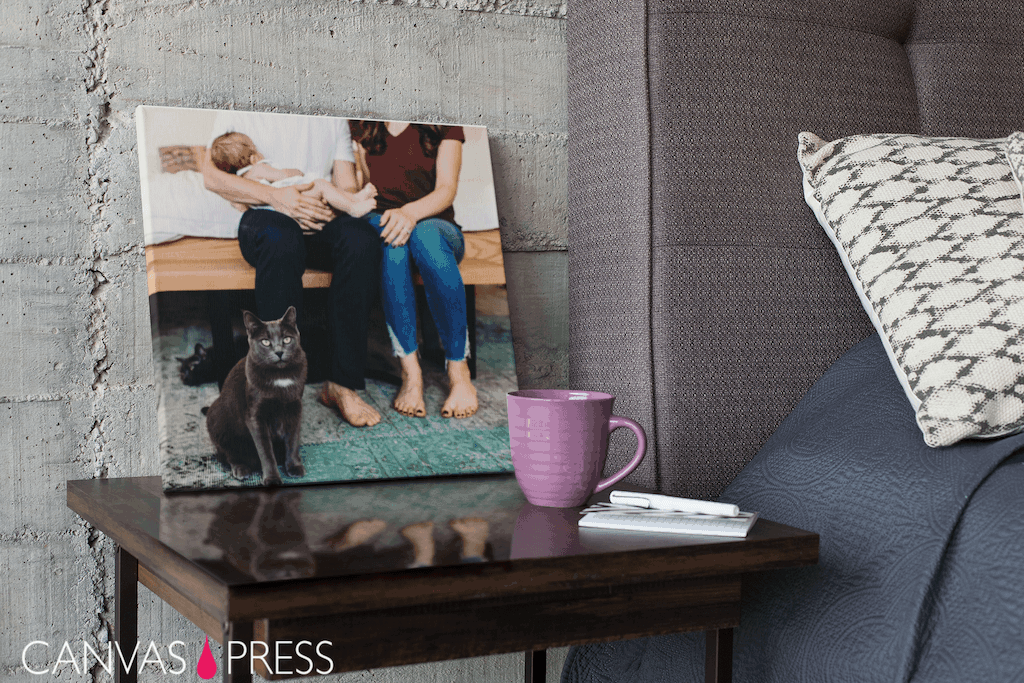 We hope you and your father have a wonderful Father's Day. Remember to be generous this Father's Day and show Dad your appreciation for all the times he shows up for YOU. Create a canvas print from CanvasPress, the perfect personalized gift for Father's Day or any day of the year!