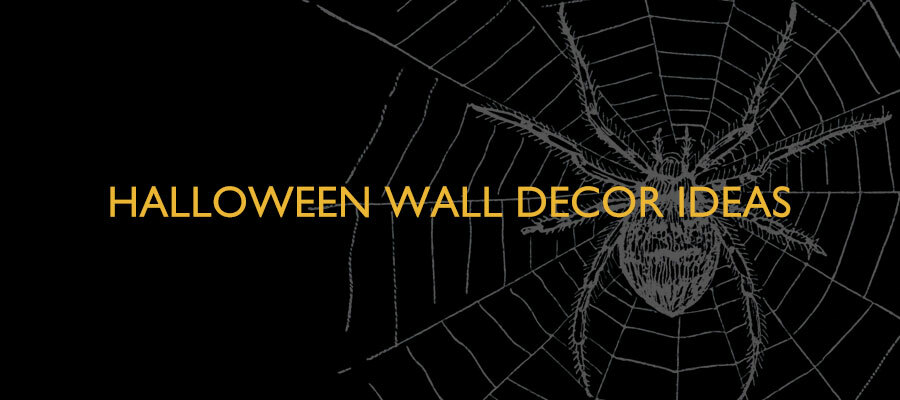 Halloween is right around the corner – are you ready to decorate? Go-to bats, vampires, and spiders are being joined by three major Halloween wall decor trends this year to make Halloween bigger and spookier than ever. These trending Halloween wall decor ideas will help you find the perfect wall decor for Halloween to hang in your home.
Ghoulish Victoriana
The dark gothic aesthetic of high Victorian is a huge trend in Halloween wall decor this year. Striking a balance between spooky and classy, this trend gives an instant Halloween feel that can be incorporated into most existing decor styles with just a couple pieces. The predominant black, cream, and grey palettes for spooky Victorian decor make it even easier to pull together a spooky look in no time at all.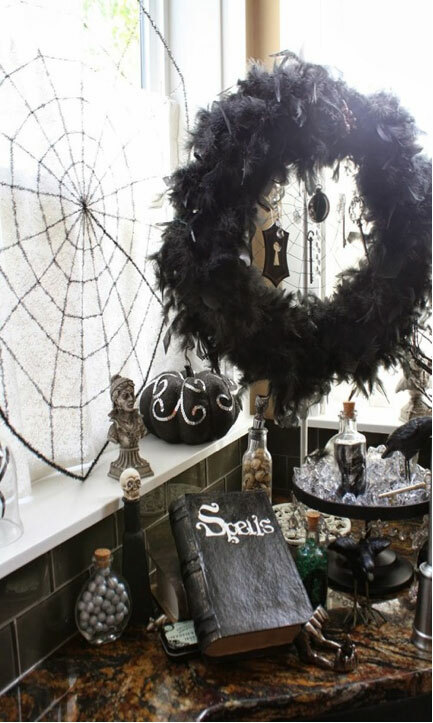 Black wreaths can instantly capture the Victorian gothic mood. Photo via Carrie Roberts Wood on Pinterest from delicateconstruction.com.
Black wreaths. Black wreaths festooned with black roses or feathers have instant Victorian appeal. White, silver, or cream ornaments can add a little holiday appropriate contrast and lighten the mood if pure black is too dark for your scheme.
Cross stitch on canvas. Needle art was characteristic of the Victorian period, but you don't need to be a sewing whiz to create your own spooky cross stitch on canvas with this simple hack. You might also consider ordering a spooky canvas print of one of your own photos and adding cross stich embellishments for a twist on this idea.
Hanging candelabras. As fast as this trend is catching on it's easy to find gothic candelabras at any Halloween store. If you don't want to run the risk of traditional candles, most stores are also stocking battery powered candles in standard sizes.
High Tech Scares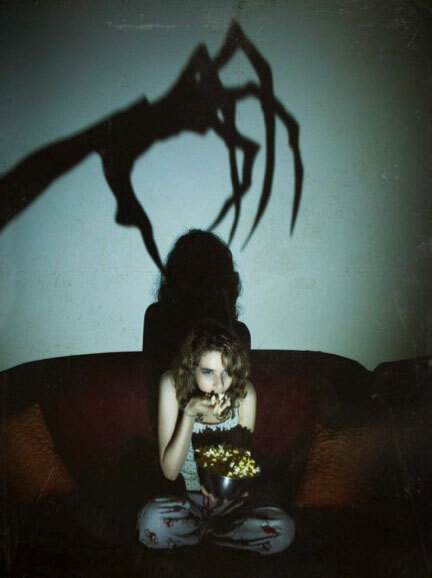 You can create your own spooky projections with just a little bit of tech and time. Photo via Carrie Roberts Wood on Pinterest.
High tech fright is becoming affordable with the explosion of Halloween decor aimed at all budgets. If you want to add a bit of tech to your decor you can typically find off-the-shelf versions as well as DIYs for almost any spooky idea:
Animated projections. Projections are a fabulous temporary wall decoration, especially for parties; there's no need to put holes in the wall and storage is a snap. This wall-on-fire display how-to from Instructibles is a quick starter.
Unexpected frights. Mirrors play a major part in many scary stories, and thanks to a little tech can be part of your scary night too. Wall decor like the Scary Mary Mirror is perfect for an all-out Halloween bash. You can also DIY an eerie mirror with haunting images.
Endless scares. If you have your own ideas for a spooky projection, you can turn a smartphone into a projector for an evening with this easy upcycle project.
Day of the Dead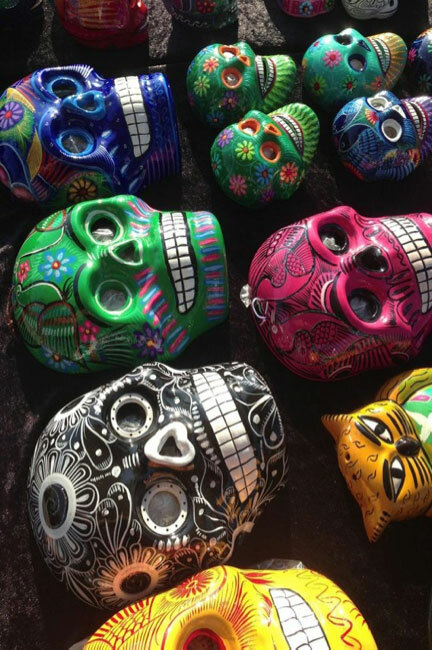 Sugar skulls add color and combine spooky with whimsy for fun trending Halloween wall decor. Photo via Lily on Pinterest.
The Spanish holiday of Day of the Dead or Día de Muertos has long been celebrated at Halloween, and the highly vibrant decorative traditions associated with this holiday are a major trend for Halloween decor this year. Topping the list of Day of the Dead inspired decor are sugar skulls or
calaveras
, skulls decorated with intricate designs that incorporate vines, flowers, celestial bodies, and other motifs. You can find many sugar skull decorations in stores or DIY your own paper or papier-mâché skulls. Happy hauntings!
This article is written for Canvas Press. To find out more about Canvas Press' products visit www.canvaspress.com.