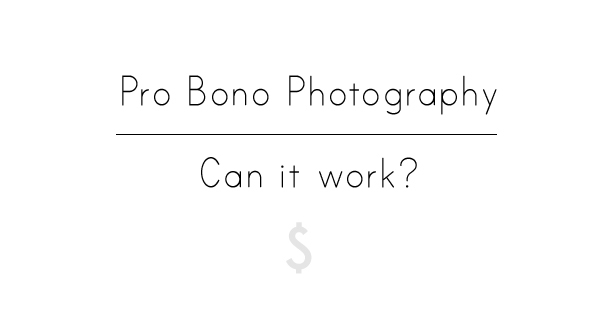 If you have been thinking of starting a photography business, then you must have been taking lots of pictures, not only for yourself but for others too. So now is the time when you can make your pro bono work worth all the effort. Many photographers feel that pro bono work can reduce their chances of gaining a name in the professional world. What they don't realize is that they can use it to leave a distinct impression on the minds o future prospective clients. So are you one of those budding artists trying to start your own photography business? Thinking of how you can make pro bono stuff work? Here are a few things that can help you and a few things to watch out for too.
Getting Experience with Pro Bono
The best part about pro bono stuff is that you get to learn a lot. When you offer your services for free, nobody complains if they aren't of the most superior quality. This means more learning opportunities for you. The more photos you take the better you will get. Ultimately you would be working, albeit for free, but working all the same and aiming for your best shots. Pro bono allows you to learn techniques of becoming a professional. Another experience that you acquire is that of learning to tackle clients and subjects of your photography. You get to know how clients would behave and how you would need to handle them. This way when you get your actual paying projects, you would be able to tell the client that you have dealt with such a situation and know your work. Be careful to be choose who you give your free services too. If you give away too much (ie to a business) thinking the next time they will pay you, think again. It is likely that once you set a precedent of not charging then that business or group will likely not want to pay you the next time around.
Pro Bono Lets You Develop Your Portfolios
Probably one of the biggest benefits of doing free work. When you work pro bono, you are actually generating a huge portfolio of a variety of work. Whether it is for non-profit organizations or for weddings, you have every kind of experience imaginable. When you try starting your own photography business, you need to show people that you have worked on real projects and that you are worth something. Your pictures will speak a thousand times louder than your words. Think of your payment as the experience gained and the ability to show prospective clients this work you have done. Unlike your professional work, where in most cases you have to sell the rights of your photos to the organization you worked for, pro bono does not adhere to any such rules. The pictures that you capture on your pro bono assignments are your property and you can use them for your portfolios. So when you start your own business, you would have a readymade portfolio to attract clients from all areas as your photos will be a mixture of every genre.
Marketing with Pro Bono
Research shows that customers/clients are more inclined to opt for companies/organizations that are associated with some form of good cause or charity. Pro bono has now become a marketing strategy, a type of branding that lets the world know, about how you are a kind hearted, concerned citizen of the society. So if you associate yourself with some local charity or other nonprofit organization and someone discovers this, then many new clients will approach you to work for them too. Most of them will be ready to hire you on contract. If some big charity organization finds you while you were photographing pro bono then it could completely change the outlook of your future. Remember, most NGOs work in collaboration with each other and their ability to spread word should not be underestimated. Choose who you are going to do your free work for carefully. Doing work for a charity is amazing, but if you can pair the free work you are doing with the type of work you want to get paid for in the future that is a true win-win scenario.
Doubt Pro Bono No More!
Believe in the power of charity. It can work wonders. Not only can you earn yourself a name for being a generous soul, you will also become well known among a variety of circles that can become your future clients. Don't let this get in the way of your creativity though, and don't make pro bono all about yourself. Try your best and you will ultimately hit high with your photography business.