Interior designers will agree that wall art has a huge impact on your home decor aesthetic style. The right wall art can make a statement, serve as a focal point, and overall help tie a room together that doesn't seem quite finished. There are various different types of wall art that can be used, but canvas prints pose as a particularly tempting option due to its versatility and casual chicness.
Finally finding that perfect print to match your room is a relief, but there is still one more step before you purchase - deciding on the perfect size canvas. A surprising number of homeowners struggle with finding the right size canvas print for their walls, but you can simplify the process by keeping these pro tips in mind.
Go Big and Make a Statement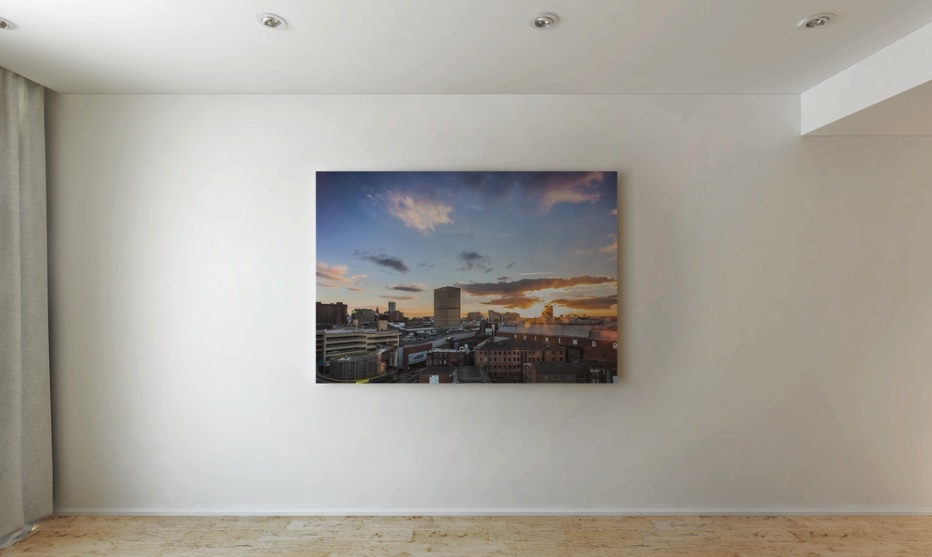 (Photo by
Paul Grogan Photography
)
One of the most common mistakes made when choosing canvas prints is picking canvas that is too small for the wall. When it comes to wall art, in nearly every situation the bigger the print, the better. Remember, your canvas print should serve as a big statement or main focal point on your wall. Too small of a print on an otherwise blank wall look unpolished and detracts from the beauty of your print.
If you have a single blank wall you'll want to choose a canvas print that takes up the majority of the wall. However, if you have a few canvas prints you really want to display, go with a gallery wall style that uses different prints in different sizes. Even if you go the route of a gallery wall, you'll still want your gallery set up to take up the majority of the blank wall.
The 3/4 Rule for Walls and Furniture
There are few steadfast rules in interior design, but a good rule of thumb when selecting wall art is to go with a display that will cover 2/3 to 3/4 of the wall. Measure your wall and determine how much space you gave for your print. If you plan on doing a gallery look then you'll follow the same route, but be sure to account for your spaces between the different canvases.
Where the 3/4 rule really works well is when deciding on a canvas to display over some type of furniture, whether it's behind your sofa or over your mantle. When you plan on hanging a print over any type of furniture you will want to select a canvas that is 3/4 the width of the furniture itself. Additionally, the canvas should be roughly 6" to 12" above the top of the furniture.
Landscape vs Portrait Canvas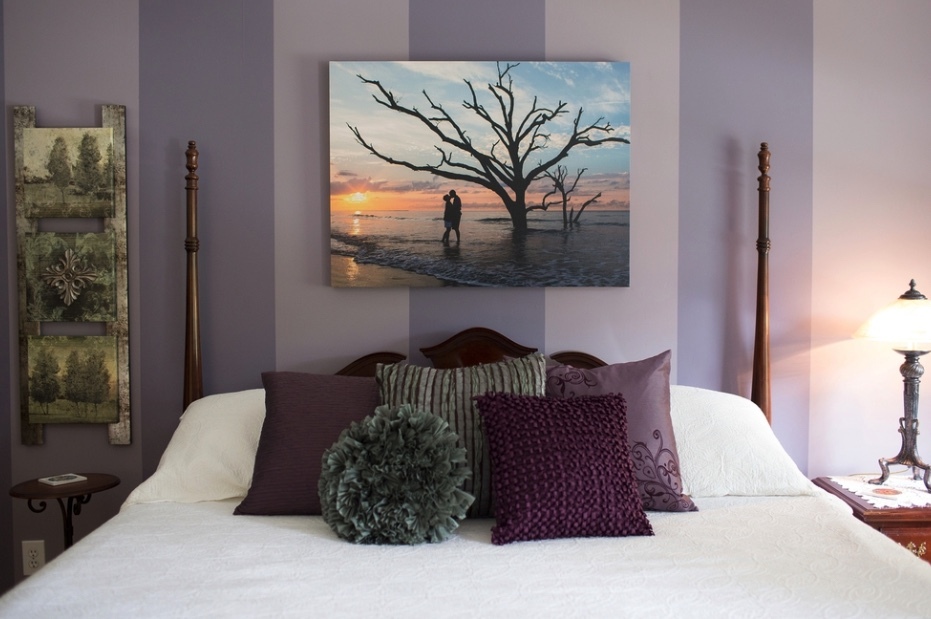 (Photo by
Claire Diana Photography
)
Another thing to consider is the orientation of the print and how it can affect sizing. Typically if your wall is narrow and tall, particularly narrow walls in rooms with vaulted ceilings, you will want to select a canvas that is vertically oriented, also called portrait orientation. This will allow you to get the biggest canvas you can in this space while maintaining balance. If the wall is instead wide, such as a hallway or the wall behind your bed or couch, you are better off going with a landscape print. This will offer the same advantage of covering the maximum amount of space.
Customize Your Size for Tricky Spots
It's safe to say that not every wall is perfectly equal in height and width. If you have a tricky wall, perhaps one exceptionally narrow or maybe one shorter than the standard 8' height, then a great solution is to go with a custom canvas print size. Canvas Press not only offers custom prints, but also completely custom sizing. As far as height x width go you have the choice of 8" to 96" for either option. This really comes in handy with difficult walls or if you're designing a stunning gallery wall look but find the normal size canvases to be too large or small.
Don't Go Too High
Second to selecting too small of a print, hanging prints too high on a wall is a common mistake. When you hang your print too high you throw off the balance of the room and can actually make your room seem shorter in height. The key to getting the right height is to hang your canvas with its focal point at roughly eye level.
Based on the average height of a person, this means the center of your print should be right around 57" from the floor. Remember, this only applies to prints hung on a blank wall. When hanging over any type of furniture or furnishing, go with the 6" minimum from the top of the furniture rule. If you're creating a gallery wall on a blank wall, aim for the main center canvas to be 57" to 59" from the floor.
This process of selecting beautiful custom canvas prints for your home doesn't have to be a frustrating process. All you need to do is measure your walls or the space where you wish to hang your canvas, go by the 3/4 rule, and keep in mind what orientation will work out best. By keeping these professional interior design tips in mind you'll be rewarded with a perfectly hung canvas print.