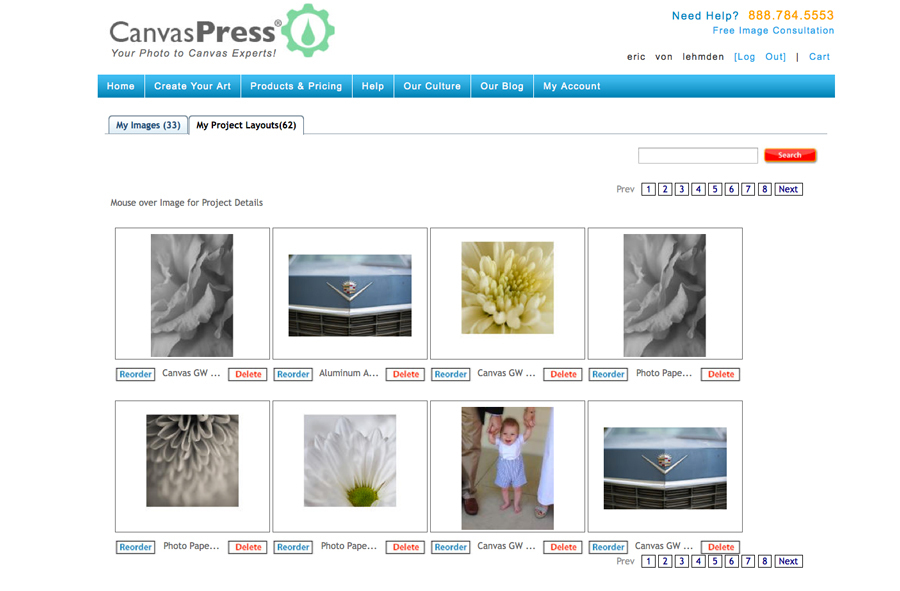 Did you know that you can save your photos for future photos on canvas at
CanvasPress.com
? Being able to save your photos for future projects can save you time and make re-ordering or reviewing your past ideas for photos on canvas a snap. You'll also have a backup of your project should anything happen to your original image! All you need to get started is a CanvasPress.com login. Here's how.
Create a Login and Upload Your Images
If you don't already have a login on Canvas Press, don't worry. Creating one is fee, easy, and all you need to provide is your e-mail address and your chosen password. Start by clicking "Login" in the upper right hand corner of the
CanvasPress home page
. Under "New Customers," enter your e-mail address and type in your chosen password twice. Next, click "Register." You'll see an Account Overview page, where all of your activity will be displayed once you've uploaded photos or made an order. To upload your images to Canvas Press from here, click on the "Create Your Art" option on the top menu bar. You'll see a page where you can "Select from your PC" or "Select from image library" for your images. To start, click "Choose File" under "Select from your PC" and click Upload for each photo that you want to save. Every photo you save will be saved to your image library.
Working with the Image Library
Your personal image library on Canvas Press will save the images that you upload as well as projects for photos on canvas that you start, even if you haven't ordered your canvas yet. Images you've simply saved will appear under the "Select from Image Library" tab. Once selected you will be able to see image you uploaded and also photos you have already ordered as canvas prints under "My Images" & "My Project Layouts." To save a project under "My Project Layouts," pick an image from "My Images" by clicking the "Create" button that appears under the image. You'll be brought to the order options area for creating your canvas print. Here, you can choose your size, border type, canvas depth, and more to fashion the perfect canvas print. When you're done, click "Add to Cart" for your image. After the image has been added to your cart, it will be saved to your image library under "My Project Layouts," even if you haven't ordered it yet. If you decide you're not ready to order, that's ok, too: you can remove the image from your cart, and your options will still be saved in your projects for when you're ready for your perfect photos on canvas to be produced! All you have to do is make sure that you are logged in for these features to work. If at any time you have questions about your image library and using it to save and make your photos on canvas, look for the image consultation icon in the lower left of the order screens or click on "Free Image Consultation" at the upper right of any page on CanvasPress.com. You can also call us at 888.784.5553 for expert, personalized help for all of your photo printing needs.
This article is written for Canvas Press. To find out more about Canvas Press'products visit www.canvaspress.com.