Is your Christmas home d&eacutecor stuck in a rut? We all enjoy unpacking the holiday memories of years past, but sometimes putting the same decorations in the same places can start to feel old. Not to worry though, because you can re-use the same Christmas house decorations in a different way for an up-to-date look without breaking the budget! These original Christmas decoration ideas will break you out of your routine while preserving the meaning and memories of your holiday traditions.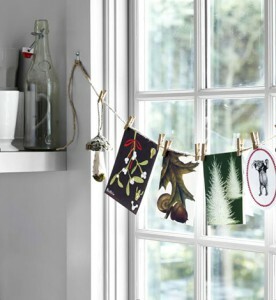 Hanging Christmas cards from coordinating string creates an instant focal point sure to bring attention to these heart warming treasures.
Photo courtesy bystephanielynn.com.
A New Way to Display Christmas Cards and Photos
Do you display your Christmas cards on your refrigerator or mantle? These are common spots for treasured holiday missives, but there's a new and visually interesting way to display your Christmas cards without creating holes in your walls that will need to be patched up later. With just two adhesive hooks and a length of rope or ribbon, you can create original Christmas house decorations from your Christmas cards and photos. Here's how.
Depending on how many Christmas cards you typically receive (or how many Christmas photos you take!), place two removable adhesive hooks, like Scotch Command hooks, 3 to 5 feet apart on a clean wall.
String a length of rope or ribbon between the hooks. To coordinate with your Christmas d&eacutecor, you might use twine, blue or silver ribbon, or even extra strings of beads. Tie securely at either end and leave a little slack so that the material you use has a slight curve.
Use clothespins to attach Christmas cards and photos to your new display as they arrive!
Framed ornaments are a contemporary update for decorations that might otherwise go unused.
Photo courtesy littlebirdiesecrets.blogspot.com.
Frame Extra Ornaments
Families tend to end up with more ornaments than can possibly fit on the tree, yet you don't want to relegate treasured ornaments to another year in storage without display. For an easy update on Christmas wall art, you can "frame" those ornaments using old or unused frames you already have.
Carefully remove the glass and backing from the frame. If you intend to reuse the frame later, keep the glass protectively wrapped in a safe place until after Christmas.
If you don't intend to use the frame again, paint it in a festive holiday color that coordinates with your d&eacutecor, like copper, gold, or silver.
Measure a piece of fishing wire or coordinating color string so that the ornament will hang in the middle of the frame, as measured from the hanging hook on the back. Leave an additional inch at both ends for tying.
Tie a secure knot to the hanging hook on the back of the frame, and tie the ornament at the other end.
Hang your new wall art!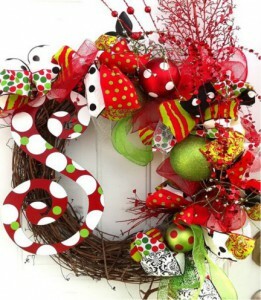 "Extra" Christmas house decorations can coordinate well together to create unique and meaningful holiday wreaths.
Photo courtesy itswrittenonthewalls.blogspot.com.
Make Wreaths with Extra Decorations
Extra green garlands, strings of beads, bows, ornaments, and other lightweight Christmas house decorations can be turned into stunning wreaths in as little as an hour, and your kids can help you with the project! Most craft stores sell Styrofoam wreath forms at this time of year that you can use as a base. If you don't want to permanently make a wreath out of the extra decorations, use temporary adhesive, pins, or invisible tape for this project.
Using a strong adhesive, attach a framing hook or loop of strong twine to the back of the wreath for hanging.
Affix the garland or extra beads to the wreath form, wrapping the garland around in a circle inside and out.
With the wreath on a flat surface, experiment with placing smaller items on the wreath until you're happy with the placement.
For a more contemporary look, place a larger item like a bow in the middle or slightly off center as a focus point. You can also use a family photo!
Affix the smaller d&eacutecor items using your chosen adhesive.
Hang and enjoy!
With a little creative re-imagining, you can create original Christmas house decorations without breaking the bank. Take a look at your "extra" holiday d&eacutecor as you unpack this year, and think of new and interesting ways that you can display these mementos. Your guests and family will be impressed with your decorating know how!