Wall quotes on canvas are an interesting way to punch up the decor in a room and add meaning to your decorating scheme. If you've hesitated over using wall quotes from concern over the mess, fuss, or removal process, here's another idea for wall quotes: create your own unique wall quotes and print them on canvas. Hanging a canvas print of your wall quote is a much easier alternative that's less permanent than applying words directly to your carefully painted walls. Rather than using vinyl stickers with clever wall sayings you can come up with your own favorite quotes and print them on canvas with the fonts and sizes that work for you.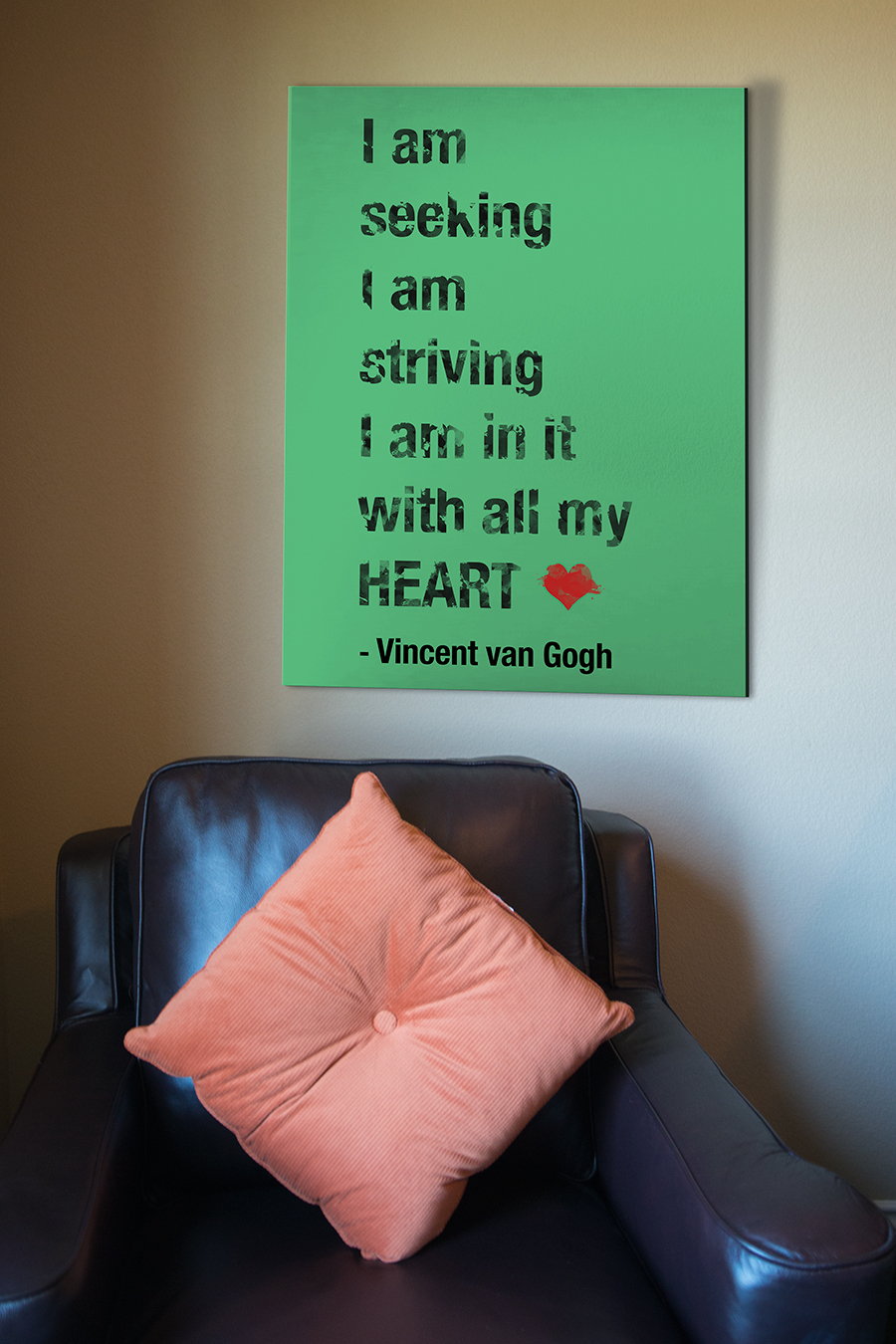 Designing Your Own Quotes
While it's true that a wider variety of pre-printed wall quotes are available than ever before, relying on store bought quotes can still be limiting. Breaking free and designing your own quotes to be printed on canvas gives you limitless options to choose not only what is meaningful to you, but how to express that in art. Here are a few ideas for adding to the individuality of your personally designed canvas wall quotes:
Using one font for the quote and a contrasting font for the author is simple to do and makes a big impact. Try using a romantic or italicized font for the quote and a newspaper font like Helvetica for the author to see if you like the look.
Break design "rules" to create unique statement quotes on canvas. Instead of centering your quote on the canvas and leaving lots of blank space, space a shorter quote with a simpler font to extremely narrow margins at all edges of the canvas. This creates a modern, attention-grabbing canvas.
Use larger font sizes to emphasize the important words in a quote and offset those words that have specific meaning to you. You can also bold, italicize, or use different fonts for these words to make a statement.
Since you're working with canvas prints your own creativity can run free behind your quotes: fill the background with meaningful images or simple eye-catching colors that set off your quote. You may start out with a blank canvas, but what you use to fill it is up to you!
Wall Collages with Quotes
Wall quotes printed on canvas can stand alone as impressive works of art, but they can be equally as stunning incorporated as part of a wall collage.
Surrounding a wall quote with other photos makes a fantastic wall collage. If you have a group of photos you've been thinking of using but that need a centerpiece to tie them together, a wall quote can be a great solution.
You can also hang groups of related quotes together around a theme or artist. A circular hanging pattern works well for this type of display.
Alternatively, mix it up with a collection of quotes that makes you smile. Decorating with any type of art is about what makes you happy!
Canvas Press can print your canvas wall quotes in custom sizes with a variety of finishing options. Take a
look at the possibilities
for your wall quote ideas today.
This article is written for Canvas Press. To find out more about Canvas Press' products visit www.canvaspress.com.