Guitars and other musical instruments make great wall art. In the early centuries, men dominated the public sphere; from workplaces to bars, and boxing clubs to fraternal lodges. In the last hundred years, the male space has shrunk because of the changing attitudes towards gender and anti-discrimination laws. The industrial revolution marked the beginning of the end of the male space and now mostly women get to design home decor and style to better suit her aesthetic sense. This has caused a growing desire among men to have their own special place where they could go and be themselves. The man cave or mantuary is a sanctuary that is devoid of any female influence or decorum. The man cave is a man's domain where he can have privacy and not disturb the
feng shui
of female-designed living areas or children spaces. For all you ladies, let me place it in a simple sentence, it's a place where your guy can drink beer, play games, have man cave art decor, and watch NFL Super Bowl with his buddies. It's your man's cave women, let them have it!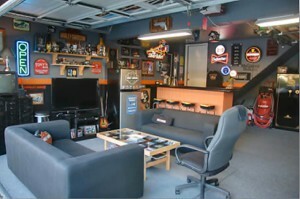 A mixture of neon and other unique finds provide the pop in the room which allows you to have neutral colored furniture. The man cave could be anything; a workout room, a home theater room, a hobby room or even a bar. Make sure man caves are located away from the main living area such as the attic, basement, garage or anywhere where there is sufficient amount of privacy. Once the location has been designed, men need to design man caves according to your needs. You guys will have to consider aspects such as are wall paint, flooring, lighting, ventilation, closeness to a restroom, and heating and cooling systems. The man cave art decor is very crucial as it would add a comfortable and inviting appeal to the space. From big flat screen TVs and surround sound systems to brightly lit neon signs and game tables, from a full bar, kegarator and vending machine to furniture and cool posters, you guys can have anything you please. You can adorn your walls of the man cave with posters that you always wanted to put up but your wife/girlfriend wouldn't let you do it in the bedroom.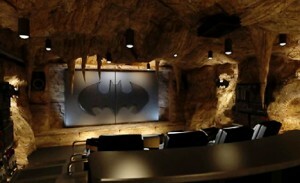 If you are a sports fan, you could create a man cave with your favorite sports equipment, cards, photos and other collectible items. Be it Nascar, NCAA Men's Basketball Tournament and Major League Baseball championship, your man cave would show your sports enthusiasm. If you are into hunting, you could add wall decor such as hunting gear, faux animal heads and even add a bit of manly canvas art printed digital photography to walls featuring nature scenes and landscapes. Motorbike lovers can create their very own Harley garage man cave. You can even have your complete home entertainment system in your Batman cave and all you need is some popcorn to get the party started! Even Superman has his Fortress of Solitude and so do Brad Pitt, George Clooney, Johnny Depp and Nicolas Cage. As Dr. Gray in his
Men Are from Mars and Women Are from Venus
advised women, 'give your men some space so that they can come back ready to love again'.