When I was 12 years old I knew for a fact that I was going to be the starting first baseman for the New York Yankees. Don Mattingly was my hero and favorite player. I tried to collect every one of his baseball cards. I had posters of him and other favorite players. I thought that someday I would have my picture on a baseball card or on one of those posters. It didn't happen for me, but we can make that happen for your little big leaguer. By printing your kid's sports photos on canvas prints you get to fulfill a little dream for your child. Plus you get to play Sports Illustrated photographer and that could be fulfilling one of your fantasies. There are a few different styles you can go with when your goal is printing your kids sports photos on canvas prints. You can go for an action shot or a portrait in their uniform. Depending on which one you choose here are a few tips that will make your final canvas prints look like the real deal. Straight from the pages of ESPN the Magazine or an enlarged baseball card. First things first. Do a little research. Take a look at those sports magazines and sports posters to get a sense of what type of action is being captured during a sporting event. For posters, what are some popular poses that you can replicate on your own?
Tips for Action Sport Photos on Canvas
Try to get as close to the action as possible. This can be a tough one for football and soccer because the field is so large. It is nice to have a DSLR with some kind of zoom lens for these types of photos, but it is not an absolute necessity. Always ask permission from a coach before getting out there. You don't want to be in anyone's way. Anticipate the action - make sure you are ready when the action is coming your way. Whether it is during the pitch of a baseball, the shot of a basketball or tackle on the football field. Zoom lenses help get into the action. Again, they are nice to have, but you can also get creative with a point and shoot or even an iPhone.
Tips for Portrait Photos on Canvas
A photo right after the game when they are the dirtiest can show how tough they played. Use equipment as props. keep it simple…this can get cheesy very quickly. Look at old trading cards for inspiration. The ones from the 80's and earlier had a mix of action shots and portrait shots of the players. Check out some of the poses and copy them. Remember that hats can create shadows. Make sure there is enough light to see your sport's player eyes. Once you have the shot you want (action or portrait) you can do some editing to them in Photoshop, Photoshop Express, Picasa, or PicMonkey. You may need to crop it to get other players out of the photo or just to get closer to the action. Just remember that when you crop an image and want to enlarge the cropped portion you are more likely to see less detail. If you are only cropping a little than it shouldn't make much difference. You can also add text to the photo in those programs to add to the effect. Make it into a baseball card look by adding your players name, year and position. Once you are finished editing you can order your sports photos on canvas on any size you would like through
Canvas Press
. If you need any help along the way just give us a shout via email at support@canvaspress.com or call us at 888.784.5553. We can't wait to see your little sports stars in action. Here is a look at a project I did after my nephew's first t-ball game.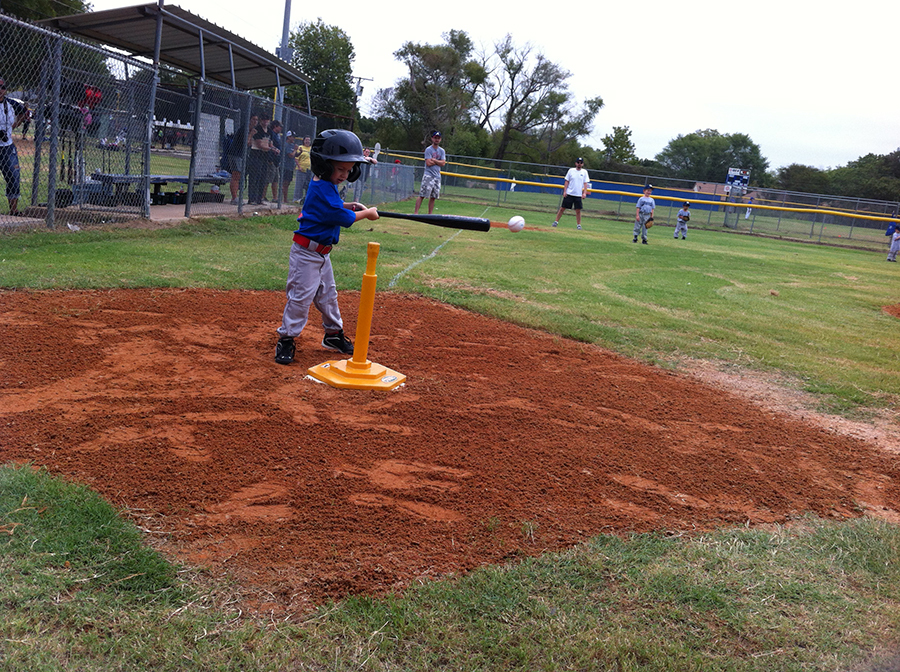 This was the image from my iPhone. I took it through the fence. By the way, that is his first hit...ever. It's a little dark and I want to make it into a baseball card style and then print it on canvas.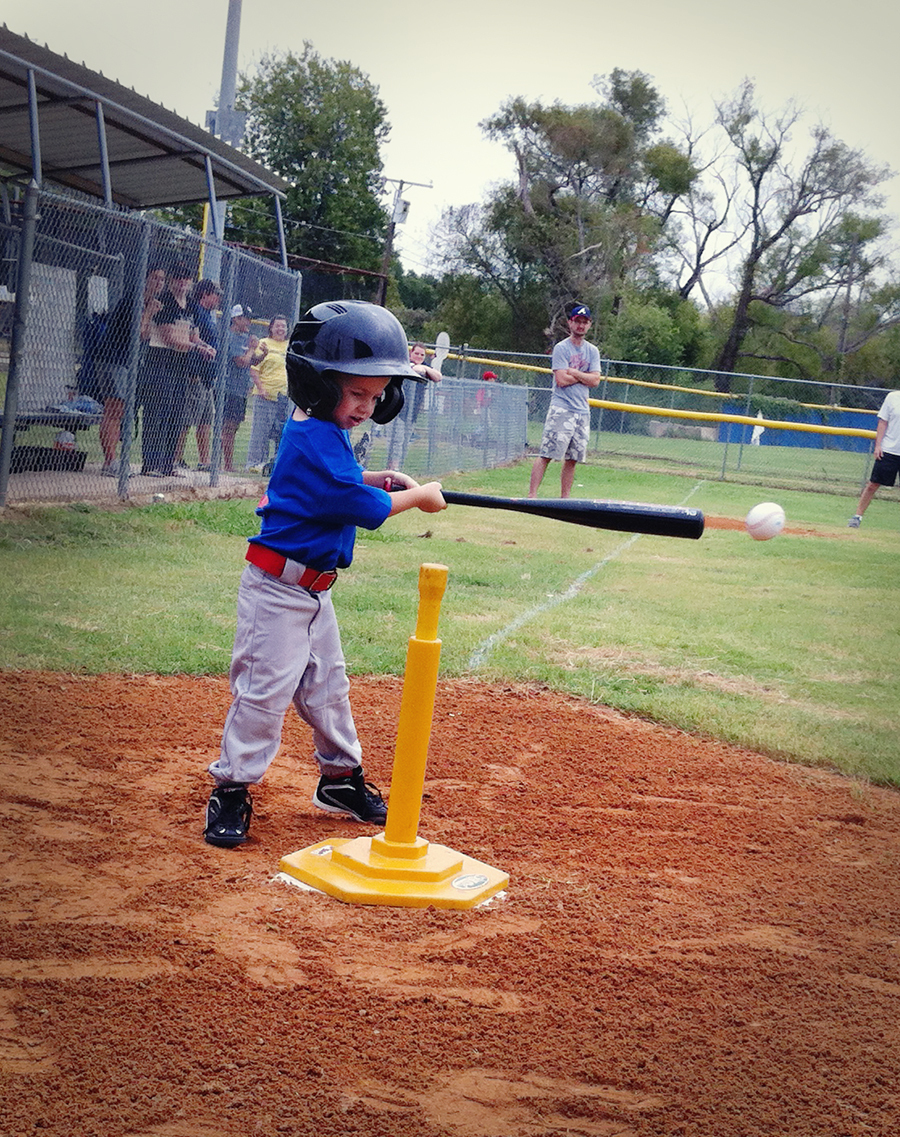 After doing some editing to it in Photoshop I got it looking a lot better. I cropped it vertical and lightened the photo up a little. This brings us much closer to the action, but I didn't have to sacrifice much quality.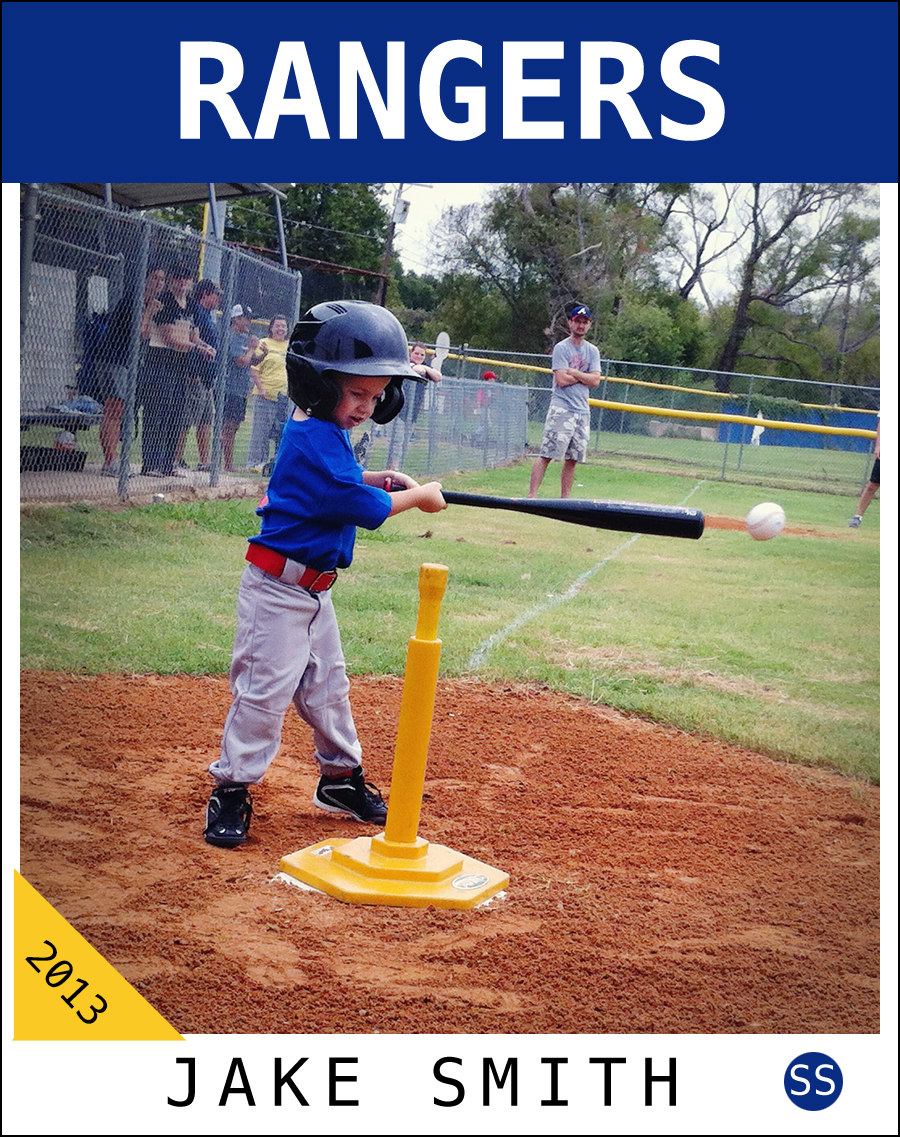 Then I added the info of the team, his name, the year and his position...even though in t-ball they pretty much play every position. You can ask them at that age what their favorite position was. And that is it. I am ready to make this into a canvas print.