Your office can reflect your personality while still remaining professional. You may have more leeway if you work in a home office or a laid-back office away from home, but even in a corporate office there are a number of ways to differentiate your office space from others. Decorating your office walls at work and home can can make the space feel more comfortable to you, and help keep your creativity flowing for the projects you work on in the bargain. Say goodbye to stale, cookie-cutter office decorations with these ideas for decorating the walls in your office.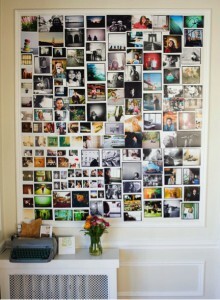 1. Dedicate a Bulletin Board to Meaningful Photos
Photos that are meaningful to you can lose their impact when pinned to a bulletin board among seas of to-do lists. Hang a separate bulletin board in your office meant only for photos, mementos, and decorative papers. To keep these decorations flat, support them by mounting them in matching mats.
2. Add Texture with Complimentary Design Motifs
Any decoration you put in your office should take cues from the office setting, matching the dominant colors and styles of the office as a whole. You can add texture and differentiate the space by playing these motifs off of one another. For instance, you can choose a potted office plant that has a pot well-matched to the furniture but an eclectic bloom, and match this up to a photo, which matches to another memento.
3. Leverage Flat Spaces on Desks and Shelves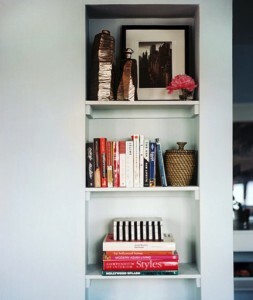 Look around a busy office, and you will usually see folders and paperwork taking up all available desk space, while photos and decorations are relegated to corners in shelves or pinboards. If this describes your desk, not to worry: Putting framed photos on your desk does not have to detract from your work space, and can be an added incentive to keep paperwork filed and under control.
Place matching frames at the outside corner of your desk facing out, or if your desk faces a door, even behind the monitor. Then these photos will be one of the first things you see in the office each morning.
Use an upside-down inbox to keep a space on your desk for paperwork, and place framed photos on top.
Put framed pictures and other decorations in front of the books on your office bookshelf or mix them with empty spaces so that the decorations take center stage.
4. Rest Overlapped Frames on Molding
If you work in an office away from home that has molding or a chair rail, or if you have or can add these in your home office, resting framed photos on molding is a growing trend. The look is unique compared to wall-hung photos, with the added benefit of avoiding holes in the wall. Molding should be at least an inch thick to support the photos, and preferably grooved so that the bottom edge of the frame has somewhere to rest without slipping; if you like, you can carefully place a mount in the wall for added support.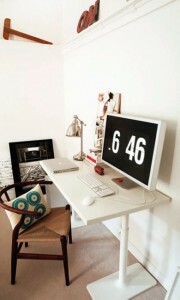 5. Make a Big Statement with Your Favorite (Neutral) Photo
If you can't get enough of the favorite photo you took of a neutral subject, such as a landscape or a cityscape, why not make an investment and have it printed in a large size to form a centerpiece on a blank office wall? Sometimes one simple decoration can make a bigger impression than many smaller ones. Having your favorite photo printed on canvas is an even more unique way to help your work stand out.