Wall collages are a great interior design idea to pull together your wall art and digital photography, especially if you have a lot of different pieces. You can even hang framed and unframed art together in a wall collage to cut down on the expense of framing. These decorating ideas will show you how to make an aesthetic wall collage using framed and unframed pieces, from digital photography and canvas prints to paintings and travel mementos. 1. Choose a unifier. Almost all of the photos you use should have at least one thing in common; if you're creating a large wall collage, you can get away with a few pieces that don't fit the main theme. Things you can use as a unifier include:
Theme, or subject
Frame color
Piece color
Similar framed and unframed size
Similar frame style for all framed pieces
2. If you want to use two different themes in the same wall collage, order by subject matter. If your wall collage will be circular, put one theme in the middle and the second theme on the outside. For a rectangular collage, you might have one theme merge into the next from left to right. 3. Add visual interest with 3 dimensional objects, like clocks, ceramics, deep canvas prints, travel mementos, or anything else that fits your base theme or color.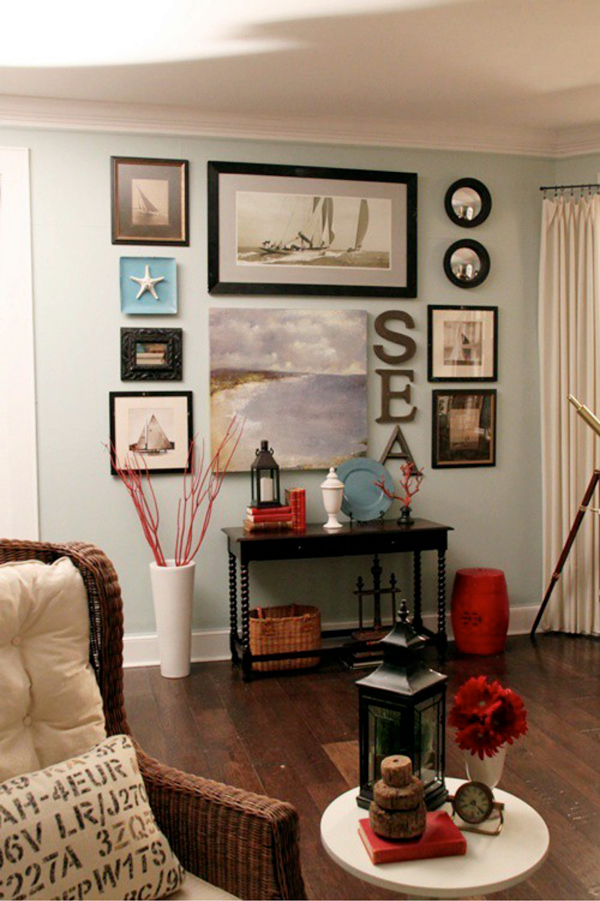 4. Think about mixed mediums. If you're using both paintings and digital photography in your wall collage, think about including a piece or two of mixed media that use painting and photography in the same piece. 5. Consider using an anchor piece. If one of your pieces is much larger than the others, you can still use it; it just needs to be an anchor, or center piece, since no matter where you hang it, it will draw attention. It's best to put these in the center of any wall collage.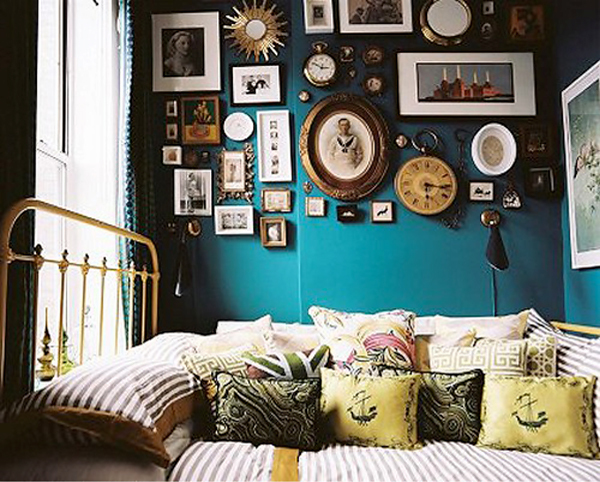 6. Clear a space on the floor to lay out your pieces and think about how to arrange your art on the wall. This will allow you to get a preview and make any swaps before you start hanging your art. 7. When you hang framed and unframed art on the wall, leave the same amount of space between all pieces, even if the pieces are different sizes. Most designers recommend 1.5" to 2.5" of space between all sides, though the width of the space is not as important as keeping the same space between all artwork. 8. Mimic the space around the collage. If there are a lot of circles in the room, use a circular outline for your collage. If the collage is alongside a staircase, be sure to mimic the staircase flow by laddering the pieces you use. 9. Start with the middle piece. With newspaper, cut out the shapes and sizes of each piece that you want to use from their position on the floor, then align the cutouts on the wall. Measure the space between each, and when you are certain of placement, start hanging. Always start with the middle piece in both steps to make sure that you have enough space and still like the layout. 10. Integrate the collage with your decor. Place the collage above a table set with travel souvenirs and smaller art or around a picture rail to add depth and further visual interest.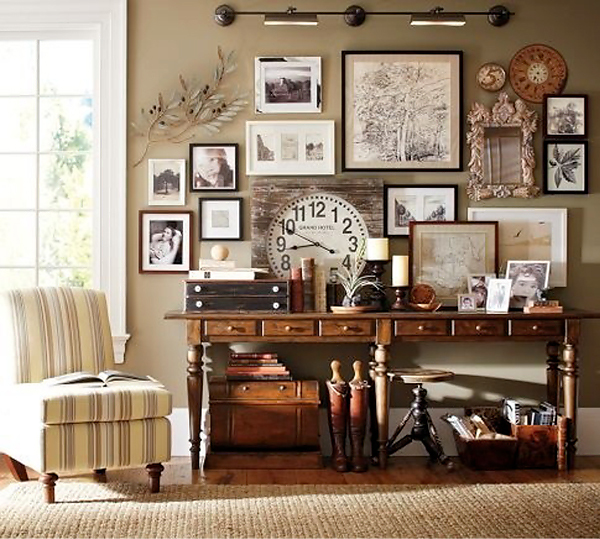 Using a wall collage will help you hang your framed and unframed art, including digital photography, canvas prints, and other artwork in the same room together without breaking the flow of your interior design ideas. We hope that these tips on how to hang framed and unframed art will help you arrange it on the wall in a beautiful way. Photo Links:
Pinterest
Lonny Magazine