If you're thinking that your next home decorating project might be a piece of large wall art but you're not sure if you want to spend the money or the time creating a large piece, think small! Small items can easily be built up into stunning displays as part of a large wall art piece, using things that you already have or are inexpensive to buy. Even better, your piece will be completely unique to you and your home. Here are a few ideas to get you started.
Digital Art Collage with CD Cases
It can be difficult to pair digital art files to create cohesive wall art for a collage, so why not use a single digital art file to create one? You can enlarge your artwork and print it so that the separate panels are held within CD cases. Here's how:
Pick a photo or piece of artwork you love and open it in photo editing software that allows you to create a grid.
Decide how many separate panels you want to have in your collage. A standard CD case insert is 4.75" w by 4.75" h, so if you want to have six panels (three across and two down) in your collage you'll want to enlarge your digital art to 14.25" w by 9.5" h.
Create a grid in the photo editing software with 4.75" by 4.75" squares.
Cut each square into a separate file for printing.
Slide your printed squares into the CD cases and mount them to the wall!
For even more depth with less editing, you can send your file to a professional printer to have canvas prints made – they'll do all of the grid work and ship the finished product to you! Check out Canvas Press if this is something you want to do.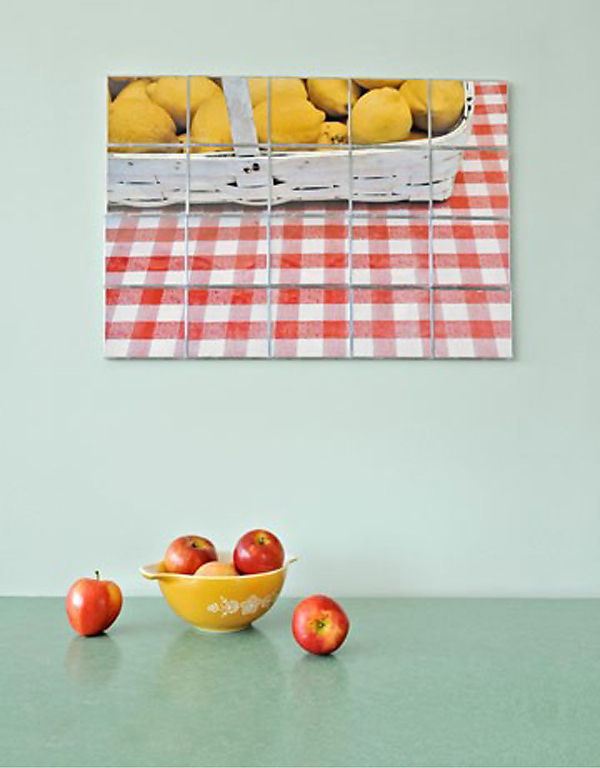 CD case collages are a great way to create a collage – in an hour or less!
Photo courtesy CountryLiving.com
Image Transfers on Reclaimed Tiles
Reclaimed tiles are easy to find and inexpensive, since after a building project is complete there usually aren't enough of the same tiles to take on another home decorating project. Check with local independent home improvement stores (since big boxes are not as likely to discount "leftovers"), see if there is a
Habitat for Humanity ReStore
in your area, or just keep an eye open at garage and estate sales to find tiles. There are several things you can do with these eco-friendly materials:
Using plain colored tiles, you can print full-color or black and white images onto transfer paper using your home printer, and follow the transfer paper instructions to mount your photos to the tile.
If you find glass tiles or other tiles where you want the surface to show, try printing silhouettes of your family and pets onto transfer paper, then transfer the silhouettes to the tile. Here's a great Photoshop tutorial on creating these silhouettes from family photos.
Mix and match similar sized photos printed on canvas with eye catching tiles in the same piece!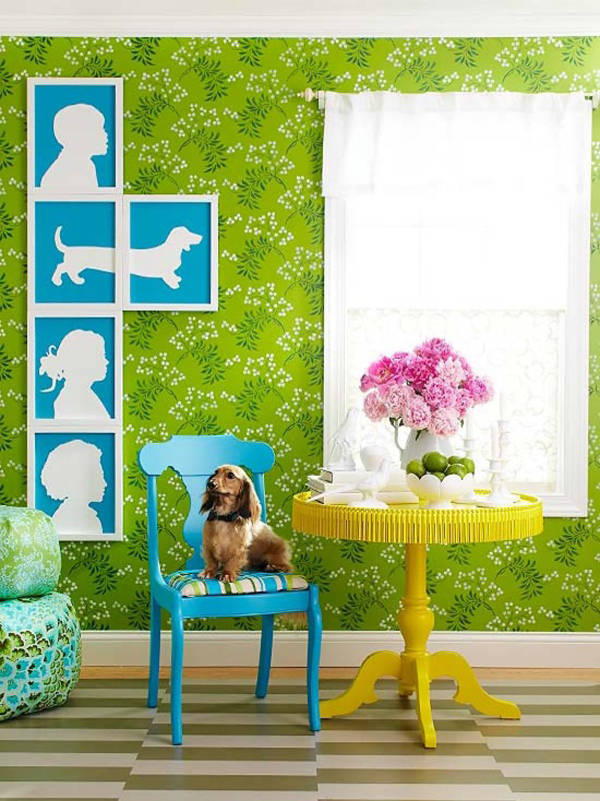 Silhouettes of the family are an easy and fun way to create large art pieces out of smaller pieces. Photo courtesy Meredith.com
Turn Small Gestures into Large Digital Art
If you have a scanner at home, almost anything can become digital art for your home decorating style. You can scan objects that are small but have meaning to you and share them with the world in a big way as a piece of large wall art. Here are a few ideas for things to scan and enlarge:
A leaf or a flower your kids picked for you (what a way to make it last!)
A handwritten envelope (or collection) for a wedding, party, or family reunion invite
Antique greeting cards passed down from the family
…anything else that fits on your scanner's glass plate! Just be careful of scratches.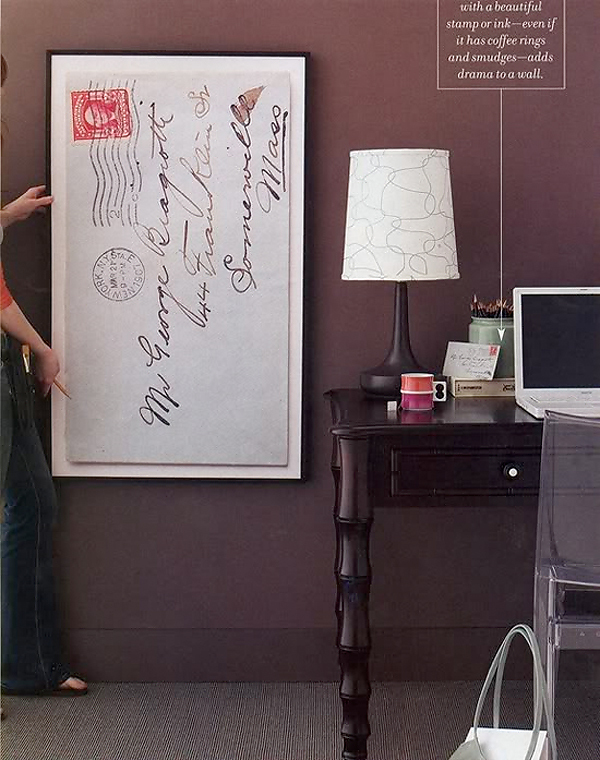 An envelope found in an antique shop was enlarged with a scanner, printed and framed for a unique piece of art. Photo courtesy of MarthaStewart.com Since it's hard to print large digital art from home, you will probably want to enlist the help of a professional printer for this project. That isn't a problem though, since printing on canvas will bring even more attention to your custom artwork and is sure to make your new piece a conversation starter. Whichever of these projects you choose to take on or even just use as inspiration, your large wall art is sure to express your family's unique personalities. Have fun and look forward to starting the school year with new artwork!