An empty wall is a blank canvas that begs to be adorned with different photo wall gallery ideas, but which artwork to choose? Starting by choosing the group orientation horizontal, square, or vertical for your arrangement of photos on a wall can set off your photography and your décor at the same time. Believe it or not, professional interior designers have developed rules for when and how to use certain group orientations to play up, or play down, the impact of your décor and the photos that you choose to display.
Horizontal Orientation: Keeping It Simple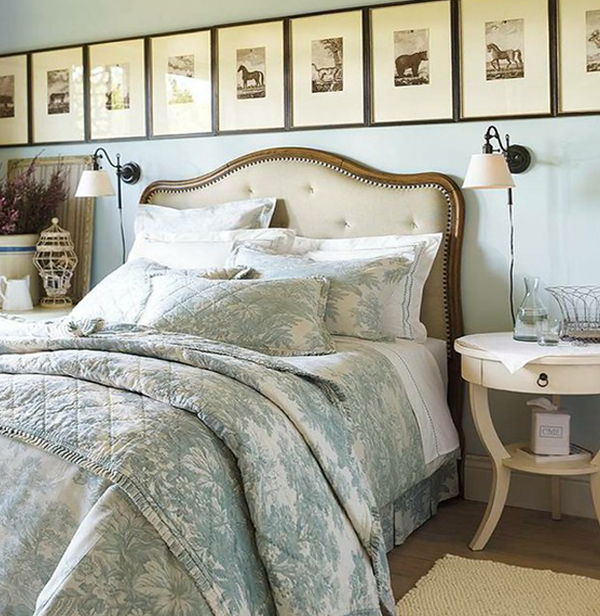 This stunning classic horizontal frame arrangement lets the pictures do the talking.
Photo courtesy crushculdesac.tumblr.com Arranging your photos horizontally, in one straight line running across the wall, is a traditional and perennially classic frame arrangement. Horizontal frame hanging also has the advantage of making it much easier to group frames of different shapes and sizes as long as the center of each photo is aligned with the others. For more on properly aligning frames, see this great tutorial from
Thinctanc
. Use a horizontal orientation:
In rooms with higher ceilings, with the center hung approximately 5 feet 10 inches above the floor, to add depth and focal points
On walls that are shorter in length than they are in height; this pulls the eye across the wall, making it appear longer
On walls above furniture with strong horizontal lines, such as a couch or a desk
To display a photo much larger than others you would like to group with it (generally the largest photo should be in the center, moving outward to smaller works)
Square Orientation: The Flexible Alternative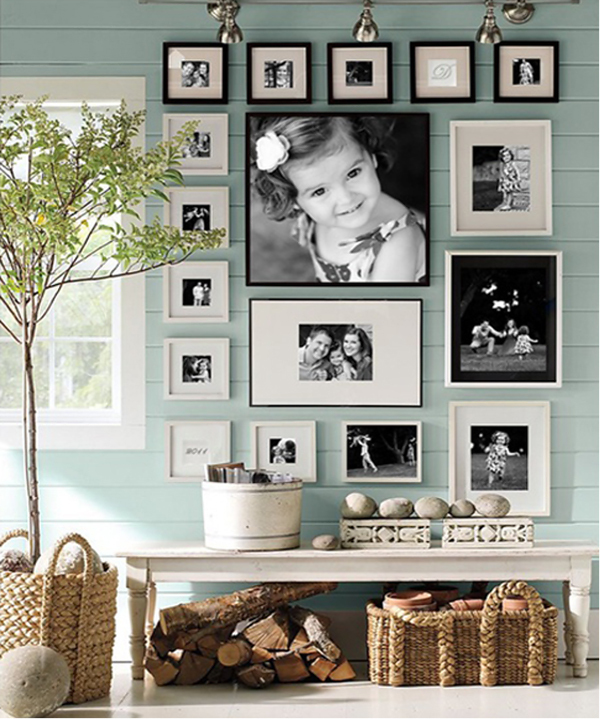 Although this square arrangement flirts with the rules by using different size photos, it works because the photos all have a similar theme and are all black and white, with corresponding color frames.
Photo courtesy Pottery Barn Square orientations are quite flexible, since depending on the photos and frames used a square arrangement can be traditional, modern, or even eclectic. The trick to making a square orientation work is carefully matching the subject and colors of your photos. If a square display appeals to you but the photos you want to showcase are too different, you might consider a salon arrangement (see examples on
Apartment Therapy
), which is loosely based on the square but allows diverse pieces the room they need to shine. Use a square orientation:
For groups of photos with a common theme, especially smaller photos
With matching dimensional frames for added pop
In rooms with strong vertical lines, for example rooms with vertically striped wallpaper, to break up repetition
On large blank walls to provide a visual reference point
Vertical Orientation: Showcasing Modern Collections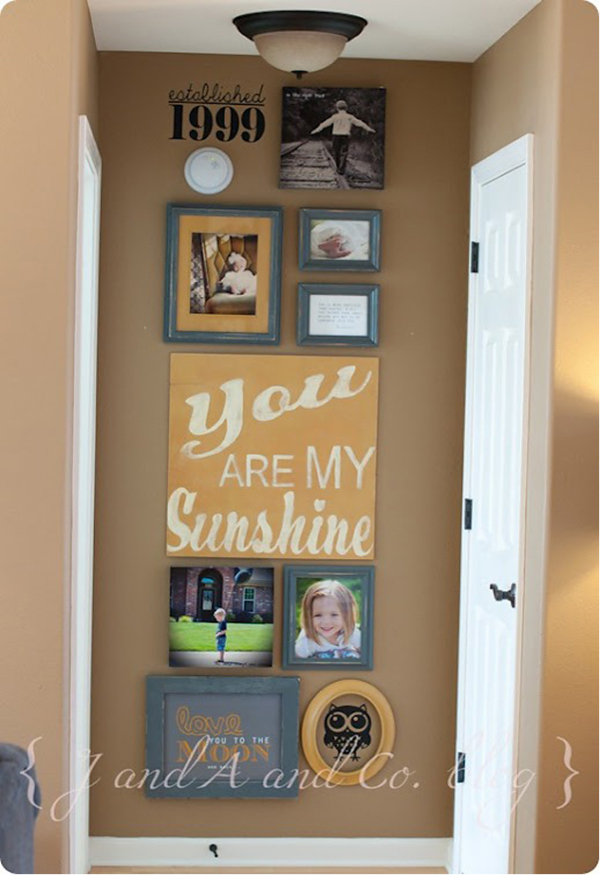 This vertical orientation is fun and modern, while visually extending the height of the hallway where it is placed.
Photo courtesy jandaandco.blogspot.com The vertical orientation automatically brings to mind the modern aesthetic, evoking as it does the directional flow of skyscrapers. This does not, however, mean that your home décor must be modern in order to do a vertical photo arrangement justice. In the right space, the subject of your photos and the feel of your chosen frames will work wonderfully in a vertical orientation. Use a vertical orientation:
For modern, architectural, or black and white photos
In smaller rooms or rooms with low ceilings to add the illusion of height
In tall, narrow spaces where other arrangements won't fit
On the walls on either side of a window, fireplace, or other feature
To define semi-attached rooms, such as a kitchenette, from other rooms
Panoramic Orientation: The Long and Thin of It
Panoramic photos can be used to cover a long wall or to be put over a large piece of furniture such as a couch or be. A Panoramic image is often much wider than it is tall. This format lends itself (but is not limited) to landscapes, wide cityscapes, and sporting events. This is a great solution if you have a lot of room to play with and only a handful or even one image to work with.
Canvas Press
is a great resource for getting in idea if your photo would make a good panoramic image.
Panoramic images can look very modern when it is printed as a canvas photo
There is no set size ratio for a panoramic, and you can make your own just by creative cropping of your photo
Hallways and living spaces provide the perfect opportunity to hang your own panoramic image
No matter which orientation you choose, it is a good idea to lay out the framed photos or canvas prints you want to hang on the floor or a clear table so that you can preview what your intended arrangement will look like on the wall. Keep arranging until you are happy with what you see, and avoid the hassle of re-hanging later. Have fun with your next project and I hope this helps.