Wallpaper is a fantastic way to dress up a bland wall, but its artistic design can pose a problem when you want to display artwork on that same wall. In fact, this dilemma can pose real design headaches for experienced professional designers, not to mention the at-home designer. Fortunately, there are a few rules of thumb to guide you through this home decor challenge.
How to Place Art on Wallpaper: The Do's
Before you commit to hanging artwork on a wallpapered wall, you should be sure that you will like the visual impact. With ordinary drywall, it is not difficult to patch over a hole and repaint a small area as long as you have kept a sample of the paint on hand. With wallpaper, however, it is nearly impossible to cover up or hide a hole once it has been made. Aside from placing the hole to hang your frame in a busy area of the wallpaper so that it is less noticeable should you have a change of heart, here are a few more do's for hanging pictures on patterned wallpaper.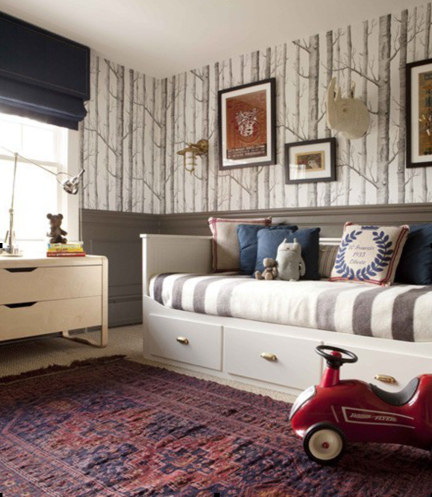 If done well, art on wallpaper can give a stunning effect. These do's and don'ts will help you learn how to pull off this look.
Photo courtesy copiekat.tumblr.com
Do:
Think about the size of the artwork; on busy wallpaper, anything framed smaller than 11x17 is at risk of getting "lost".
Be selective. When hanging pictures on a patterned wallpaper, one work of art that makes a statement is frequently a better choice than several smaller works.
Go with a neutral colored frame, especially if your tastes are less eclectic.
Use a wider mat, or artwork with negative space around the edges, to separate the art from the wall.
Hang artwork using hooks designed for molding to hang artwork from above or small-hole hooks meant for use with wallpaper.
Think about placing your artwork on the opposite wall if the wallpapered area is only an accent wall.
Consider custom printed wallpaper if you must have certain artwork displayed but can't find wallpaper to match.
How Not to Place Art on Wallpaper: The Don'ts
As mentioned above, hanging pictures on patterned wallpaper can be a commitment. Be sure that you know what not to do before taking on this project. Your walls, and sanity, will thank you for it!
Don't:
Force busy artwork to compete with a busy wallpaper pattern.
Skip using a mat; the artwork needs its own space to pop, and will either blend too much or clash too heavily with the wallpaper without the breathing room a mat provides.
Disregard the importance of pattern and texture when matching artwork to wallpaper; floral wallpaper cues natural patterns and textures for artwork, whereas geometric wallpaper calls out for geometric art.
Forget that the color and theme of the wallpaper, frame, and artwork should also be related, without being too closely matched.
Hang artwork too high; this is very noticeable on the repeating pattern of wallpaper. Likewise, if grouping artwork, be sure that the pieces are level!
Pierce the wallpaper with nails or screws until you are positive you like the look of the frame and artwork in that space.
Hanging pictures on patterned wallpaper is a difficult task, but when done well, the results speak for themselves. As a final tip, collect pictures of artwork hung on top of wallpaper that appeal to you, and then try to determine what those pictures have in common. Looking at the designs of others is often the best way to reveal your own design tastes before dedicating yourself to a project.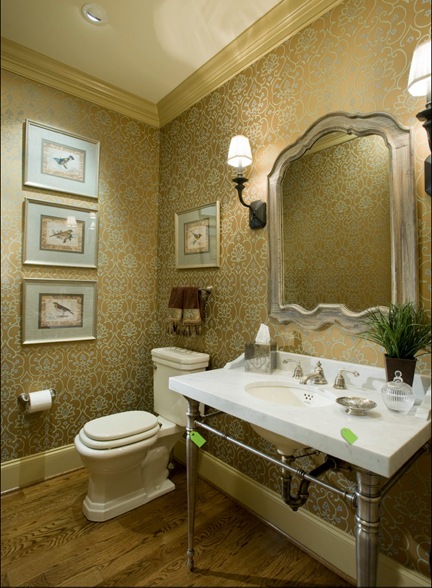 Here the color in the art compliments the wallpaper making a cohesive design.
Photo and design by: Gacek Design Group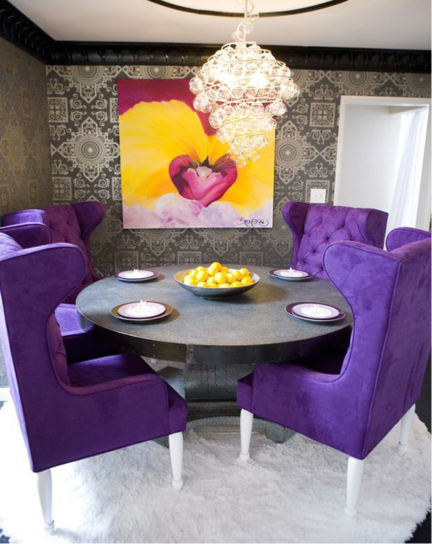 Choosing artwork in colors that opposes the color of the wallpaper is risky. Here it works because the furniture in the room mimics the bold colors of the artwork and also matches the wallpaper, making the look cohesive.
Photo courtesy hgtv.com Photo Credits: Featured Photo:
Atmosphere Interior Design
Bathroom:
Gacek Design Group