By Caroline Cohoon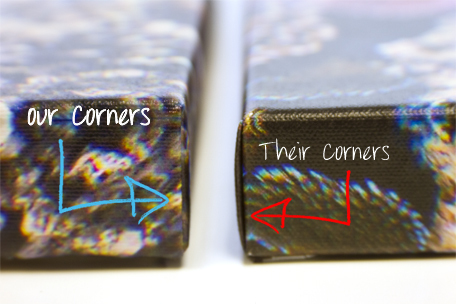 In the widely becoming over-saturated photos on canvas market, we've always strived to maintain our quality and service above all else. There are a lot of companies out there that will beat our retail prices significantly, but we've seen their work, and it's like comparing apples and oranges. There has been a brand we always knew to be on par with us in regards to quality has also maintained a retail price in the same range as us and has been our main competition. However, we've noticed more recently that they keep offering bigger and bigger discounts, and a new one each week. They are also constantly selling 16x20 1.5" canvases through Groupon for just $39, shipping included. It seemed too good to be true, how can they use the same quality materials and provide the same level of service at this price-point? If you aren't familiar with how Groupon works for a business, it's a 50/50 split on the income. That means of your $39, the company receives $19.50 and the rest goes to Groupon. Yes, it is in a way a marketing expense; the concept behind Groupon is you'll win over new customers by getting them to try you out at a discount. However when you offer a Groupon every few months or one of your competitors offers the same deal, you can't rely on that customer to come back and pay full price later on, even if they loved the experience. So the only real option is to slash costs so significantly that the $19.50 will actually cover it, and don't forget shipping is included. We decided to buy one of these deals and see how it turns out. I recently took a trip to Australia and got to use my brand new underwater camera on the Great Barrier Reef. I knew one of the images would be a perfect test of color and clarity, plus I'm dying to see one in a good size print! Being in the industry, I formatted my image in advance so it would be the exact size needed for a wrapped 1.5" canvas 16x20. I ended up mirroring the border to keep some important elements visible on the front of my canvas print. I'd like to point out that a mirror border is an option we at Canvas Press will take care of for you at no extra charge, and we're one of the few companies that have this option. Following the instructions on the voucher, I went to the competition's dedicated "Groupon Customer" order interface. Initially, I liked that it does show you how your image appears when cropped to fit 16x20. It's not a ratio equal to what cameras shoot so I know from experience many people get frustrated that it doesn't fit right. If you don't like the preview, you can't really adjust or move it, but you do have the option to change the size to 14x20 or 16x16 for no cost increase. However, I quickly noticed that it was displaying my mirrored edges on the preview, meaning they were not accounting for a border of any kind. I found that there was no additional step to select a border type, no description of what would be done for the border. To make it worse – NEVER in the process including at checkout, was there the opportunity to make a note or comment regarding my concern/ request for the border. I realize that they've got to keep overhead low on these orders (remember, only $19.50 is coming in) but I don't believe this type of product can be 100% automated and give people what they want. Sure, maybe 9 times out of 10 everything will be fine, or at least good enough that there is no real reason to complain, but what about that 10
th
customer? The one who's photo could have easily been done perfectly if a human had evaluated it and determined what changes to make to give the customer what they really want? Once my order was placed I immediately sent an email with the order number and my note about the mirrored edge and border. I received an auto-reply that said they were SO busy it might be 2-4 business days before someone could respond. Wow. Does this mean they are just going to process the order and see my note later? Or does this mean the production won't even begin until 4+ days? Four days later (the maximum they estimated) I received a note back, and the rep said he had adjusted my order so it would print like I wanted it to. He said the standard for Groupon canvases is a "blur" border. What is that? Where did they explain that, or even show a sample of what that looks like? What if I didn't want a blur border but a simple white border, or black? Far less complicated than my mirror and still possible to automate… A week after that email I got notification it had shipped. This means it was in production for 7 business days. When shipped, it went via FedEx SmartPost, which is where they drop it with the US Postal Service for final delivery. This is a bit cheaper but also a bit slower - it took another week to arrive; meaning the entire process from order to receipt was 16 days if you count weekends. Once I did get it, the initial impression was decent. The color, contrast and brightness all looked good. However, I quickly saw some indentations along the side, which comes from the canvas being too loose and it can get creased against the ridge of the frame it is stretched on. The canvas material is a little thinner and not as bright and glossy as I'm used to. It started out too loose and seems to be loosening more over time. One last thing about it that I can't understand is why it smells like glue… Canvas stretcher bars should be pinned together and should not need glue. If that is not how it's assembled, then it must be the canvas, ink or coating that I smell.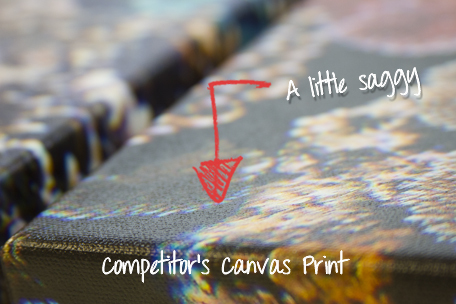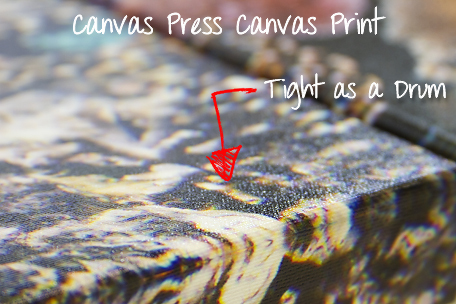 Just to be sure, we made one of ourselves. Using the exact same file, there are some differences in the printing – the one we made here is much more accurate to the original file I submitted. The canvas from our competition has more contrast and is much more saturated and I see sharpening artifacts, which they must have changed in the printing process. That's not a horrible thing, in general prints can stand a little extra bump in saturation, contrast and sharpening, but if you work real hard on preparing your images for printing like I do, you don't want someone else messing with it. Now that I see a new print that is so accurate to my original makes me realize just how 'fake' it appears.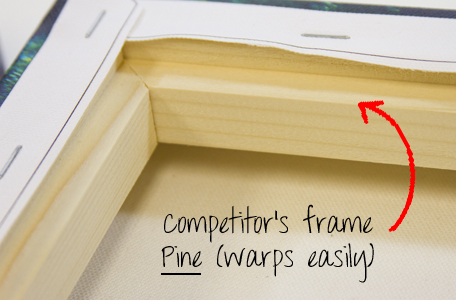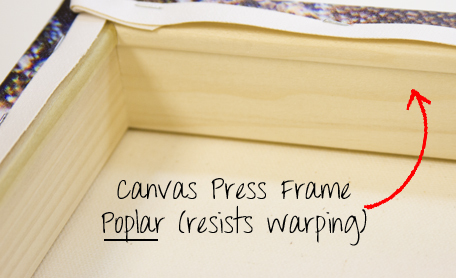 Hands down you can see the difference in the quality of stretching. Ours is much tighter while the cheap one waves like a flag when you pick it up. It's easy to see which one will last longer. It was also done in two business days and I had submitted it as a normal order, no special treatment given! When looking for something that will last, and that gives you accurate results with a proven guarantee of satisfaction, you really do get what you pay for when it comes to photos on canvas.