Things are about to get a little crazy around here as we enter our busiest time of year. We are still having a hard time believing that it is already time to think about Christmas lists and gift giving. I haven't even been up to the attic to retrieve the ole Christmas tree. But we have been busy getting ready for the Christmas rush around here. With a Holiday Giveaway on our Facebook page and the launch of our 2013 Holiday Gift Guide we are hoping to bring a little joy to your life before you head to the stores on Black Friday and contend with the crowds. Of course you could stay at home, relax, drink a little hot chocolate (with extra marshmallows) and do your shopping online. If you didn't get the email about our Holiday Gift Guide you can check it out here. There are ideas for pretty much every person in your life...from Mom and Dad to the trend setter. We have excellent gift ideas for them all. And we aren't hogging the spotlight in the gift guide. There are a bunch of other ideas other than photos on canvas, metal prints, or wall murals. You will have to check it out to see what I mean.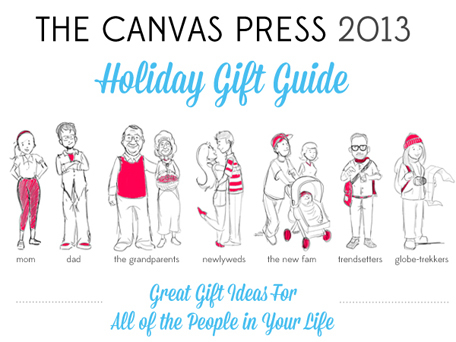 And if you haven't signed up for our Giveaway over on the
Canvas Press Facebook page
...you should get on that. You can sign up through the 11th of December. Just to recap what we are giving away. A Sony QX10 digital lens camera that you use with your smartphone. It basically turns your phone's camera into an even better camera. We are also giving away a Joby Gorillapod SLR-Zoom model with the ballhead accessory. This mini tripod is strong enough to hold a full size DSLR camera with a zoom lens on it (hence the model name). I have one myself and I use it all the time. Of course we will also be giving away a bunch of photos on canvas, some fine art photo prints and 25 $20 Canvas Press gift cards.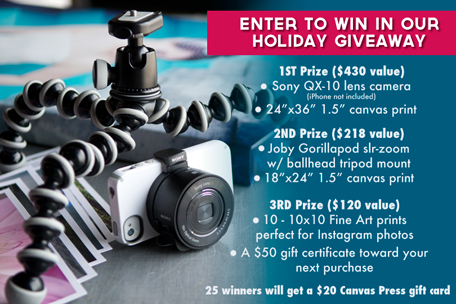 Getting the festive season off to a great start here. We know that before too long the rush will begin...so enjoy the calm before the storm. We sure are.