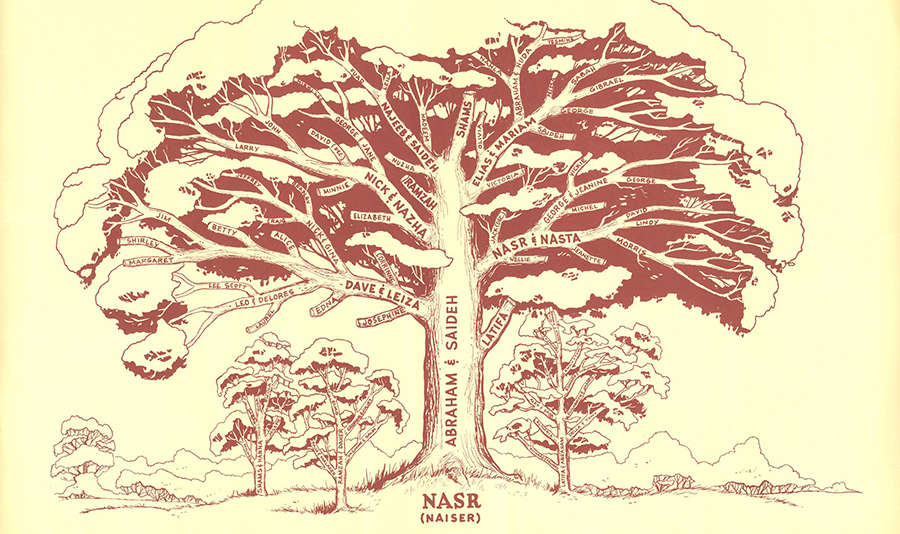 This is a scan of the family tree that George Naiser had made in the late 1950's
Art is a fantastic way to preserve and commemorate your family's history. With tools like Ancestry.com and Geneology.org making it easy to find and verify a family's lineage, you can create a family history for canvas prints that goes back as many generations as you like. Following are a few ideas and tips for family tree canvas wall art.
The Classic Family Tree
Trees as a representations of a family's lineage have been in use since at least the Middle Ages. In earlier times these family trees were painstakingly hand drawn, but today modern software tools can help you create an attractive family tree to have printed on canvas in a snap. You don't even have to be a graphic design expert, since sites like
Lucidchart
and
MyHeritage
can do all the heavy lifting. If you want to be more unique with your family tree on canvas, updates to the classic tree motif include roots and vines.
Generational Collage
A generational collage is a fun way to have family portraits from different generations represented in the same work of art. The most common way to represent a family history on canvas prints using family portraits is to arrange the portraits in order of the date that they were taken, starting at the top left of the canvas. The trick to a generational collage like this is making the portraits flow together, which you can do with these tips:
Consider editing photos for uniformity. If you are using older portraits, chances are these portraits are sepia toned or black and white. Editing your other photos to match can help improve the flow of your collage.
Don't be afraid to colorize. If you're feeling creative, you might want to digitally colorize the older photos. You can find a great tutorial on this process from the history buffs at Civil War Talk.
Choose a background that's flattering to all of the photos. Whether you choose a patterned background or a solid color is up to you, but you should be sure to check that the background sets off all of the portraits. With some backgrounds, one or more portraits might get lost or stand out too much.
Generational Geography
A fun twist on the classic family tree for representing family history is pinning the name and date of birth of each family member to the city in which they were born. To create this work of art, all you need is a high quality image file of the map you want to use (whether it is a world map, the U.S. only, or another grouping is up to you) and photo editing software that will let you add text, and if you like, an image or sticker for each "pin" that you make on your map. You do not have to be a photo manipulation expert to create your own fabulous family history on canvas prints. Once other branches of your family see your work, they will be asking for their own family tree canvas wall art.
This article is written for Canvas Press. To find out more about Canvas Press' products visit www.canvaspress.com.