The following was published in the Fort Hood Sentinel by Dave Larsen on March 18, 2010...
Sixty art canvases that went up on the walls of the Fort Hood Resiliency Campus Friday were donated by the Round Rock-based company Canvas Press. Canvas Press chief executive officer Doak Walker said he made the donation after hearing about the campus and taking a tour of the facilities in late 2009. "I think it is an honor to be a part of this campus, to stand proud with Fort Hood Soldiers," Walker said. The canvases were created from digital photographs depicting a wide variety of events and activities at the Resiliency Campus and elsewhere on Fort Hood. "I like the aesthetics; it's beautiful," 1st Lt. David Ochs, assistant operations officer for the Resiliency Campus, said. "I also think it adds to the excitement of the campus. You see a lot of smiles in the pictures." Ochs helped select the photographs to be made into the canvassed art. He said he looked for images reflecting the services offered at the campus. "Based on the services we provide, it's almost like a warm blanket for the post," Ochs said of the Resiliency Campus. "From fitness counseling to how to do your job better … even cooking classes, we offer so much in so many facets of life." The process of creating the canvases, called "Giclee" or art prints, helps create artwork from digital sources, like a digital photo, or can preserve old photographs and paintings. Walker called the Canvas Press donation, estimated in value at $7,000, as simply one neighbor helping another. "Having the largest U.S. base in our own backyard is a great honor," Walker said. "The community of Round Rock is very proud to reach out and help."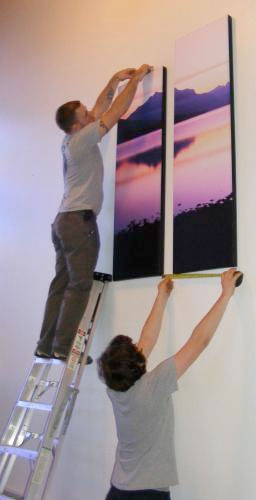 Text and photo by Dave Larsen of the Fort Hood Sentinel...
http://www.forthoodsentinel.com/story.php?id=3374