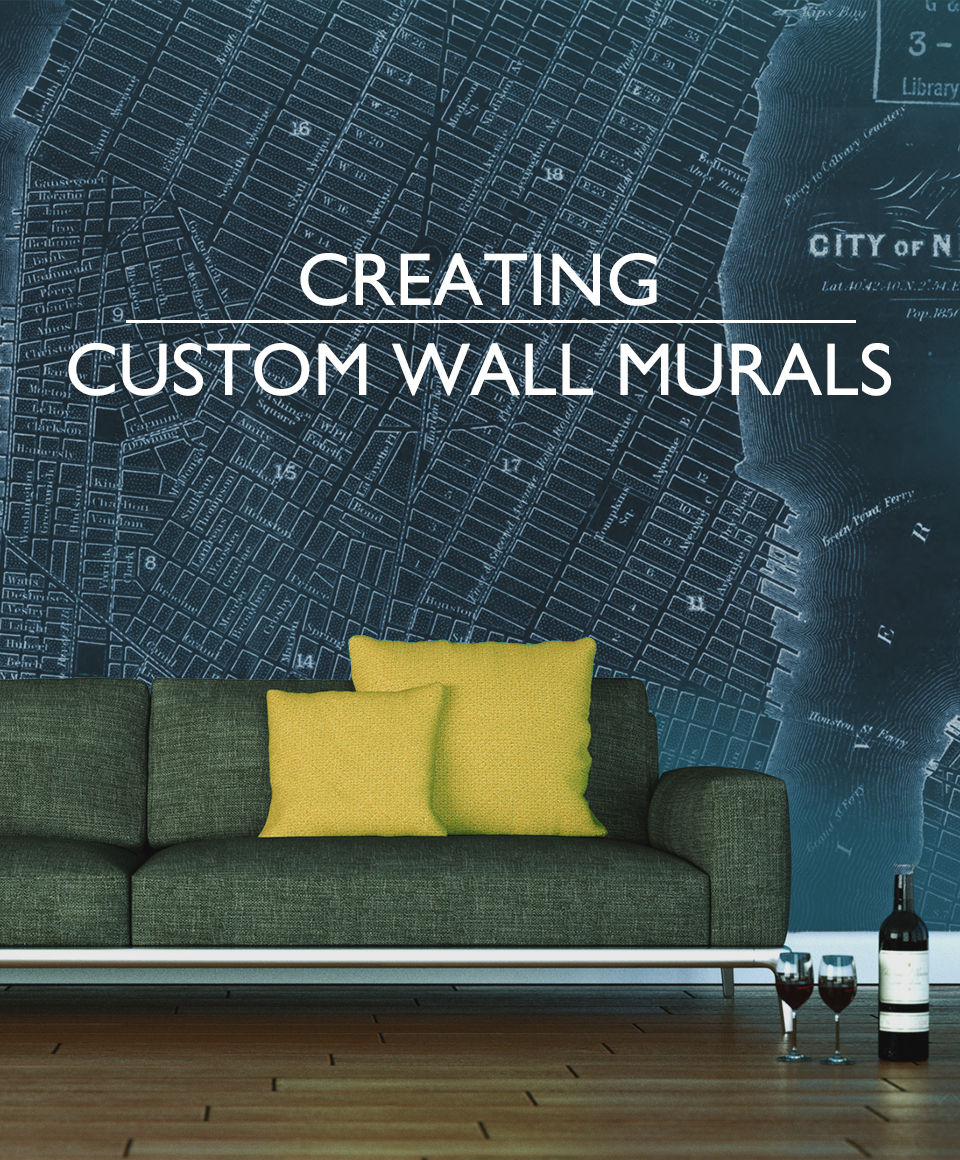 The custom wall mural above was created with an old map turned into a high resolution file.
What comes to mind when you think of wall murals in a home? Does it usually resemble something you would never do in your own home? It may even turn you off to the whole wall mural idea all together. Well, we are officially changing the definition of a wall mural. With our custom wall-paper you are in charge. After all, who knows your style better than…well…you? Creating custom wall murals that fit your style is now easier than ever...and you don't have to pick up a paint brush. When I say that we are changing the definition of a wall mural, you are probably asking, "What does that mean?" Well, it means that your project can be as large or as small as you want to make it. If it doesn't take up the whole wall…no big deal. You are in charge. It means that the type of artwork you want to have as a mural is endless. Choose from your own photos, word art, maps, illustration, graphic design. You can scan something you found and create a mural out of that. This is a fantastic project to let your
creativity out of the bag
.
Use our services to create a one of a kind wall mural from an idea, a photo, or artwork.
If you have an idea that you want to try, but aren't sure about what to do next…call us. We can usually help solidify that idea into a solid plan. We can find artwork for you or help with your existing artwork. We can even create the work for you if need be. Use the resources and experience we have to help make this easier for you. Making a custom wall mural that fits your style perfectly is a process of collaboration between you and us. That way you are ensured that you are the only one who will have it.
Creating a wall mural does sound like quite an undertaking…How hard is the whole process?
The entire process is not difficult at all.
Start with your measurements. This will be the basis for the size of artwork that will be created.
Find the artwork or style that you want to have printed on our custom-wallpaper. We can come in pretty handy in this step. Especially if you only have an idea of what you want, but have no idea on where to find the artwork that matches.
Once we have the artwork and the measurements we will make sure the artwork will print to your specified size. Then we will print your custom mural on a wall-paper texture of your choice.
A few notes to remember about creating your wall mural using our custom wall-paper:
A mural can be as large or as small as you would like. If you have questions about the size limitations of your artwork you can send them to us to make sure that it will work for your project. Photography, custom patterns, word art are just a sampling of what you can use to create your wall murals. For more ideas contact us. Get started on your wall mural at
CanvasPress.com
.