Animals are indeed the most exceptional creation of God. With their striking attributes, stunning color of fur or hair and the impressive textures masking every inch of their bodies, it is nothing short of a pleasure photographing these amazingly diverse creatures. When it comes to pets, digital photography takes an entirely new face. It will only be justified to call pet photography the most fascinating genre of photography as it allows photographers to take delight in the spontaneous and totally adorable actions of their beloved pets. Photographers are deeply moved as they capture special moments in their pet's life that are often completely oblivious to the charm they bring to the world with their unique personalities. Photographing your pet specifically for portraits can be an engaging photo project. However, there is always the problem of making your pet pose for the shot. No matter how much literature you have read on encouraging your pet to pose for the camera, you probably know that it does not work more than it works for humans. The results are apparently stiff and self-conscious pet portraits lacking the natural charm and charisma that every animal has to offer. Pet portraits are one-of-a-kind photo projects. They are not just a way to preserve the good times you have with your charming companions. Instead, when pet photography is in question, every single image is a work of art. While the wonders of pet photography cannot be understated, photographers face the bigger challenge of capturing their pet's persona that is missing from most of the images we come across. If you are a pet photography enthusiast or are inclined to transform a simple photograph into an award-winning pet portrait, you have to give ingenuity a chance. Gone are the days when people used to go gaga over a dog simply sleeping on a couch. Today, if you want to impress your viewers, you have to let your creative juices flow. The idea is to spice up the portraits to have shots you can cherish for years to come.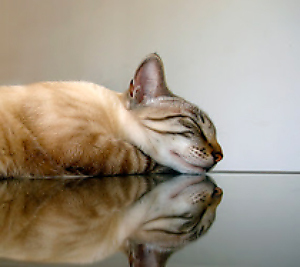 Pet photography can be increasingly difficult for a newcomer and it will take some time before you will be able to master the skill but once that is accomplished, the results are truly rewarding. Pets will be a tricky subject to work with in the first place but with the following five creative pet photography and portrait ideas, you can guarantee shots that simply take breaths away.
Remarkable Reflections
Have you ever considered using a mirror or a sunny window as a prop for your inquisitive little pup or kitten? If not, you have no idea what you are missing. If you are considering adding a bit of humor to your shot, nothing can be as effective as watching the animal encounter the stranger it sees in the mirror. Just remember not to use flash or else you will destroy the amazing shot with the overexposure.

Ostentatious Outdoors
How about taking your pet out for a walk and take advantage of the outdoors? Tie a dramatically colored bow or scarf around its neck. Just make sure the shade is in contrast to its hair so that it stands out. For better results, make sure your location does not have a lot of distractions as animals tend to have a short attention span naturally.

Sleeping Beauty
You do not need to have your pet all alert for a shot that simply steals the show. Let your pet sleep all it wants as that sleepy pose can truly spell success for your digital photography. You can bundle up the animal in a blanket or place a striking object next to him or under its paw and you are all set to go.
Power Play
Whether it is a ball your kitten is chasing or a sock your puppy is battling with, all pets love to play. Their actions are so priceless that you just won't find it possible to conceal your laughter. Go for the candid ones as such playful scenes not only help the animal feel relaxed but also capture its personality.

Capturing the Innocence
No one can resist those cute little eyes staring at you. With those big innocent eyes being the focus of your portrait, you are certainly going to inspire a lot of 'awws'. Just remember to have appropriate lighting as this is one factor that can truly make or break a portrait. Keep flash use to minimal as red eye is something you will not want to deal with. With these brilliant pet portrait ideas, we hope that you capture pet portraits that simple cast a spell.