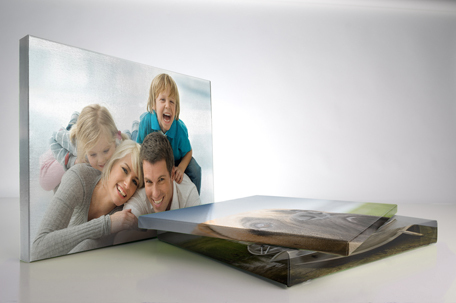 Canvas Prints you have had printed from your family photographs, vacation photos or even a child's artwork is probably something you want to hang on to for a long period of time. These canvas prints may be something you plan on passing down to a younger generation, or maybe you like to rotate you photos on canvas out at different times of the year to change up your home's decor. Whatever you end up doing we want to give you some pretty simple tips to make your canvas last.
Cleaning your canvas print
- Our canvas is extremely durable and thick. It is an artist grade 20.1 mil thick canvas with a protective coating on the front of the canvas. When the canvas gets a little dusty feel free to sue a duster on the canvas. You aren't going to scratch it. We would recommend holding the canvas in place while you are dusting it so you are careful not to knock it off the wall. Sometimes life happens and a canvas can get a little spill or spot on it...especially when it is in a high traffic environment. Not a problem, take a damp rag with a just a dab of dove dish soap and lightly rub away the mark on the canvas. That is the nice thing about our canvas. The inks are just laying over the top of the canvas, they are actually embedded into the fibers of the canvas itself. So a little damp rag isn't going to hurt it.
Can I hang my photo canvas in sunlight?
- Absolutely. We use Epson fine art archival inks that are rated to last 80 years in sunlight without fading. We use the very latest in eco-solvent ink technology. Our canvases are regularly hung in art galleries all across the nation. We strive for that type of quality for every customer. Just know that our canvas can handle the sun, the dust, and the dirt (if it should happen).
What about the wood frame?
How do I care for that? - Well...you don't have to do anything. Our fire cured poplar wood is an extremely rigid material that will resist warping over the lifetime of the canvas print. If, for any reason, the wood frame does warp and causes the canvas to sag then please give us a call and we will be happy to replace it for you. All in all there isn't too much you need to do to maintain your treasured canvas prints. You can use a duster and a damp cloth to clean the canvas. You can hang it in direct sunlight if you want to and not worry that the colors will fade on the canvas. You don't even have to worry about the wood frame in the back because the materials we use are what set us apart from anyone else. The color and quality you see on your canvas now will be there for years to come. We make it our mission to deliver you a canvas that could hang in the Louvre...even if it is a photo of your pet goldfish. This caring for your art article is written for Canvas Press. To find out more about Canvas Press' products visit
www.canvaspress.com
.