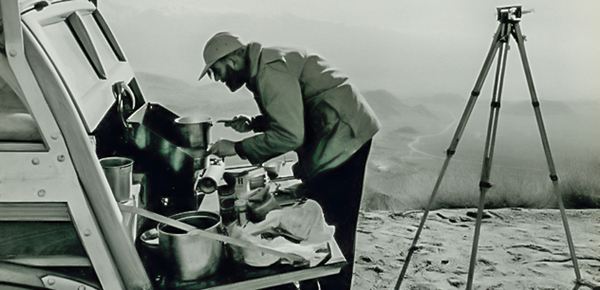 My first interest in photography was spawned by a college course on audio visual aids that required we take some black and white photos and build a story board for presentation on some subject. I fell in love with the dark room process, with the creativity and the control one had in presenting the concept.
One person has influenced my photography more than any other. I saw some black and white images by someone with the unlikely name of Ansel Adams on a poster. They took my breath away. One was from the Owens Valley at Manzanar, California, the other from inside the Carlsbad Caverns. The power of these phenomenal landscapes consumed me and I vowed as how I was going to do that very thing and impress all my friends with my artistic ability. That was forty years ago. I have been trying ever since.
My friends were all shooting away with their pitiful little 110 Instamatics, capturing social moments. I had an ancient Argus C3 that my dad had bought in the Philippines in 1953. It took about ten minutes to set up and shoot one picture. Looking at the world through black and white changed my whole perspective on the world. I learned about texture. I learned that brown hair on a green lawn did not show up at all. I kept looking for that perfect landscape that would propel me into fame. And there were some. I just could not capture the majesty. The more I tried, the worse they seemed. My eyes could see it, but not the camera. It finally came to my youthful mind that Ansel must know something I didn't know. He could capture the elegance in the mountains, the storms, those craggy Native American faces, the stoic solitude of the Japanese internment camp at Manzanar. Yeah, I had some pictures that I was proud of and they were probably nibbling on at least the composition of what Ansel's most lackluster efforts produced. At least I thought so. I studied more, got the Life-Time series on photography and read them cover to cover. I got better. And the better I got, the more I realized how much I did not know and how good Mr. Adams really was.
Our first child was on the way. We needed a bigger house. We rented a three bedroom on a corner in a quiet community. I set up one bedroom as the nursery. When my spouse came home to a work bench looking arrangement in the third bedroom with wires running around, she could not grasp what I was doing. It was too tall for a changing table. No drawers for kiddy clothes. What was this?
"Well, it is obvious, my dear. It is going to be my darkroom. I am going to learn the craft." To say she was stunned is probably a gross understatement. I was making $85 a paycheck and the rent was $105 a month. What could her insane husband be thinking?
She eventually came around to see that having great photographs of our young son, the cats, the yard, the texture on the stucco, was a fun distraction for both of us. Away from the reality of long war time separations, landing on aircraft carriers day and night in all kinds of weather, and raising a child with no instruction manual.
My art grew. But I still stared at those Ansel Adams pictures with wonderment in how he captured those awe inspiring landscapes.
I still do.