Are you tired of the same cookie cutter photo sizes that are out there? 8x10, 11x14, 16x20, 20x30, blah, blah, blah. It can definitely get repetitive. What if you need a piece of artwork to fit a space that isn't found in those "standard" sizes? We have the solution for you. Custom size canvas prints. They are your key to create unique canvas wall art displays. They allow so much more latitude and creativity in creating one of a kind artwork that you, your clients, or even your coworkers will love.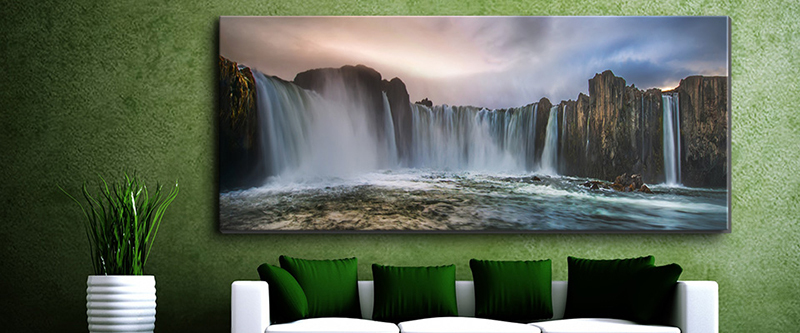 Most people are unaware that we offer
custom canvas prints
in sizes as small as 8"x8" all the up to 54"x96" and every inch increment in between. So what does that mean for you? Well let's dive into it.
Benefits of custom size canvas prints
fit an unruly space
amps up the unique factor
easily create panoramic canvas prints
experiment with interesting crops
create custom wall collages
art reproduction
Custom Size Canvas Prints Fit Any Unruly Space
I am sure everyone has that wall that they just don't know what to do with it. Is it big enough to hold artwork? Should I put some furniture in front of it? If I do will it look weird because the rest of the wall is bare? All of these questions are not a concern when sizing a canvas through our site. As long as you have some artwork or photo that will work in that specific "weird" spot then we can make that custom size canvas print to fit it. Long and narrow? Tall and narrow? Crazy niches? No worries. Simply head over to our canvas pricing page and plug in the dimensions you need to cover to give you an idea of what that canvas or canvases will cost.
Need to Amp Up the Unique Factor?
One thing that can set you apart as an artist, designer or as a cool homeowner is using a creatively sized canvas print. It can go a long way to developing a style or aesthetic to a space as something that speaks to your style. There are a ton of creative ways for showcasing your art and photos by using a custom size canvas. For example, you could split the artwork up into individual tiles, or go big with some artwork (think feet not inches), turn a photo into a triptych. If you need more ideas feel free to give us a call and ask us what we would suggest for your specific artwork.
Create Instant Panoramic Photos on Canvas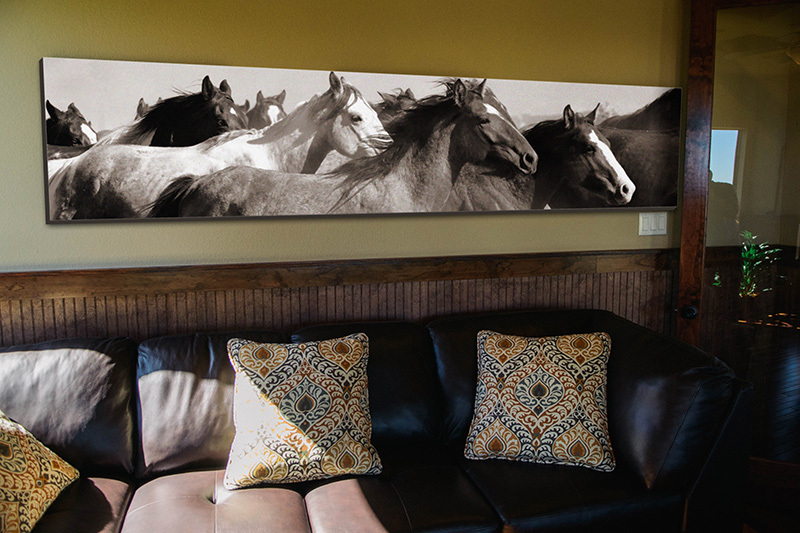 A real panoramic photo is done by using a special camera, but you could create your own just by sizing your canvas print. This is a great look for landscape photographs, but don't limit your creativity there. Tall and skinny vertical canvas prints can have a unique look on a wall…especially when they are hung together to make a cohesive look. You can get a sense of what the image might look like by playing with our crop tool or using Photoshop / Photoshop Express to crop your image in different panoramic ratios.
Experimenting With Interesting Crop Sizes Leads to Impact Pieces
Having the freedom to choose any size you want gives you a lot of power…Be sure to use that power for good. Experimentation can be good for you…get outside the box. Crop an image a way you never would have before…if it doesn't look good just try something else. Sometimes this experimentation can lead to an impactful custom size art print that will be a definite conversation starter.
Wall Collages Customized to the Wall Size
When you wanted to create a collage of photos in the past you were limited to those "standard" sizes that I mentioned earlier. There really wasn't a way to inject a lot of personality into the sizing of the collage unless you used some custom framed pieces. With our custom canvas prints you can measure a wall and then decide what sizes you want to make up your collage. You can throw in some of the things we already talked about into your wall collage. Panoramic images, interestingly cropped images etc. That wall in now YOUR canvas.
Art Reproduction
If you are an artist or maybe you are decorating with art. Choosing a custom size art print gives you a chance to really stand out stylistically. Let's face it…as an artist you want to have a recognizable style. Choosing custom sizes for your artwork or photography can definitely help to define that artistic style. Whether you like to print big or small, you have the latitude to choose the right size that fits your artwork like a glove.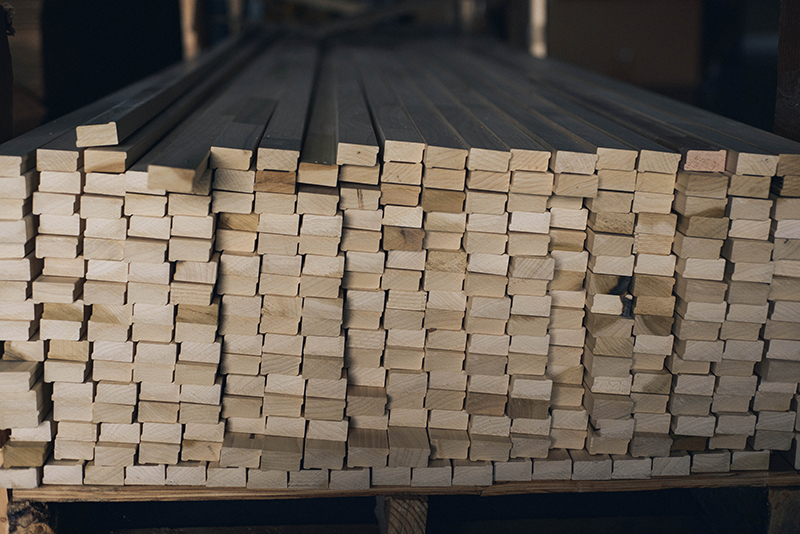 I bet you are wondering how we do it. We aren't afraid to lift the curtains for a look at how we do things. In fact we believe that the more you see how we do things the more convinced you will be that our quality surpasses other canvas companies. We custom make each and every frame for each canvas that is ordered right here in our facility. Not only that, but we use superior materials so that our canvas prints stay bright and tight for the next 90 years. That means using poplar wood that resists warping. Most of our competitors use pine or even MDF for their stretcher frames. Our canvas is a cotton / poly blend that comes directly from the mill (not from China), and each canvas is hand stretched…also right here at our facility.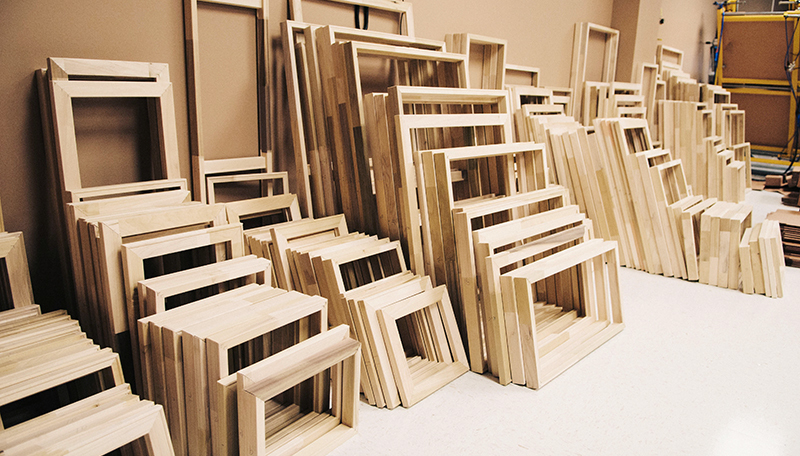 I would guess that the hardest part about the whole process would be choosing the right custom size for your next canvas print. Luckily we are always here to help. If you want us to look at your photo for a recommended size please use our
Free Image Consultation service
. We are always happy to help in any way that we can. For more info on creating custom size canvas prints check out
this page on our site
.