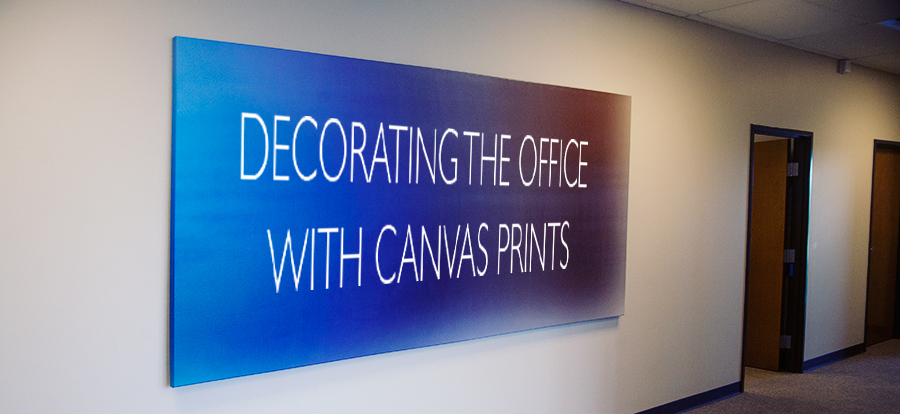 Whether you work from an office at home or in a corporate environment, are redecorating your office for an update or for the first time, one thing is clear: an office simply looks more attractive with the benefit of well-chosen artwork. An attractively decorated office can make you more productive and can make late nights spent working feel a little bit less lonely. Canvas prints are a great choice for office wall decorations for a variety of reasons, so let's look at why – and how – to decorate your office with canvas prints.
Canvas Prints – Business Casual or Business Professional
Even interior designers are sometimes stumped when challenged to pick out artwork for an office. For one thing, no one wants to repeat the same artwork as everyone else; Monet and Van Gogh have their place, but there are only so many offices one can walk into and see the same popular works before the look becomes stale. On the other hand, no one wants to be too casual with office artwork, as this can give the wrong impression to clients. Canvas prints are an ideal solution since they allow you to pick out your own artwork and achieve the right balance for your work and for your personality.
Personalized Canvas Prints for Your Business
You might prefer that your office wall decorations reflect your business. If so, it can be a struggle to find artwork that's personalized enough for your business without sending out a commission that might break the budget. Canvas prints for the office might be the answer you're looking for! Since you choose the images for your canvas prints, you can make sure that the artwork you hang in your office makes a great first impression and represents your business the way that you want it to be seen.
Tips for Decorating the Office with Canvas Prints
You probably spend as much, if not more, time in your office as you do at home. Make the office feel more welcoming to you and to your visitors with these tips for decorating with canvas prints.
Look for a bit of color. Since office spaces tend to utilize neutral colors, a splash of color on a canvas print can make a large impact and draw visitors' attention. If you work in a more creative environment where the colors are vibrant, you can achieve the same effect by going neutral.
Add a local flavor. Even if you work for a national business, your location is local. Show your pride in your community by displaying photos on canvas of local attractions and landscapes.
Mix in the professional. You can print nearly anything on canvas, including your business logo and other materials. Have fun decorating by mixing business with aesthetics for an overall professional look that speaks to your business and your personality.
Decorating the office with canvas prints is an easy and affordable way to bring artwork into the professional environment. See how easy it is with
Canvas Press' simple ordering process
and get started with decorating your office!
This article is written for Canvas Press. To find out more about Canvas Press' products visit www.canvaspress.com.