At my house, preparing Christmas cards inaugurates the holiday season. We usually have the cards ready to send by the week before Thanksgiving, which gives us plenty of time to prepare photo Christmas cards. If you don't think you have the time, here's some good news: According to the etiquette gurus at
Emily Post
, it's perfectly find to send e-cards as well! Here are three Christmas card photo ideas, whether you choose to have them printed or go the electronic route.
Send a "Vintage" Family Photo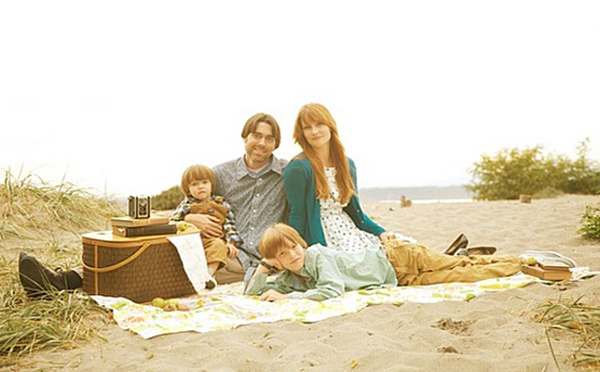 This vintage inspired family photo could make a great Christmas card for an active family.
Photo courtesy Tiffany Musso on Pinterest via Stephmodo.com. Christmas is a great time to display vintage style, and that can be applied to your Christmas cards as well. Make your recent digital photography look uniquely vintage by colorizing a photo in Photoshop. 1. Open your photo and go to Image > Mode. Select Grayscale. 2. Create a new Layer. Set the Blending Mode to Color using the dropdown menu in the Layers window. 3. Choose a small, soft round brush from the Brush picker. 4. In the Tools window, right click on your Foreground color to bring up the Color Picker. Here you will choose the colors for your brush. It's easiest to start with the skin of the photo's subjects. Pick a skin color that has some grey tones in it; if you pick a "true" skin tone, the photo will look unnatural. Hit OK. 5. Back on your photo, brush in the color you've chosen using your mouse. Using the shortcut keys CTRL + will zoom in on an area, while CTRL - will zoom out. This will be handy for detailed areas and areas near edges. 6. If you are unhappy with the color, try adjusting it by either decreasing the opacity in the Layers window or by adjusting the hue and saturation by going to Image > Adjustments > Hue/Saturation. 7. When you are satisfied with the skin tone, create a new layer before adding the next round of color. This will allow you to make minor (or major) adjustments at any point without impacting the colors you already applied. 8. Once your image is colorized, flatten and save it at maximum quality so that you can have it printed!
Include the Family Pets in Your Photo
If you have pets, they are part of the family – so why not include them in your Christmas card photo? Yes, it isn't always easy to get your dog or cat to stay still long enough for a photo, but using these tricks might help. 1. Pick a time for the photo when your pet is ordinarily calm. Weekend afternoons or evenings after all of the nightly excitement has died down are usually best. 2. Exercise your pet a couple hours before you plan to take a photo, then allow your pet a little time to calm down before the shoot. 3. Use a fast shutter speed on your camera, and use burst mode if you have it to maximize your chances of getting a good shot. You can also take a look at these additional pet photography tips to use year round from
the Barkroom
.
Add a Little Humor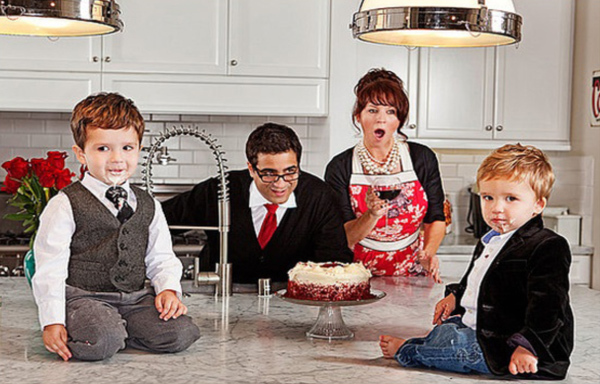 This family photo is a great mix between funny and formal.
Photo courtesy Tina Wiley on Pinterest via Babycenter.com. Humorous Christmas cards have their place, especially when you're using a photo Christmas card to send the greetings of the season. Check out these resources for ideas on how to take a great humorous Christmas photo. 1. Find inspiration from these funny photo ideas compiled by
Catching Fireflies
,
Suite101
, and
The Bump
. 2. Use printable props from
Oh Happy Day
. All you need to do is print these Christmas props, cut them out, and glue them to thick cardboard or foamcore for a fun photo. 3. Mix it up. If you want to include a more formal photo, you can do a photo collage on your card with a serious photo and a couple fun ones.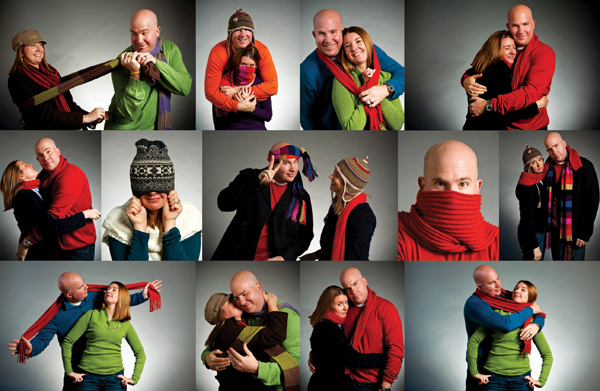 Programs and apps like
Smilebox
offer easy to use templates for the holidays that you can use no matter what type of family photo you choose to use for this year's Christmas cards. Just remember to have fun with your family during this hectic (but heartwarming!) time of year.