Preserve your Memories
On Canvas
High Quality Prints on Custom Sized Canvas Prints
Checkout what our customers have said
I have never been more impressed or happy with a company's product than I am with Canvas Press. From the first communication to the moment I was standing with the order in hand, every detail was generously discussed and specifically addressed, from design to shipping. We furnished an entire restaurant with over 30 CUSTOM canvases and I (and the restauranteur) are still stunned at the quality and craftsmanship. Whether you are a designer or just a creative that wants to get your art up and around you, I truly believe Canvas Press is the best in the country at printing. I could not have accomplished my work without them, and can't wait to work with them again. They're just terrific!!!
We are a business and I placed the order for 2 large canvases on Wednesday and they were delivered Saturday!! Definitely surpassed my expectation on delivery and to boot the quality and look of the canvases were superb!! I could not be more pleased with the purchase!! So much so I placed a personal order today!! You earned my business and word of mouth publicity!! Definitely will be back!!
For quality service and dedicated employees, Canvas Press is the BEST. This company is USA ALL THE WAY company. Support USA businesses with employees who are artists. Get this. You can easily navigate their website and they even call you if there is a problem with your order. Doak helped me with my order and his customer service was AWESOME. Stop looking at your photos on your phone and print them with CANVAS PRESS! AGAIN Writing another review for Canvas Press! March 2021 Excellent Service! Cody is a ROCK star! Thank you for the awesome ART work! This is the best company!
Design with Our Easy to Use Design Tool
Pick a product, upload your image, select a standard, custom, or fit to image size, then add the accessories and you're pretty much done.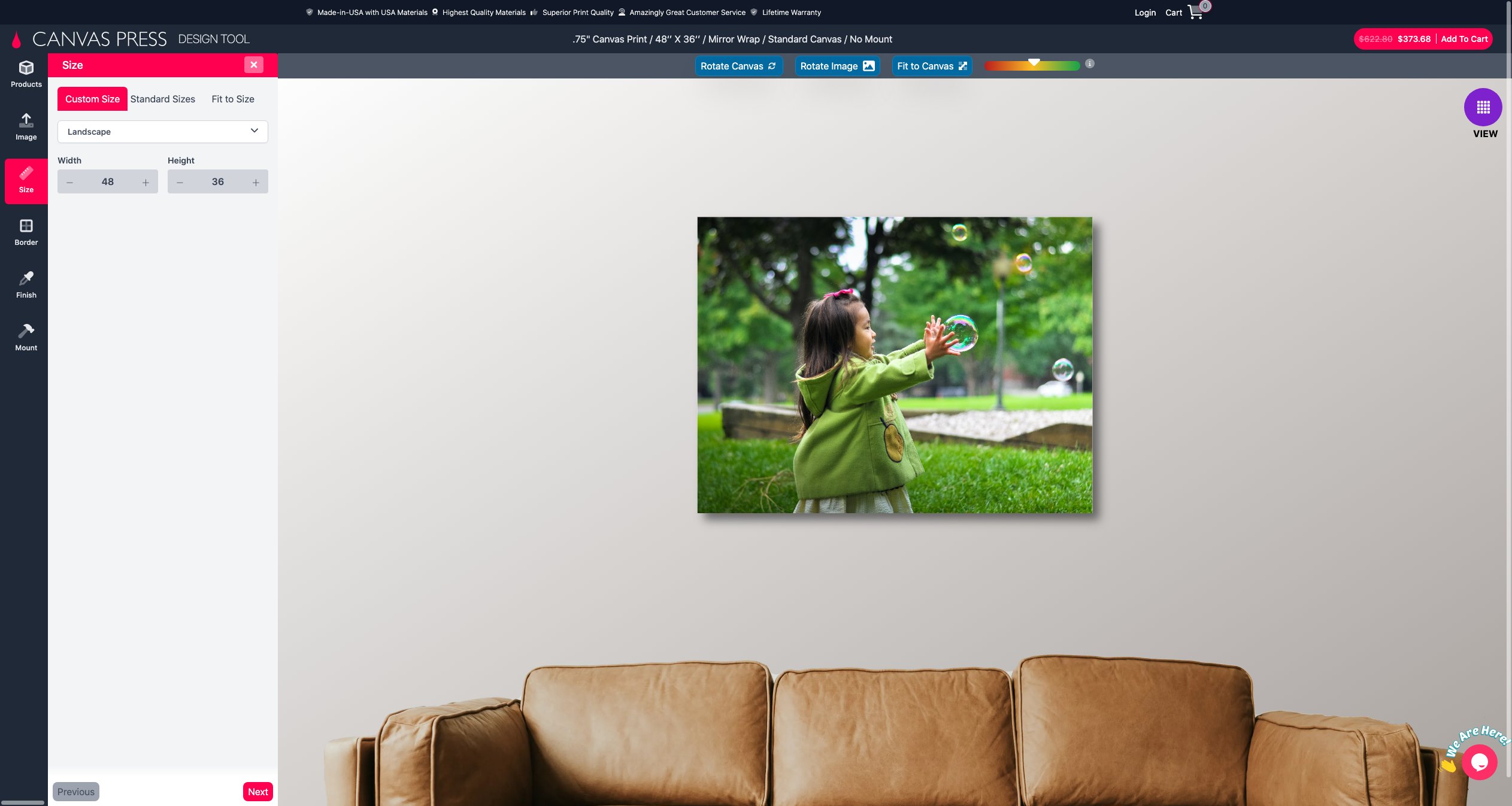 Low Canvas Prints Pricing
Prices shown reflect "Standard Canvas" type only. Additional charges will apply for other canvas types, options and/or enhancements.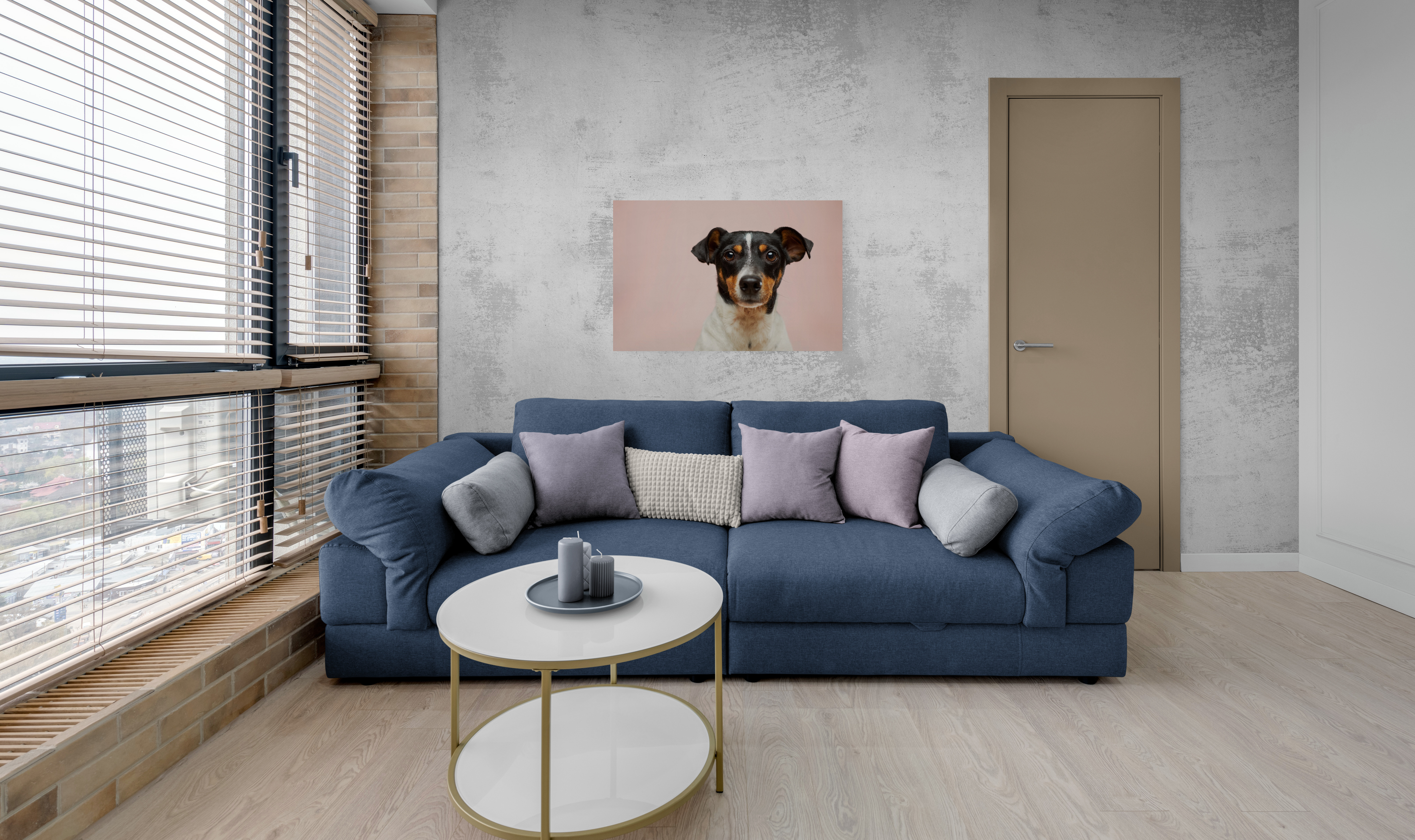 How do you stretch a frame?
Other companies offer machine-led canvas stretching, but we think that the human touch is better. We hand-stretch all of our canvas to provide you with high quality photo prints.
What type of wood is used for the frame?
Canvas Press uses Poplar wood sourced from US Mills to make their stretcher bars. Poplar wood is more dense and helps preventing sagging or warping over time. This strong wood can hold any size canvas firmly, and the rounded edges keep the canvas in place. Canvas Press uses only premium materials with its canvases.
What type of canvas do we use for printing?
We print your photos on a high-quality, poly-cotton blended canvas. Our canvas has a slight texture that gives your photos an artsy feel and the look of a museum-quality print.
Many companies claim to use a 100% cotton canvas material, which we think is not the right material to last a long time. Here's why:
Cotton is termed as a breathable material, which means it is prone to ripping and getting worn quickly. Durability is not cotton's biggest strength, whereas polyester's elastic traits make it more durable as a canvas material and gives it that extra stretch.
Because 100% polyester can get sticky with any kind of perspiration brought on it, using just polyester canvas would give the photos a cheap printed plastic look.
100% cotton canvas is expensive and requires high maintenance,
To get the best of both worlds, we combine polyester and cotton to make the canvas wrinkle-free, lightweight, and low-maintenance.
We work with the latest Epson Fine-Art printers and inks as well as custom color calibrations for all of our medias to produce consistent results. With reliable performance, we believe in minimizing waste and downtime. By using Epson Fine-Art printers, we sharpen the quality of any of your photos with a rich and vibrant color. We use all Archival inks and papers which are rated to last 70+ years. Using our high-quality materials, we are able to offer our Life-time Guaranty on craftsmanship and material defects.
Ready to get started?
Upload your Photo and See your Canvas