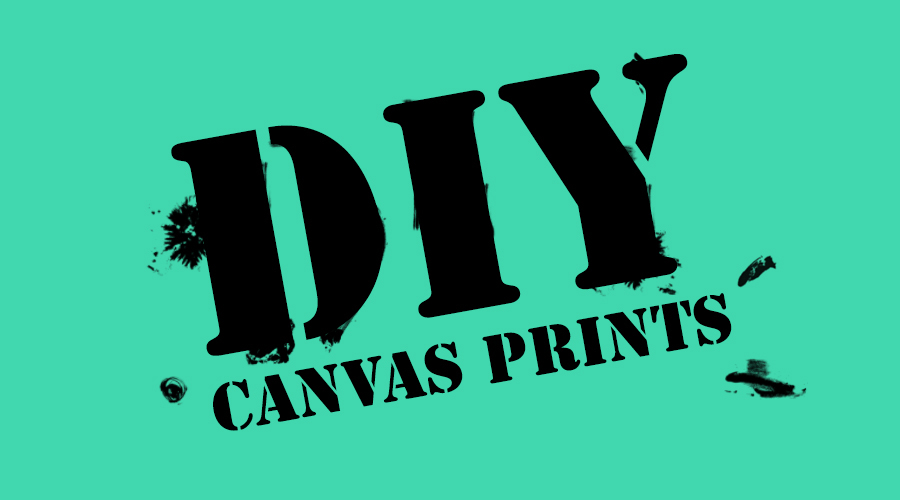 As a photographer with a crafty side you already know you can create your own works of art and have your photos printed on great looking canvas, but have you ever thought of combining these two hobbies? Blending DIY canvas prints with canvas prints from Canvas Press is a relaxing and enjoyable way to create a custom look for your home and personality. You will feel a sense of accomplishment too, especially with the compliments that will be coming your way. Here are a few fun ideas to DIY your canvas prints.
DIY Spray Ink
Urban and urban-inspired art is trending in a big way, and one part of this trend is a graffiti-type look. If you are looking to capture this look for your own home but don't want to mess with spray paint, there's an easy way to create spray ink that cleans up without special solvents. Simply mix about two parts of acrylic paint to one part water in a travel-size spray bottle, using Mod Podge as a binder. You can find a great tutorial on this technique and ideas for application via the
Balzer Designs blog
. You may want to experiment with a blank canvas to see how different distances and spray pressures effect the pattern before adding your art to your canvas print.
Inspirational Word Art Stencils and Graphics
Word art is another trend that's gaining in popularity. Using inspirational word art stencils on your canvas print can add depth and a multimedia look that is different from software-designed word art. You can find word art stencils at nearly any arts and crafts store in a variety of fonts to match the mood of your canvas print and your home décor. To ensure that your stencil lasts as long as your print, you may want to use a clear finish over the completed piece. Gel medium transfers are a similar and surprisingly simple idea that you can use for word art or designs. Check out this
Dream, Create, Inspire tutorial
for an easy how-to.
Varnish and Other Artistic Finishes
Whether you add multimedia elements to your canvas print or not, there are many artistic finishes available that can add extra flair to your canvas home décor. These are typically available in brush on or spray on formulas, with finishes including sparkle, shimmer, glossy, matte, and more. Mod Podge is one popular finish that comes in a wide variety of colors and sheens. It's also very easy to use. Find more inspiration for using Mod Podge on canvas prints via the
Mod Podge Rocks!
Blog. Note that no matter what finish you use, it's a good idea to test it on a small section of your canvas first, such as on the least-seen edge. Some finishes may strip or weaken your Canvas Press print. If you aren't sure or want additional guidance before a DIY idea on your canvas print, contact the friendly experts at Canvas Press at 888.784.5553. We are also artists who support DIY canvas prints and want to help you!
This article is written for Canvas Press. To find out more about Canvas Press' products visit www.canvaspress.com.