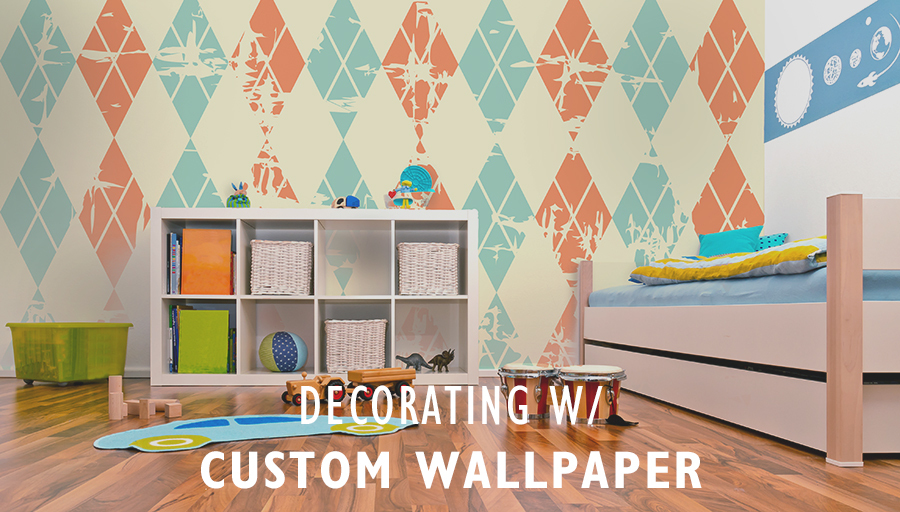 Custom Wallpaper can serve as a wonderful accent for any room in your home. If you feel wallpaper is passé, think again! There are many ways to spice up your home using wallpaper! The patterns, images and textures available can help you show your personal style.
Custom wallpaper
helps enhance strong points in a room, and hide flaws on the walls. It can fix odd angles in rooms, creating a sense of uniformity. Wallpaper can add sophistication, or surprising splashes of color. Be creative when using wallpaper! Make people expect the unexpected! How can you incorporate wallpaper into your home in fresh, creative ways? Use custom wallpaper to behind a open back bookshelf, making objects on the shelf stand out. Find a pattern that compliments your living room colors and hang a piece of wallpaper only above the fireplace. This affect will cause the fireplace to become the focal point of the room. Speaking of focal points, creating a feature wall, by only wallpapering one wall in a room will really make the wall "pop", especially when you paint the rest of the room a lighter color from the feature wall's pattern! If you choose to create a layered look on your walls, use a textured wallpaper (
check out our canvas textured custom wallpaper
). Add to the texture by hanging groupings of pictures. Make sure to plan out your arrangement ahead of time, to avoid creating extra holes in the wallpaper. The pictures you choose should be an extension of the wallpaper, and serve to enhance the vibe already created. The wallpaper acts as a background canvas upon which to display your art. If your wallpaper pattern is bold and overly intricate, then use them in small doses such as bathrooms, entryways, or other areas of the home that aren't main gathering spaces. The small doses will go a long way and you or your guests won't become overwhelmed. Custom wallpaper doesn't have to be displayed in full pieces. Think outside the box, using leftover wallpaper to decorate in different ways. Frame pieces of wallpaper, creating art pieces to compliment a wall. Cover the top of a coffee table with a piece of wallpaper, protecting it with glass, to create a colorful runner. Give color and pizzazz to a corkboard in your office or kitchen, by covering it with patterned wallpaper. Vinyl coated wallpaper can be used to update a wooden chair, making it look new again! Another idea is to use only strips of patterned wallpaper against a solid colored wall in a complimentary color. This creates an unexpected fusion of color into a room. Ladies, don't wait for your man to hang wallpaper! There are many do-it-yourself ideas incorporating wallpaper! Line the inside of a solid colored lamp with wallpaper, giving it a surprising hint of color. Is your headboard in your bedroom looking a little worse for wear? Decorate it with wallpaper to revive it! Add an air of elegance to a room by making wallpaper panels to hang on the walls. Using paper in the same color family as the surrounding walls will blend nicely with a room. You can incorporate a bright pattern by wallpapering your closet, kitchen cupboards, or lining clothing drawers! Opening a closet or drawer to see this unexpected shot of color will make you feel good, and protect drawers from spills. Wallpaper is so versatile that it's popping up everywhere in homes. It gives pizzazz to rooms and allows home owners to display their creativity. What are you waiting for? Let us know if you need help selecting an image or unique pattern to decorate your home with!