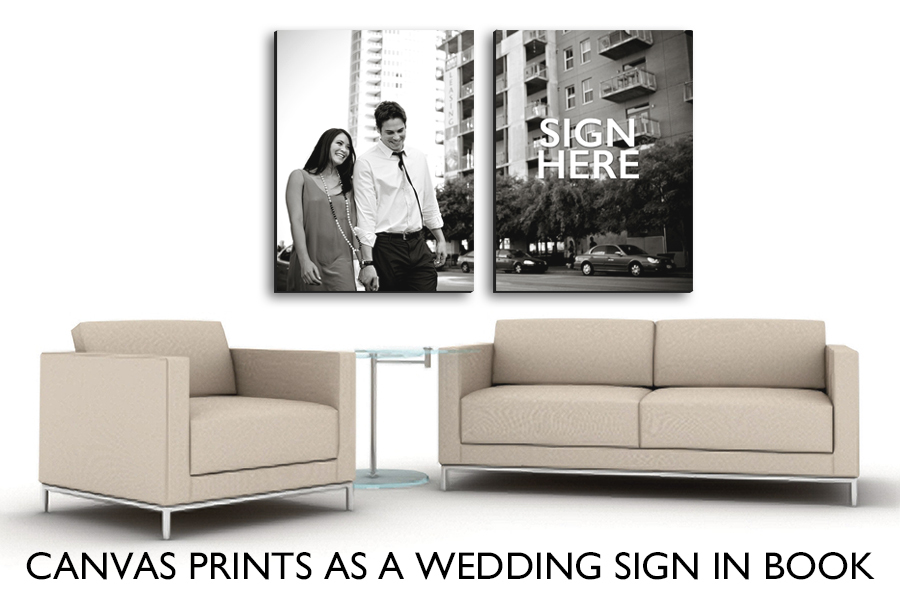 As crafty ideas become more accessible without the aid of a high-budget wedding planner, couples are getting more creative with their wedding sign in books. You may have seen a few new ideas at recent weddings, from garlands to signed plates and even quilts. A unique alternative to use for your upcoming wedding, or to suggest to someone looking for creative wedding sign in book ideas, is using canvas prints. Here are a few ideas for using canvas prints as a wedding guests sign in book.
Use a Photo on Canvas
Personal photos might be the most popular choice for canvas prints, and with reason. Canvas prints give a professional, finished presentation to meaningful photos in a keepsake-quality format. For a wedding sign in book, print a photo of the bride and groom on canvas with extra space around it for signing (an engagement photo works great for this idea). For the most polished look, break the photo up into 2 or 3 canvas prints. That way you can have your guests sign a part of the photo that is a little more empty, and years down the road you can take the canvases with the signatures down and keep the canvas up that is just the two of you. You might also consider using a photo that matches the theme of the wedding, such as a map or travel landscape for destination weddings.
Consider Word Art Canvas Prints
Word art on canvas is another popular choice, and can be especially meaningful for weddings. Think about having a poem chosen by the couple printed on canvas or the couple's own wedding vows. As with a photo, you'll want to use an aspect ratio that compliments the canvas dimensions and leave plenty of room for guests to sign on the edges. Printing a bold but simple border around the vows or poem marks boundaries and provides a classic, sharp line to help pull the canvas together with the couple's home décor.
Print a Puzzle
The bride and groom's friends and family are like individual puzzle pieces that fit into the whole of the new life that they are starting together. Conceptualize this puzzle by having blank puzzle pieces printed on canvas that match the number of friends and family attending the wedding, and ask guests to sign one puzzle piece each (or together, in the case of +1s).
Go for Graphic Design
Print the bride and groom's first names and wedding date under a tasteful but simple graphic design, such as a chevron pattern that matches the couple's registry décor, and leave space at the sides for guests to sign. Pinterest is a great place to look for inspirations for this idea, and it's also easy to find templates on the web. There are a variety of ways that a canvas print can be personalized as a wedding sign in "book," and it's easy to set up–a canvas print on a simple table top or art easel with colored pens placed nearby is accessible and clear to the guests. Using a canvas print for a wedding sign in book provides the bride and groom with a finished piece of art to commemorate their wedding that can be hung anywhere in their home to remind them of their wedding day.