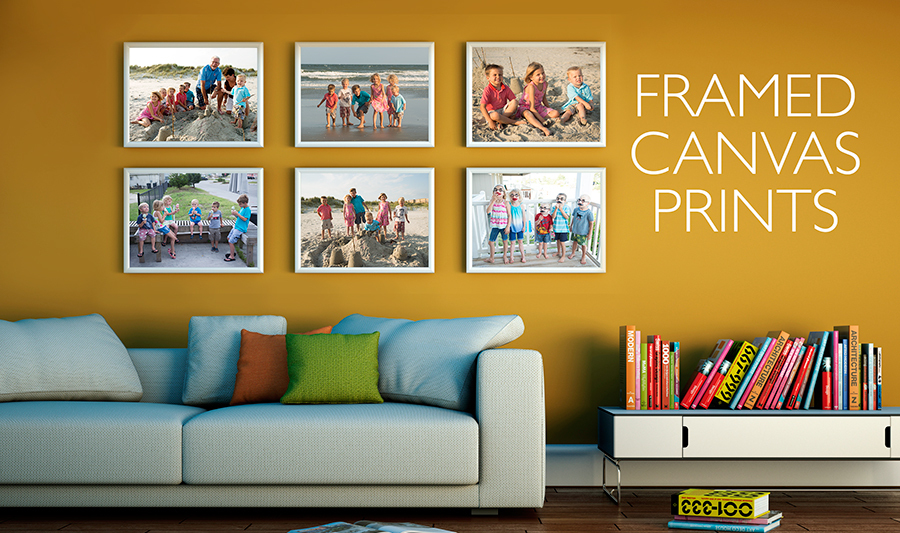 Frames can draw attention to a work of art and set off its best elements. Frames can add structure to an artwork and the context in which it's placed on a wall. In addition, frames help protect treasured photos and prints, especially in high traffic areas like hallways and walls above your room's traffic pattern. Framed small canvas photo prints in sizes like square 8"x8" or traditional 8"x10" can complement each other and add visual interest while highlighting your artistic and design strengths. Here's how to use small framed canvas prints to make a big impact in your home.
Choosing the Right Frame for SMALL CANVAS PHOTO PRINTS
Decorating with framed small canvas photo prints starts with choosing the right frame for maximum impact. Many advice columns suggest that the frame style should complement the style of the artwork. You can see this in action in museums, as contemporary art tends to use thin, solid color frames while classic oil paintings tend to be set off by thicker, more ornate frames. However, you can also turn this accepted wisdom on its head if your style is more modern or eclectic. The flow of an eclectic room allows you to get creative. Other "rules" you can break include:
Using the same style frame for each piece. If you use the same style frame over and over, there's a risk that the frame becomes the focus rather than the work. Use similar elements, such as color groups or thickness, but don't feel constrained to always use the same frame.
Matching frame thickness to the artwork's size. True, some smaller canvas prints may be "lost" in a thick frame, but simpler canvas prints can hold their own against a thicker frame, which might flow better with the room overall.
Matching frame colors to the artwork's subject. Accepted wisdom suggests that the frame color should be pulled from the canvas, but the reality is that complimentary colors work just as well.
Create a Collage of Framed Canvas Prints
A collage of framed canvas prints can make a big impact in your home, and can also make a big impact as a gift. Collages can be done in so many different ways with small canvases, it can almost be overwhelming. A few ideas for collage arrangements include:
Traditional square. In a square arrangement, canvas prints are arranged in a symmetrical grid, such as 2x2, 3x3, 4x4, and so on. Using similar subjects involves the viewer in appreciating the arrangement as a whole and its individual components.
Linear display. Perfect for small wall spaces, such as between doorways or fixtures, a linear display lines small canvas prints one atop the other. This maximizes the space and draws the viewer's attention.
Asymmetrical groupings. Asymmetrical groupings are the perfect solution when you want to use different sized canvases in the same display, or even to incorporate different types of wall décor with your canvas prints.
Canvas Press is your canvas expert, and we can frame your canvas prints with a variety of frames selected to bring out the best in your artwork. Check out our printing and framing options and get started with your new canvas prints today!
This article is written for Canvas Press. To find out more about Canvas Press' products visit www.canvaspress.com.