We have recently been asked for some ideas on decorating an office with some
canvas prints
. Specifically, what are some unique ways to display family photos or art in an office environment with canvas. I started thinking about the functionality of an office and that a few walls may be needed for presenting or taken up with information. Each person sets up their office differently so there are several ways to go about it. I think one of the first things to realize is that space is a priority in an office so you may have to think on a smaller scale (although not always). A person's office walls are one of the best places to leave their mark or their personality when they are away from home. That being said a photo on canvas maybe competing with diplomas, awards, other posters or work charts, book cases etc. One of the keys to making a statement with canvas prints in an office is to find a focal wall or two that you can hang something up. Once you have found that spot and maybe rearranged a few things then the next step is figure out an arrangement of canvases. Now you can go with your style and not worry too much about what your spouse will think of your decorating tastes...This is YOUR office so you deserve to decorate it however you want. But if you don't have the slightest clue where to begin I think we can help with a few ideas. First, think about being cohesive with the canvas prints you decide to hang on the wall. That means maybe they are all the same size, or all in similar color tones. They could even all be in black and white. Once you have established this first design choice then you can start thinking outside the box on sizes and formats. One idea could be to take one of your walls and hang a filmstrip canvas of each loved one in your family. This photo shows it on a much larger scale. Take that size and scale it down a little and this would be a unique office wall decor creation.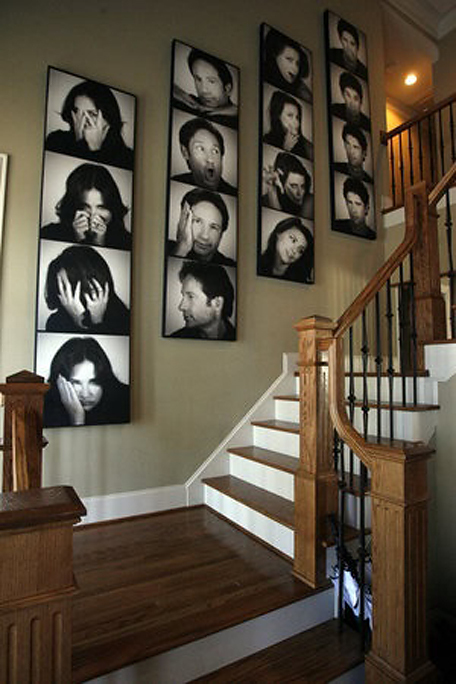 If you love symmetry then choose 3, 4, 5, 6, 8 or 9 photos to canvas and align them all. Each canvas would be the same size to keep with the symmetrical design. I chose those numbers of canvases because they can be grouped or put into a grid very easily. This can make for a very clean and uncluttered yet fashionable display in an office environment. And let's face it...we all need a little "uncluttered" in our lives and especially in our office.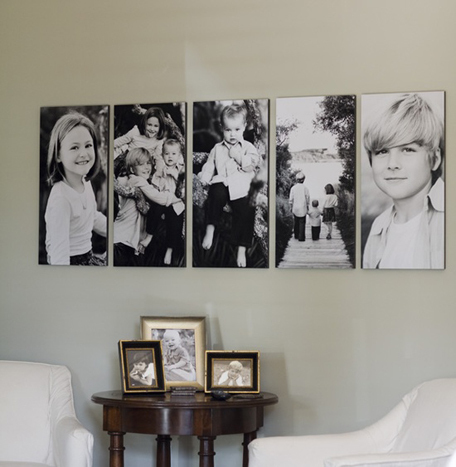 Another idea has to do with a portion of a gallery wrapped canvas print that sometimes goes overlooked. That would be the sides of the canvas. In this example we encourage you to come up with a special design or words that can be printed on the sides of the canvas print. This definitely gives some added attention and focus to the print. Not only that, but it is bound to be a great conversation starter for your important meetings you hold in your corner office.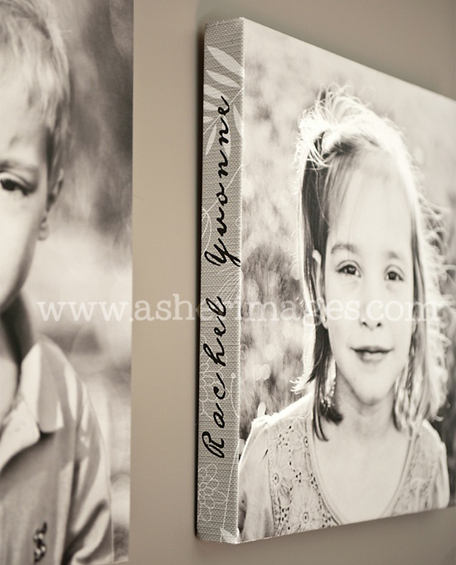 Photo Courtesy of Asher Images Photography & Design
Remember when I said to think on a smaller scale. Ok, throw that out the window. If you have the space in your office for a full focal wall and you really want to make an impact, then take it to the next level and cover the whole wall in canvas. If all the photos are done in the same style (like I mentioned earlier) this can really turn your ho-hum office into an enviable space to work in.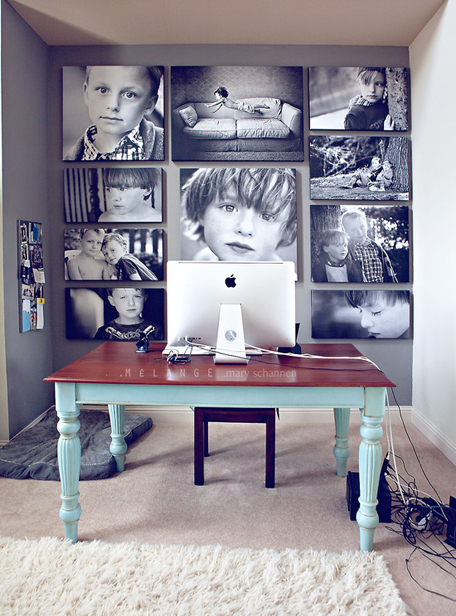 Let us know if you need help with editing several images so they have the same tone or if you want to try to add something special to the sides of your next canvas give us a call or email. We are here M-F 8-6pm CST. 888.784.5553 or support@canvaspress.com. We would love to hear your ideas or see your unique office wall decor. Send us some photos.
www.canvaspress.com