The number one priority for most full-time artists is to get their art noticed. After all, art is meant to be appreciated! Yet very few artists are famous on the level of Dean Koontz or Gillian Wearing, and those who are worked hard to get there. By starting small you, too can get more notice for your own artwork, and it is up to you if you want to build publicity to family and friends or wider audiences. There is no magic formula for getting noticed in the art world. It takes a lot of hard work, here are a few ideas that can possibly help that along.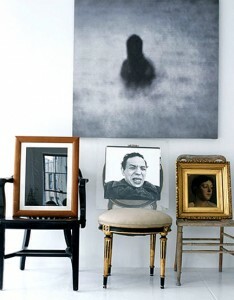 Setting up an in home art showing doesn't have to be complicated. By placing one or two large pieces on the wall and showing the rest on chairs, you can avoid wall hanging worries.
Photo courtesy Wohnen mit Kunst
Have a Showing at Your House
If you are nervous about debuting your art to a wider audience, it can be easier to start with a group of friends and family who you already know and whose opinions you trust. Why not have showings of your work at your own home to get your feet wet? Send out custom invitations showcasing your art to get guests excited about your work, and think about ways that you can show your work throughout the party so that guests can review your pieces at their convenience.
Inject Your Art into Facebook and Twitter Feeds
If you are already connecting with friends and family through Facebook and Twitter, you can use these same channels to connect those close to you to your artwork. Send out updates about recently finished work or projects you are starting occasionally, and be sure to include pictures! Just be careful not to make your social media feeds entirely about your art; too much can be overwhelming.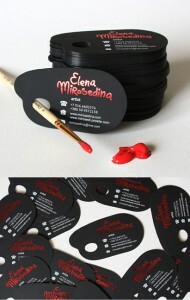 Let your imagination run wild with your art business cards to test the boundaries of what is possible. These custom palette business cards are unique and to the point.
Photo courtesy Elena Mirosedina
Turn Your Business Cards into Mini Portfolios
Business cards are less expensive than they used to be, which puts personalized business cards within reach for getting the word out about your art. By including only your basic contact information, you can make space on a standard-sized business card to showcase your artwork, or make use of the back to provide thumbnail images of your favorite work. Creative business cards are now all the rage, so feel free to let your imagination take charge!
Show Your Work in Online Galleries
There are a number of reputable online art galleries, some of which have a local or regional focus and others of which are national. If you are ready to take your artwork to a wider audience but not ready to start sending proposals to physical galleries, an online gallery can be a great stepping stone. Certain galleries allow audiences to purchase artwork, while others are just focused on cultivating art appreciation. Galleries you might consider include:
Art Pickle. Art Pickle is an online gallery that is free to artists and users that includes an events calendar for happenings of interest to artists.
DeviantArt. DeviantArt is an active online art gallery and social network that also provides a platform for artists to sell artwork. Basic options are free, with more advanced options included in monthly membership.
Artist Rising. Artist Rising follows a pricing structure similar to DeviantArt, but the focus here is on making it easy for browsers to find artwork to purchase.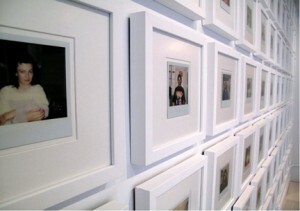 Online art galleries take a cue from traditional galleries in displaying artists' work – and the selection can be even deeper.
Photo courtesy coolhunting.com via Matteo Ventura on Pinterest
Network with Other Artists
The art world tends to be close-knit, but that does not mean you can't be a part of it! By networking with other artists you can learn about the art marketing world and potentially get your foot in the door at art galleries, juried art shows, and more. Even if you are not extroverted by nature, you might find that meeting like-minded artists and participating in art related meetings is a fun way to learn. Start networking by:
Visiting art shows in your area and talking to artists about their work
Joining a local art league or association that holds regular meetings and shows
Participating in artist's workshops and seminars sponsored by art galleries, supply stores, or local colleges
Art is always personal, so it can be difficult to let go and show your art to others. However, the appreciation that others show for what you do makes it all worthwhile, and if you intend to sell your artwork you will eventually need to take the plunge! Start small to get your artwork noticed, and see where it takes you.
Ask For Critiques
- This is a bonus tip that can both get you noticed and also improve your art at the same time. This can be hardest on the ego, but if you can get critiqued by some art curators or even artists/photographers you respect in your area then you can build a relationship that could end up getting your work noticed. The key is to go in to a critique with an open mind, putting your ego aside. Remember the end goal...make your artwork the best it can be and get noticed at the same time.