We have wrapped up Black-Friday, Small Business Saturday, and Cyber-Monday all into one big sale...so we got extremely creative and are calling it "The Big Sale". I know, it is pretty catchy.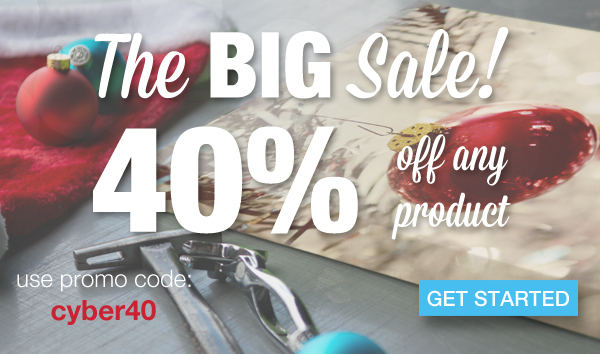 You can save 40% on any product we carry...even custom wallpaper. This is the perfect opportunity to try a product for the first time or get that one large canvas print you have been wanting for your fireplace mantle or above your bed. Maybe you just got married and you are looking for some special thank you gifts for your entire wedding party. Go small with 8x8 canvas prints or metal prints with one of your favorite photos from the wedding. Giving the gift of a photo on canvas or metal is the gift of a cherished memory and whoever the lucky person you give this gift to can hold on to that memory for a very long time. The point is that you don't have to put yourself through the trauma of the big box
Black Friday sales
. You can stay in the comfort of your own home...possibly in some stretchy pants (I know I will), and do some of your Christmas shopping on our
website
. If you have ordered from us before you know the care we take in delivering top quality products. We do not cut corners on materials or push orders through that are not of proper resolution. Even in this busy season we will still look at every order that comes in to make sure that the resolution of each photo will make a good print. Our 30 day 100% satisfaction guarantee will still stand. You get all of that and you still get 40% off. The sale will end on Wednesday, December 4th at midnight (PST) so that should give you some time to get the photos together that you want to order. If you have any questions you can email us at support@canvaspress.com. We hope you had a great Thanksgiving day! Here is to sitting in comfortable clothes, staying at home and doing your Christmas shopping online! Cheers.