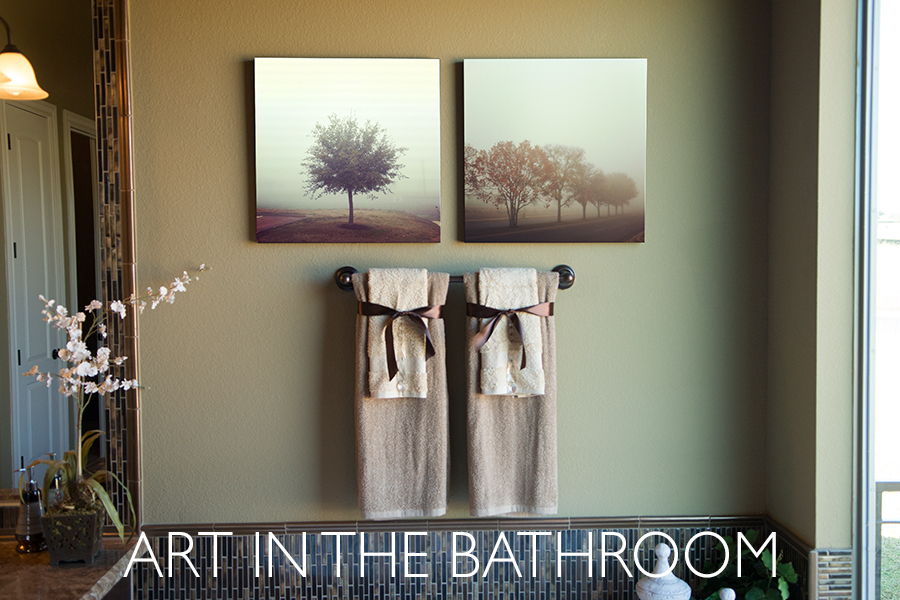 Art...in the bathroom? Why not? You have chosen the artwork for the living spaces in your home with thought and care from the bedroom down to the dining room, but what about your bathroom? The bathroom is often overlooked as a place to display artwork, even though it's a room that guests see and use frequently. There are some fears that keep you good people from displaying some type of artwork in the loo.
Moisture and humidity that could potentially ruin the art over time.
Size of the artwork. Some of you are working with tight spaces and not a ton of wall space.
The question of tastefulness. Basically wondering if it is weird to display artwork in the bathroom.
Setting the Mood with Bathroom Art
There are questions that you have to ask yourself before you go charging ahead and putting some seashell artwork on your bathroom walls. Treat it as you would any other bathroom. You can transform your bathroom into a conversation starter with your guests. So, do you prefer a bathroom that is serene and peaceful, bright and powerful, or playful and humorous? The right piece of art can elevate the mood of existing calming colors or tone down the influence of vibrant ones. Since bathrooms are smaller spaces just a single piece of art can make a big difference! Things to think about when choosing the best artwork for your bathroom walls:
If it's not time to change the color of the bathroom walls but you want to change the mood, look to a larger piece of art complimented by other accessories like towels and toiletry holders that adhere to the mood of the art, not necessarily the wall color.
Remember you don't have to be hemmed in by traditional bathroom wall ideas if you don't want to be! If you're going for a serene look, be a little unexpected and choose black and white art of sand dunes instead of the normal beach scene. You can also take this in another direction and just pick a landscape you love; it doesn't have to be sand and surf just because it's a bathroom!

Bring the outside in with photos of forests & other greenery.
Detail photos from a favorite vacation can be both calming and be a great conversation piece.
Photos without a lot of contrast also can have a calming effect.
Word art can be great for a serene bathroom. Print an inspirational quote, mantra, or poem on photo paper or as a metal print.

To elevate a theme for a bright and powerful impact look to contemporary themes with vibrant colors for your wall art and let the artwork be the statement. Bright colors all over in a bathroom might be overwhelming, but one or two pieces that speak can hit the right notes. As all the designers on HGTV say those bright colors will pop and give your bathroom a little more energy and power.

Photos with a lot of saturated color are great for this.
You don't have to go big to make a big impact...but you could.
The trick is not to choose a photo that has color that clashes but is complementary. The great thing about having neutral paint on the walls in your bath is that almost any bright pop of color works.

For those who dare go down the playful & humorous path there are a ton of art options out there can can make your visitors come out of the bathroom wanting to tell someone else they need to check it out. This is where you can go from "haha, that is cute" to " what in the...?". It is completely up to you how far you want to go.
Metal Prints: The Perfect Solution
The biggest challenge that folks face when choosing artwork for a bathroom wall is finding pieces that are water and moisture resistant. In a well-ventilated bathroom, canvas prints – even professionally framed canvas prints – might be an option. You might also skirt the humidity issue by choosing inexpensive artwork that does not have great sentimental value. However, if you want an attractive piece of art that stands up to the humidity that has personal meaning to you and your family, there is another option to consider: metal prints.
Dye-sublimation metal prints
from Canvas Press are printed on aluminum with high quality inks. This combination of materials provides a color vibrancy and resolution that demands attention. Plus, the durability of these materials even in humid conditions is perfect for an eye-catching piece of artwork in the bathroom. In addition, the light weight of metal prints allows them to be hung on most wall surfaces without the need for finding studs like with heavier artwork. In sizes from 2"x3" up to 15"x19", you can pick the right dimensions for your metal print art for any room from Canvas Press.
This article is written for Canvas Press. To find out more about Canvas Press' products visit www.canvaspress.com.