If you have a teen girl at home, you know that the 80s are back in a big way. Skinny jeans, lace-up sneakers, and neon nail polish are all the rage, and the styles are making their way into interior decorating. 80s retro for home decorating is not bringing back pastels and Laura Ashley (thankfully!); the trend is to use the same bright colors seen in clothes and commercials of the time. This is a great style for your daughter's room, since it's personal, funky, and easy to do on a budget.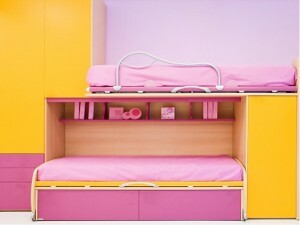 How to Avoid Painting the Walls Neon Pink
Sooner or later, your daughter is going to want to paint her walls an off-beat color, and with the eighties trend this might mean several coats of bold neon that later have to be re-painted. As a parent, it's understandable if you're hesitant to do this. What about a wall mural? Wall murals may bring to mind big printed pictures and that can be done, but solid colors can be printed on custom wallpaper, too. This is a no-commitment compromise! In a few years when the 80s decorating trend passes, the mural can just be taken down. In the meantime, your daughter can have one wall or all four covered in bold pink, green, blue, or any other color. Take a look at this
gallery from HGTV
showing on-trend colors that can be ordered as custom wallpaper instead of re-painting for ideas. Wall murals can also be cut small and used to cover flat areas on furniture instead of painting.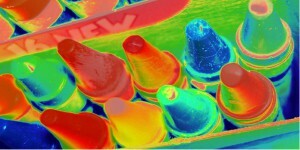 Adding Accents
If you do decide to use custom wallpaper, remember that you can still hang artwork on the walls – think of the wall mural like a giant poster. Adding art prints is a simple way to add to the 80s retro vibe, and since the 80s are back in style, these prints are everywhere from Etsy to Bed Bath & Beyond. Many prints take the neon colors of the 80s and combine them with modern minimalist graphic design to make stunning prints that feel retro instead of dated. Stencils are another great accent, and can be applied to the existing walls or over custom wallpaper. They are very easy to use and whether you're a regular crafter or a novice most stencils can be finished in a matter of minutes. Crafting stores usually have supply of wall stencils and the recommended paint, and with the 80s craze growing it's easy to find designs like 80s lipstick holders and the MTV logo that match this style. Like the retro prints, these stencils combine the 80s feel with contemporary graphic design for a unique look.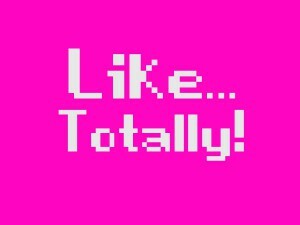 Other Decorating Ideas
If you want to really play up the 80s theme, it's easy to find posters of pop stars and movies from the 80s. In some cases you can even find these posters brand new since the most popular posters are always being re-printed. Think Cyndi Lauper, the New Kids on the Block, or the movie Top Gun for inspiration. Custom word art is another way to embrace the 80s vibe. Printing and hanging a popular 80s phrase will leave no doubt as to the theme of the room! Remember these phrases?
Where's the Beef?
Bubble Yum keeps it poppin'!
I want my MTV.
Finally, accent pillows are a finishing touch on an 80s styled room. With all eyes on 80s decorating, many designers and crafters are making pillows in fun and funky shapes like boom boxes, cassettes, and rollerblades. Pillows in funky patterns and colors work too, as shown in this
gallery from Houzz
– the inspiration is Mad Men but the executions have 80s written all over. Pillows can be placed around the room as the final note that says "welcome back to the 80s!"