Wall art hung in a space has the potential to make or break the room. If hung properly, the wall art can enhance the room, and even make the room appear the optimal size and shape. If the wall art is hung poorly on the other hand, it could be an eyesore, even if the piece of art hung is beautiful. When hanging wall art - placement is essential. A beautiful piece of art can look terrible or unnoticeable if hung improperly. These tips will help you learn how to place art on walls.
Here are some general rules of thumb to follow when home staging wall art:
1. Let's start with a common trick - wall art should be hung at eye level. Yes, this is very true, however, what if your ceilings are low, or you happen to be relatively shorter or taller than the average human? In this case, consider hanging wall art ¾ of the way up of the wall. If you divide your wall into 4 equal parts from floor to ceiling, then your wall art should be hung in the third section from the bottom. 2. If you are looking to make a statement with a collage of wall art, treat that collage as one piece in respect of figuring where to hang it on the wall. If the collage were just one piece, where should that one piece start and end? To figure out where to place each individual piece in the collage, lay it out on the floor prior to hanging. This will ensure a good arrangement. 3. Make sure the art being hung alines with the size and shape of the room. If a room has long, wide walls, then a long piece of art would be appropriate. On the other hand, if a room has tall, narrow walls, then a tall piece of art would be appropriate in this case. Also be conscious of the size of the art. Save large pieces for large rooms, and smaller pieces for smaller spaces.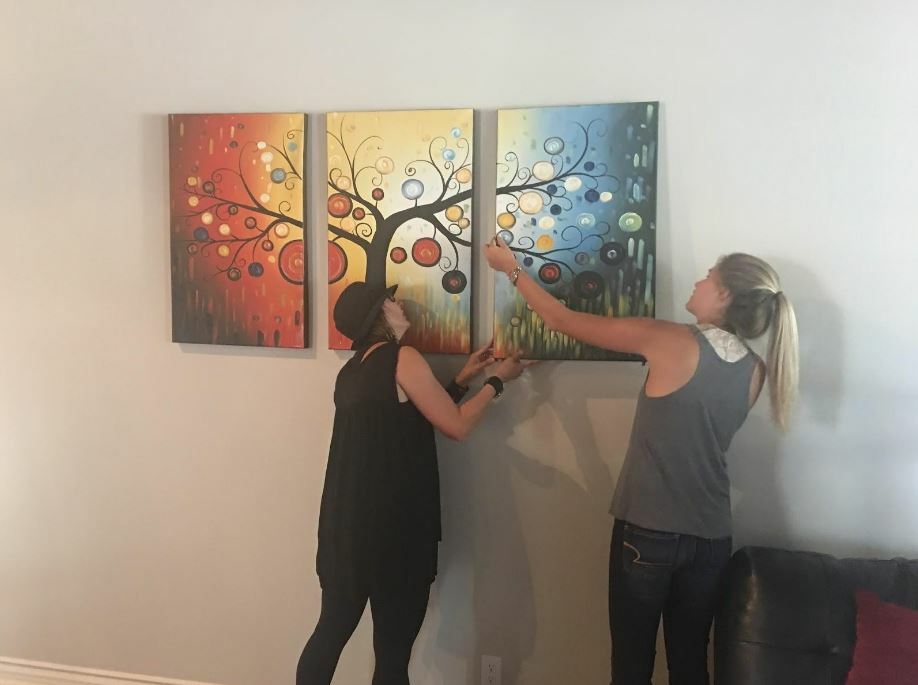 Students of The Academy of Home Staging learn how to place art on walls for a lived-in redesign. Notice how the collage is treated as one piece. When hanging wall art near furniture, these rules of thumb change to accommodate the furniture. Nothing it worse than an unsettling wall gap between the sofa and the art being hung above. In contrast, hanging the art too close to the furniture can also hurt the visual of the art.
When hanging art around furniture keep these dimensions in mind:
1. Wall art should be hung 6 to 8 inches above the sofa. 2. Wall art should be ½ to ⅔ the width of the sofa. 3. Wall art generally looks best at eye level - about 57 inches from the floor. Whether designing or staging a space, wall art is a great high-quality option that is also affordable. Canvas Press offers customized canvas art, perfect to accentuate a room with. Interested in learning more great design tips, or looking to start a design business of your own? Check out
The Academy of Home Staging and Design
. The Academy offers 5 and 6 day home staging and interior design certification courses that prepare each student for a career in design through personalized instruction, mentoring, and hands-on exercises.