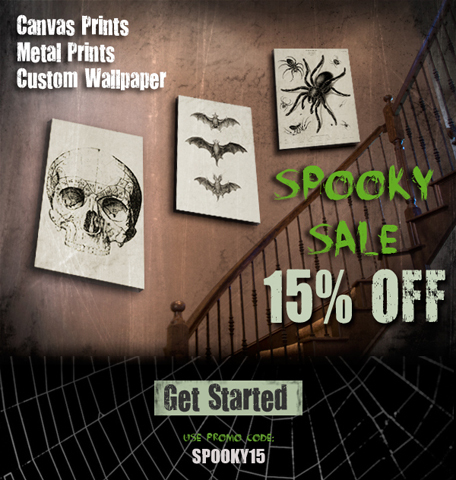 We love Halloween around here. For one it is just a fun time of year to remember the days of your childhood and seeing your own children dress up and make memories trick or treating. We thought we would kick off the Halloween season by having a Spooky Sale. You can save 15% on custom photo canvas, metal prints, and even custom wallpaper. All you have to do is head over to our website:
www.canvaspress.com
and upload your photo or photos you want to print to canvas, metal or wallpaper. During checkout simply use the promo code:
SPOOKY15
. This is an opportunity to get some early Christmas shopping done or just to get some more Halloween wall decor up before the 31st. If your little trick or treaters already have their costume have them dress up and take a few photos of them. By having those as photo canvas it will be something you can decorate your walls with every Halloween. Maybe even start a tradition by taking a photo of them in their costume before each Halloween. Switching gears back to Christmas you can use this 15% off to get a few stocking stuffers for your favorite people. A 5x7 metal print is a great idea for a stocking stuffer, and for less than $15 (after the 15% off) you can't go wrong. If you have several photos that you want printed and you aren't sure you know what you want to do with them please let us help you. We are more than happy to suggest ideas or even help you with the design and retouching of the photos to make sure they all are exactly the way you imagined them to be. You can always email us at support@canvaspress.com, call us at 888.784.5553 and don't forget about our
Free Image Consultation
. So...do you know what you want to be yet for Halloween?