Here's one more reason to make time for yourself by making time for your art: A spate of recent studies has confirmed the therapeutic benefits of letting your creativity loose in painting, photography, and other artistic endeavors. Read about how art can reduce your stress levels and plan your own gallery wall for lasting health benefits.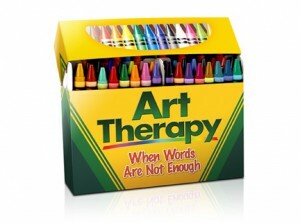 The therapeutic benefit of art is more translatable for many people than putting the need for stress relief into words!
How Art Can Be Therapeutic
Almost all humans enjoy creating art. It is an innate habit and one that we encourage in our children, but perhaps do not encourage enough in ourselves. The jury is still out on why humans enjoy creating art, but a growing body of evidence suggests that one reason might be its therapeutic benefits.
At the Scottish Arts Therapies Forum in 2002, Malcolm Learmonth presented a keynote address in which the universality of art and the affirmation of self through autobiographical painting were highlighted.
Edward Hughes' 2009 paper "Art therapy as a healing tool for sub-fertile women" found that the self-expression engendered in art and the act of sharing art helped women suffering from infertility reduce stress, anxiety, and feelings of hopelessness.
Take Your Work Outside
Many recent studies on the benefits of art focus on art in relation to the outdoors. Landscapes and scenery are frequent subjects for art, and studies suggest that creating art in and about these environments may have significant health benefits.
A 2011 study "Adaptation to Windowlessness" by Tina Bringslimark et al found that attraction to the outdoors may be instinctive, as office workers are five times more likely to maintain indoor plants when working in windowless offices.
A 2007 study "The ecology of visual landscapes" by G. Fry et al found that visual landscapes of nature reduced stress and fatigue.
In the 2010 analysis "Space psychology: natural elements in habitation design," Scott Bates and Joshua Marquit noted scholarly support for the notion that experiences in nature can reduce stress and feelings of anger while accentuating feelings of overall well-being.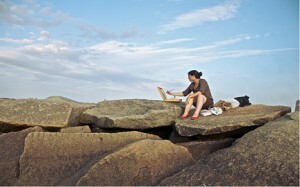 The benefits of art as a measure to reconnect and reduce anxiety may be increased when art involves nature.
Share Your Work with Others
Although the stress relieving benefits of art might be attainable just by the act of creation, many researchers believe that the secondary act of sharing art with others can increase the overall benefits of art. Anecdotally, this notion makes sense just by thinking about how many people visit art galleries and museums each year to share in the joy of art, but the evidence from recent research backs it up.
The 2011 study "The Development of Autobiographical Memory" by Robyn Fivush found that mothers who develop their personal autobiographical memory, such as through art, may help their children form stronger autobiographical memories.
In the 2012 article "Collaboration is the Key" Melina Mallos examines how contemporary art museums are engaging younger audiences in order to make art more memorable, which may have applications in the adult world.
In the 2013 article "Where art and biology meet" Michael Gross suggested that sharing scientific or heritage art may help preserve treasured environments and cultures.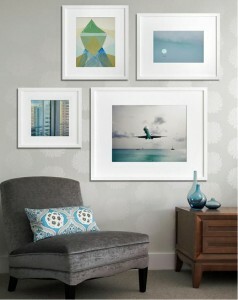 Your own personal art gallery should be a focal point. Don't be afraid to mix and match photos, paintings, and other art!
Lock in the Benefits with a Gallery Wall for Your Art
When you think of a gallery wall, the first image that comes to mind might be a row of images like you see in an art gallery. However, this is your gallery wall to showcase your art; you don't have to put your images in a straight line, or even on a white wall.
Preserve a space for your artwork by dedicating one whole wall of your home to your art.
Consider painting your gallery wall an accent color, like a neutral grey.
Collect frames with black or white edges for your artwork in various sizes, so that you can rotate your artwork according to your mood.
Mix and match all of your art, from photos and paintings to collage work.
Frame your favorite pieces and play with arrangements on the floor in different shapes until you find your ideal placements.
When you've hung your pieces, it's time to invite your friends to preview your new gallery wall! Nothing relieves stress like good friends and artwork combined.