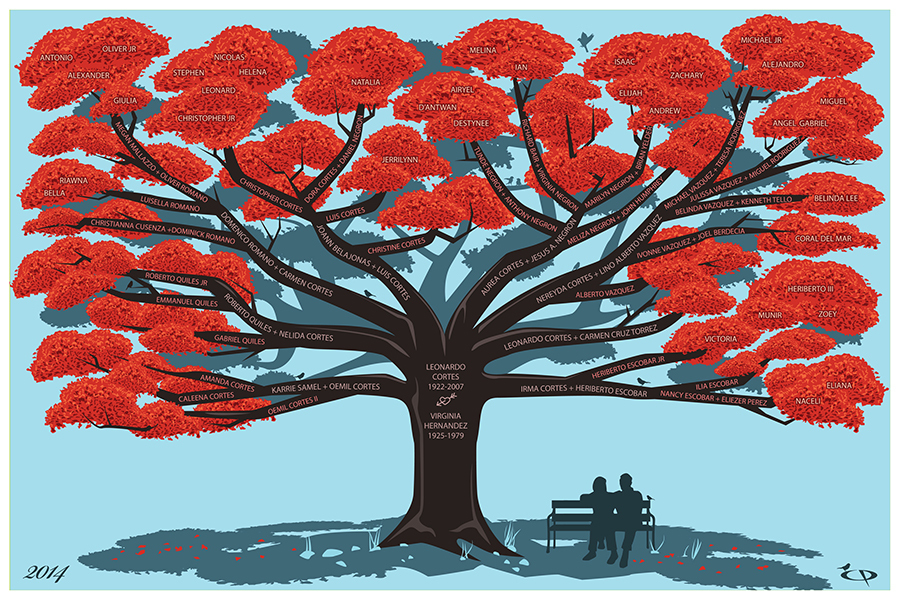 This beautiful example was designed & ordered by one of our wonderful customers, Roberto Quiles.
Printing a family tree on canvas can be a beautiful way to showcase family history while acting as a historical document at the same time. Collecting historical information about your family members can bring you closer to your ancestry and to your family while providing a record about your family's past that can be passed on to the following generations. Take a look at a few ideas and tips for getting started making your own family tree on canvas for your next family art project.
Getting Started with Your Custom Family Tree Prints
The first step to creating your family tree on canvas is organizing your family's information. To make it easier you might want to think about what you want to include on your family tree artwork before getting started; this way, you can avoid going back and forth with your information sources. Things to think about include:
How many generations you want to display in your family tree. If you want to go further back than your family's current records have documented, sites like Ancestry.com and Geneology.com can help fill in the gaps. USA.gov also provides a list of government sites for census information and other genealogy-related records.
What information you want to include in your family tree. A simple family tree might include names and dates of birth but you can also include information about where family members were born, went to school, served in the armed forces, and so on.
Whether to include pictures on your family tree. You can include pictures with information or just the pictures for a simpler design. If you go with pictures alone you may want to create a "key" to reference who is who.
Where you want your family tree to be displayed. The available space for your family tree may impact how much information you can fit on your completed family tree on canvas.
Choosing a Design for Your Family Tree Prints
The silhouetted tree with family members as "leaves" is a classic representation of a family tree but it is not the only way to display your family's ancestry. You can use a background of a tree illustration or photo and have your family members' information in a diagram above it, or even make your family member's names form the shape of a tree instead. To do this you might use different typefaces or font sizes to make family relationships more clear. The Signs by Andrea blog provides
a great collection
of different ideas for designing a word art family tree. Your completed family tree on canvas will be a work of art to enjoy today and an heirloom that can be passed down to your children and grandchildren. Of course, your family tree on canvas can also be a great gift to family members on any occasion – or just because. If you have questions about getting started,
contact Canvas Press
; our friendly experts will help you with any inquiries you may have.
This article is written for Canvas Press. To find out more about Canvas Press' products visit www.canvaspress.com.