Let me start out by saying that we understand that not everyone out there has Photoshop on their computer and that is ok. I just wanted to share some basic advice and thoughts on getting your photos or artwork ready to be printed as canvas prints. We are always here to help so don't worry if you aren't able to follow any of these nuggets of wisdom I am about to lay down ;-D Most of this really has nothing to do with editing a photo in Photoshop. Here are some steps when preparing your photos for canvas printing!
Always try to have the best version of the photo you want printed on canvas. That means the highest resolution. If you have a photo you downloaded from Facebook or somewhere on the internet chances are the resolution of that photo is pretty low. That doesn't mean we can do anything with it, but we may not be able to make a 4'x5' canvas print out of it...although anything is possible with some creativity.
If you have taken a photo with your smart phone be sure to download the "original size" photo to give you the best chance and a bigger photo on canvas. We have printed some photos taken on iPhones to 24"x36". Pretty impressive.
How do you want your photo to "Crop"? That is how much of your photo can you lose without it effecting important parts of your image? Most 35mm cameras take photos in a 2:3 ratio. So if you don't want to crop anything out of the image you want to choose sizes like: 8x12, 11x16, 16x24, 20x30, 24x36, 30x45 etc. You can always play around with our drop down sizing until you get the whole photo in our crop box.
What kind of Border Type would you prefer. We offer three different border types for a canvas print. Image Border (which is the default), Mirror Border, and Color Border are the options.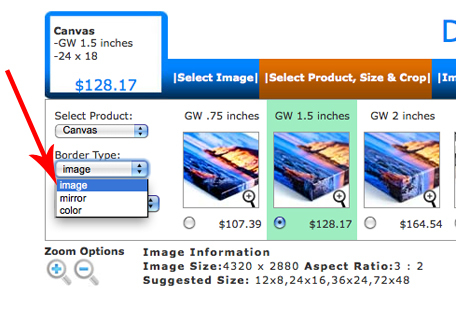 1. The Image Border is where the actual photo will wrap around the sides of the canvas. It is a very cool look, but if you have important parts of a photo that you want to see on the front of the canvas then that might not be the best choice for you. On our site you can tell what will be wrapping around to the sides of the canvas by the gray border that is around your image.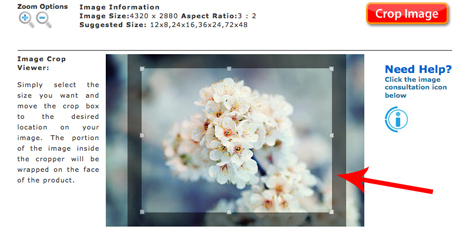 2. The Mirror Border will let you keep more of your photo on the front of the canvas. This border option we select a portion of the edges of your photo, we flip it, and print it on the sides of the canvas. This option works fantastic for landscape photos and portraits where people aren't too close to the edge of the photo. 3. The Color Border will also let you keep more of your photo on the front of the canvas. If you chose this option you will be able to select a complimentary color from a palette that will appear next to your photo. That color will then be printed on the side of the photo canvas.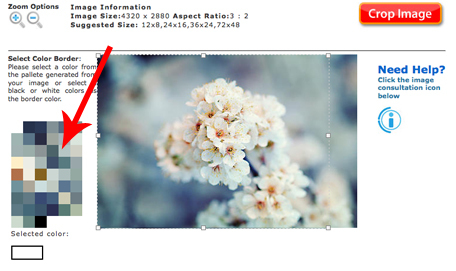 Once you have determined those few things you can make sure your photo will look the way you want it to on canvas. We are always here to help you out during the process. We want you to enjoy this for generations to come. Hope to see your photo soon on
canvaspress.com