When you're planning a pet photo for printing on canvas, you're going to want to make it a special photo. Standard portraits of your dog sitting or even striking a show ring pose will certainly emphasize your dog's beauty and are a great choice. For many dog owners, though, it's their pooches personalities that they really want to shine through in a portrait, and less formal poses might be more appropriate for that. Something that can really add to a great portrait of your dog is a costume.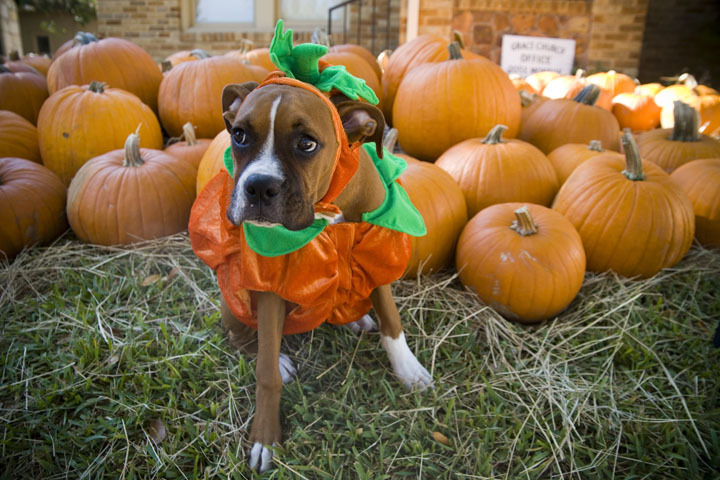 That may sound odd at first, but one of the many joys of having dogs is the fact that they will generally allow you to dress them up in silly costumes. Also, unlike many other pets, e.g. cats, rabbits, and iguanas, to name only a few, dogs actually seem to enjoy playing dress up. Well, some of them enjoy it. Some dogs just put up with it because they know it makes us happy, which is yet another wonderful thing about the canine species. In any case, dogs and costumes just seem to go together the same way kids and costumes do, and when you think of kids and costumes, it's only natural to think of Halloween.
A Halloween portrait of your dog is a great choice for printing to canvas. If you have children, you can get them in on the act as well, but it's fine even if your pup is your only 'kid'. Pictures of dogs in Halloween costumes are almost as common as those of costumed children and a lot of work and creativity can go into these. My friend Bonnie had a Cairn terrier, and what costume idea could be better for a Cairn terrier than Dorothy from 'The Wizard of Oz'? Bonnie even made her pup tiny red-sequined 'ruby slippers' for her paws. 'Dorothy' looked kind of lonely, though, so she asked a couple of other dog-owning friends over and before long, 'Dorothy' had been joined by a Chow mix 'Cowardly Lion', an Airedale 'Tin Man' in aluminum foil leggings and a funnel cap, a friendly mutt of a 'Scarecrow' and one pug in a Flying Monkey outfit. Once they got everyone settled down, it made a delightful – and very funny – picture. Definitely something worth going up on a wall.
Dog costumes are all the rage and can be bought at most pet stores. Clown costumes are always a hit, especially since most dogs are natural comics, and it's rare not to see at least one English Bulldog in a pink tutu for Halloween. While you can spend a lot of money on the perfect dog costume, if you're the least bit creative you can make your own. Ingenuity and a great idea can go a long way in costuming. Witness the Dalmatian I saw at a Halloween dog parade whose owner had turned her into a milk cow with a set of cardboard horns and an 'udder' made of pink balloons. One the other end of the scale was a five year old girl in riding togs – jodphurs, boots and jacket, the whole works – leading her 'steed': a spotted Great Dane in a saddle and bridle. Now that, I thought, would have made a perfect send-up of the classic 'equestrian portrait'.
Planning your dog's Halloween costume pictures is so fun! If your pooch is on board with wearing a costume, you're only limited by your imagination. While we can't dress up your dog for you, if you need help with ideas for your project just call us at (888) 784-5553 or email us from our website www.canvaspress.com and we'll be glad to help.
-Karen