Breathtaking. Soothing. Exhilarating. Panoramic canvas prints have the ability to transport viewers with powerful scenes. When placed correctly with balanced interior design elements, panoramic prints on canvas can truly captivate, creating a space that is enriching, calming, and inspirational all at once.
Panoramic wall décor is wildly popular in important living spaces, such as the bedroom, living room and lounge. Because they carry such impact, panoramic canvases are often used in these spaces as a way to achieve a particular ambiance of tranquility, gathering, community, and beauty.
This canvas print style is uniquely advantageous for delivering powerful imagery and contributing to cohesive room aesthetics. In addition, many progressive workplaces have begun using panoramic canvas prints as a way to achieve similar emotional aesthetics in the office. Workplace panoramic wall décor often strives for generating inspiration, energy, and a motivational atmosphere.
When designing a panoramic canvas print for your interior space, there are some key elements that should be taken into consideration for the best chance of creating a successful piece. The three most important aspects to consider include the subject, color tone, and placement of your panoramic wall art. Read on to discover how to use these elements to your advantage to create your ideal piece of panoramic canvas.

Panorama Subject
Choosing the right photo is a critical part of the panoramic canvas design process. There are some content themes that are tried and true.
Landscapes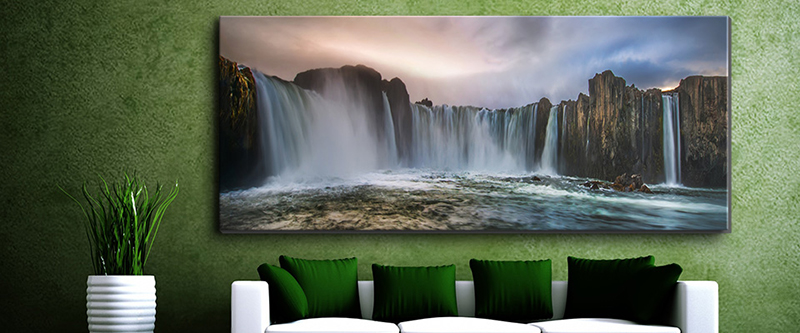 Many people find landscape shots inspirational, calming, and pleasing to the eye. Because panoramic wall décor has the ability to capture so much within a single frame, landscapes are a natural choice. Select a photo that is rich in color and detail, such as a beach scene, waterfall, field, or unique geological formation.
Cityscapes and Skylines
Capturing a full skyline is possible when working with panoramic prints, so take advantage of the possibilities. Consider selecting a city that has significance to your past or present, as this emotional connection to the content only increases its impact in the interior space.
Special Interests
Sometimes special interest photos can work well when they carry an artistic perspective or color scheme. For example, a sepia-toned shot of wild horses may be just the perfect panoramic wall décor for the lounge in your home.
These three options are great to consider when choosing content. In addition, be sure to select a photograph that has extremely high quality. Panoramic canvas prints are heavily enlarged, so it's important to have a quality photo that can be expanded without becoming blurry.
Color Tones and Filters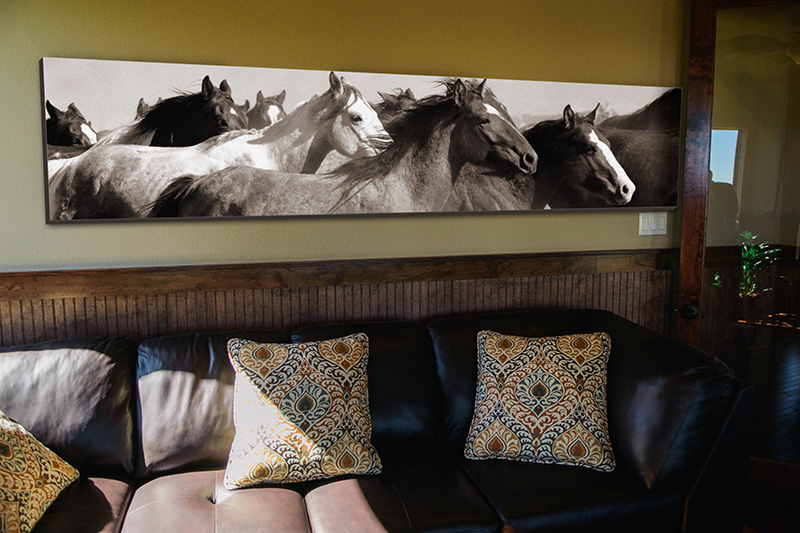 The second element of panoramic canvas design is the color tone of the photo, along with the interior design palette. For maximum impact, it's very important to consider the room aesthetics so that the panoramic picture works well with the other colors in the room.
Visualize the space in which the panoramic canvas will be displayed and consider if the tones found in the photograph are correct. Experiment with different filters, which can alter the warmth, color tones, and brightness of the photograph. Often, the original photograph can be enhanced when the correct filter is applied and this can make the overall cohesiveness of the room shine.
Placement
The final piece to pulling off an outstanding display for a panoramic print is perfect placement. Position the panoramic canvas print just above the sofa or headboard. Be extra attentive to lining up the canvas so that the surrounding furniture is symmetrical.
For a different approach, place the panoramic print as an extraordinary accent piece on a bare wall. This can maximize impact by catching the eye and redirecting focus within the room.
Create an Impact

With these three integral elements taken care of, you can then have fun with the other design decisions involved in creating the perfect panoramic wall art. Additional details to consider include canvas thickness, dimensions, various finishing elements, and the addition of text.
Be creative and play with the different options available to see what you like. Remember, you have the ability to revise your panoramic print before ordering it. So enjoy the design process, and be sure to try out different options before placing your final order.