Thank you to everyone who took the time to participate in our short survey. We emailed it out late last week and got a fantastic response. We feel that we are on the way to providing a better overall experience to you in part from the results of the survey. As you know we strive to deliver the top quality in all of our products including canvas prints. We also understand that we are not the least expensive option available, but we are confident that we have the best quality and the best customer service. While this survey was more about quality and pricing, we will definitely be getting one out in the near future regarding customer service. Our first question asked:
If a 16x20 canvas print sold for $100. Would that be...?
We found that about 37% of you thought that was "About what you would expect to spend" and 57% of you thought that it was "More than what you would expect to spend". We are always working on a pricing solutions and we also understand that a purchase of a sizable photo on canvas print is an investment. We will continue to tweak different items so that we can bring that "More than we expect to spend" percentage down while maintaining a quality product. We will keep you updated with our progress.
The second question asked:
How much does PRICE factor in when you are deciding to purchase a canvas print?
67% answered that "It matters a lot" and about 26% answered that "It factors in somewhat". This definitely supports our first question's statistics as well and we want to let you know that we definitely agree. We look at our own personal buying decisions here in the office and we often look at price first so it shouldn't be any surprise that is the most significant driving factor in deciding to purchase canvas prints...or anything for that matter.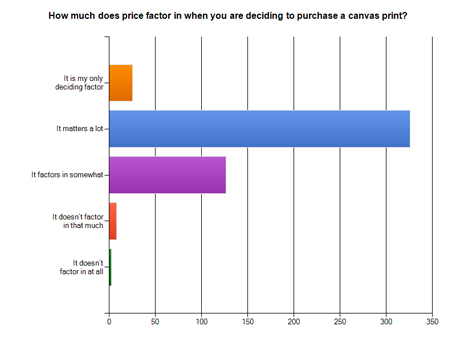 The third question asked:
How much does QUALITY factor in when you are deciding to purchase a canvas print?
The overwhelming majority of 87% of you said that "It matters a lot". 7.4% said "It is my only deciding factor" and 5.5% said "It factors in somewhat". We couldn't agree more. Quality is what you deserve from us and that is what we strive for. We definitely take pride that our customers come back to us (and spread the word about us) because of the quality of the canvas prints, metal prints, and photo prints that we produce. We are definitely proud of our Made In The USA stamp on the back of our canvases and we think that is a bar to be measured by. Delivering quality photo canvas prints will continue to be our focus.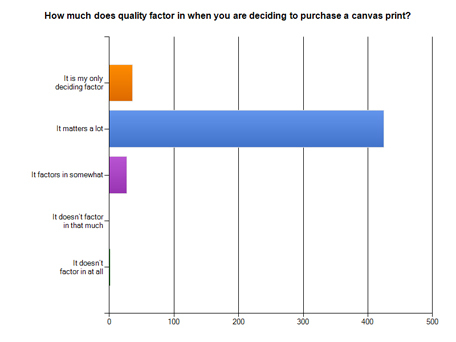 The fourth question asked:
Compared with competitors, where do we rank in the quality of our product?
It was great to see that 66% of you answered that we are "Better than our competitors". Our goal is to have that number to be as close to 100% as possible so we will continue to push ourselves and refine our processes so that number only goes up.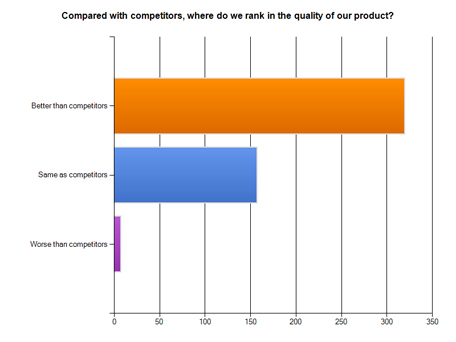 The last question asked:
Compared to our competitors, how do you feel our products are priced?
31% answered "Better than competitors", 55% answered "Same as competitors", and 14% answered "Worse than competitors". This shows us we have some work to do to...hopefully that 14% who answered "Worse than..." were part of the 66% who thought our quality was waaaay better than our competition (wink).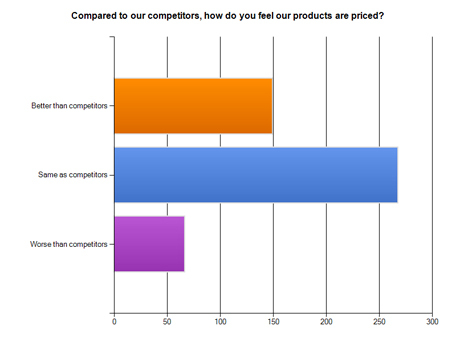 Once again, we want to thank all of you who took that time to fill out our survey. Canvas Press will continue to make improvements across the board. We know that we can not be all things to all people, but we also would love for people to see that we try our best to offer a higher value with the quality of our product. We are taking all of this to heart. We hope you will continue to visit our site to see what we have going on and as always if you have a question about your canvas order you can email us at support@canvaspress.com or call us at 888.784.5553. You can get started on your next project by heading to
www.canvaspress.com