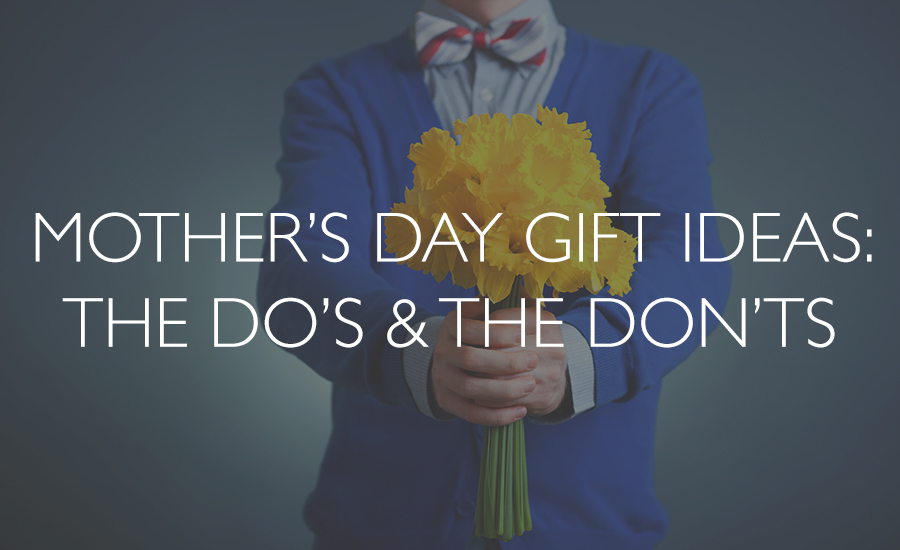 How do you decide which Mother's Day gift ideas will work for the moms in your life? You probably already know that certain Mother's Day gift ideas are sure to land you in the dog house; no one wants to receive a gym membership or exercise DVD as a gift unexpectedly. There is a lot of conflicting advice out there, in part because every mom is different – and if every mom is different, every mom deserves to receive a unique gift! Here are a few do's and don'ts for picking the best Mother's Day gift.
Don't Fall for These Mother's Day Gift Ideas
Don't remind her about chores with your gift. On Mother's Day, moms should be getting a break from every day chores – and even if she says she likes to keep a clean house, a new mop, organizer bin, or any other chore-related gift is a definite don't!
Don't focus on the practical, no matter what the department store says. Similar to the above, unless she asked for it specifically, Mom doesn't want a new apron, waffle iron, or ergonomic kitchen mat. The best Mother's Day gift ideas spoil moms!
Don't give generic gift certificates or cash. Yes, these days it is within the bounds of good etiquette to give these gifts on birthdays or holidays, but the only gift certificates given for Mother's Day should be for things like the spa or a manicurist you know she likes. Trust that she knows where she likes to shop for every item, and doesn't need a gift card to somewhere else!
"Do" Mother's Day Gift Ideas Like This Instead
Take the time to think about it. How many Mother's Day gifts are the results of frantic gift shopping twenty-four hours (or less!) ahead of the holiday? Think about what to give the moms in your life long before crunch time so that you can be sure that your Mother's Day gift ideas are good ones.
Make it personalized to her tastes. Wherever possible, Mother's Day gifts should be personalized. For example, if you know she doesn't like nuts in her chocolates, take the time to go to a store that allows you to personalize an assortment.
Ger her something she wouldn't buy herself. Moms are usually budget-conscious, so it falls to her loved ones to spoil her on Mother's Day. That doesn't mean you have to buy something that you can't afford, but you should try to find something that she wouldn't ordinarily "spoil" herself buying.
One Perfect Gift That Meets All the "Do's": Canvas Prints!
A canvas print from Canvas Press is a fantastic Mother's Day gift idea. A canvas print shows that you thought specifically about her and what she would like, is inherently personalizable, and is something that she might not ordinarily buy for herself. Check out the
Canvas Press blog
for print ideas that can make your Mother's Day gift idea a real hit this year.