Babies are heart-warming, little souls that lighten up the lives of those who are blessed with them. Taking memorable pictures of your most precious little bundle of joy requires a little bit of knowledge as to how to make the perfect pose. Remember safety and comfort always comes first when you are making your baby pose for an adorable picture. The best time to take photos of a baby are when they are only a few weeks old...even days old. This is when they sleep the most and don't wiggle around too much. Here are a few guidelines that would help you capture timeless pictures of your dear baby.
Put the Flash Away...For Now
When it comes to capturing baby pictures, rely on natural light all you want. Direct flash, like the kind that comes from your camera, produces harsh light and will only end up ruining your baby pictures. Take pictures in a well lit room where ample light pours in from the windows onto your baby so that it shows off your baby's soft velvety skin. Position your area next to a large window that will give you plenty of natural light to do your photo session.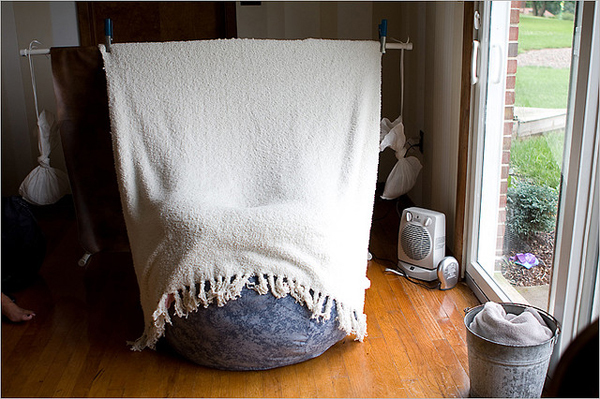 Try experimenting with positioning the baby in such a position that light falls at a 45 degree angle onto them. In this way, the light would create soft shadows, creating an appealing photograph. Holding the baby with the light behind it could result in silhouettes or if you expose correctly could produce a nice light wash effect. Lighting can make or break your photo, so experiment a bit to accomplish the desired results.
Keep 'Em Warm
Newborn babies have lived in a warm environment for nine long months. Since they are used to balmy temperatures above 80 degrees, make sure your room temperature is also comfortably warm. Although it might be hotter for you but in this way your baby would be the most comfortable and sleep with a smile on his/her face. When you plan on taking baby pictures outside, consider the external elements you are exposing your baby to. Of course you don't want your precious baby to get uncomfortable and start crying when the outside air is a little chilly or a bit too warm. Newborn babies won't pose for your picture, so make sure they have been well fed and rested id you plan to capturing pictures when they are awake.
A Miracle In Different Things
Be creative with your baby photography. Babies up to three months sleep a lot...especially after they have some food in their belly. Use that time to create baby poses in a position that are comfortable for them and appealing for your photograph. You can put your little gem 'in' and 'on' things. Safe options include bowls, baskets, or plates but make sure they are clean and place a soft, warm cloth on them for comfort before you place your baby.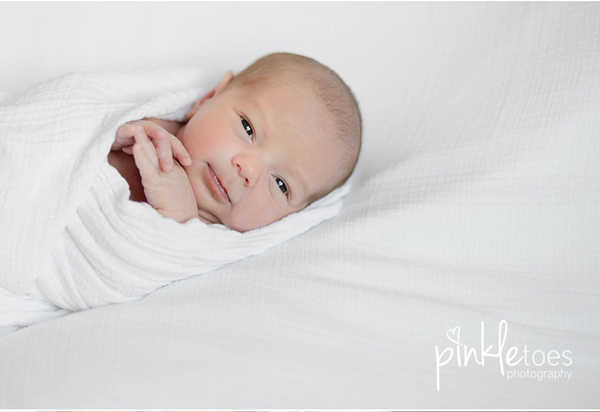 Austin based photographer Michele Anderson is owner of Pinkle Toes Photography. Her amazing newborn and family work as captured the attention of expecting families and aspiring photographers alike. To see more of her fantastic work take a look at her website:
http://pinkletoesblogstalker.com/blog/
If you are wanting to learn more about newborn photography she does workshops throughout the year so be sure to check her work for more inspiration and when the next workshop will be. You can even wrap your baby on a variety of soft fabrics and blankets such as silk, fake fur, loopy/bumpy and velvet. Experiment with basic solid colors or vibrant and bold prints and even look at the texture of the blanket as something that will make an impact in your photo. Lay the blanket on something soft like a padded ottoman or even a large beanbag. This extra will help the baby relax and keep those precious eyes closed. A little bit of creativity can make a perfect baby poser. Think of creative props to photograph them with. Something you cherish such as your wedding dress, a vintage baseball glove or even your very own framed baby pictures!
Show Off Some Skin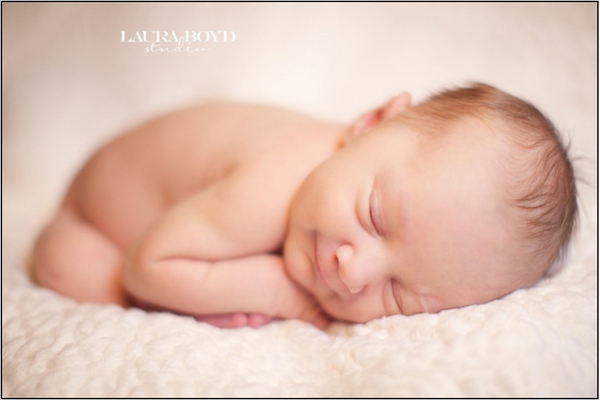 New York based Laura Boyd is another fantastic family photographer to take inspiration from. You can find more of her work at:
www.lauraboydstudio.com
Having pictures of your naked little baby are a must have! You can hide the sensitive areas by folding legs, different camera angles or blankets. Babies are blessed with glowing skin, so make sure you capture their young skin, the folds, the soft hair and even their bare tushies! It is best to include the parents in the picture showing off some skin too! A mother holding her baby against her bare shoulders or a father holding the baby on his arm close to his bare chest – these bring a lot of emotion into the picture. Keep the background clean from distraction so that all of the focus is on the baby and parents. Hanging a sheet or bringing a portable backdrop stand along will make that easy.
Angles, Angles, Angles
Baby photography can be done through different angles. Get low and take pictures from the baby's eye level. Opt for some close up shots of their tiny fingers, toes, wrinkly skin, belly buttons and even their drool! This would make an irresistible picture of your adorable baby. It's fun to photograph a tiny baby. Try some different angles from above, at the side or anywhere that would make an appealing picture! Perhaps the most popular poses for newborns include curling them in bean bags in a womb position or laying them on a father's strong arm. Those have been done a hundred times...think of a way to make it different.
You better start capturing your newborn since the very first day because they would end up growing in no time!