In the age of social media, snapping pictures and putting them on Instagram is an everyday part of life. While it's great to share favorite photos with friends, there comes a time when you may want to use the special image for your own personal enjoyment. Many people choose to put their Instagram images on a canvas print. Canvas prints make it possible to display your photo in your home in a classy and appealing way.
Why Add Instagram Photos to a Canvas?
Although the social networking site is a great place to share pictures, receive feedback on your images, and enjoy special memories with friends, they will never replace traditional prints. Putting your favorite images on canvas ensures that you will have them for a lifetime with no worries about device crashes or website glitches. A canvas print highlights an image and showcases it specifically, giving the image the chance to be appreciated completely.
Five Design Ideas for Canvas Prints
Do you feel lost when it comes to starting on your canvas print? We've put together 5 design ideas that can help you embrace the process and succeed in showcasing your Instagram photos on a piece of high-quality canvas that can be enjoyed even when your internet connection is down!
1. Baby Photos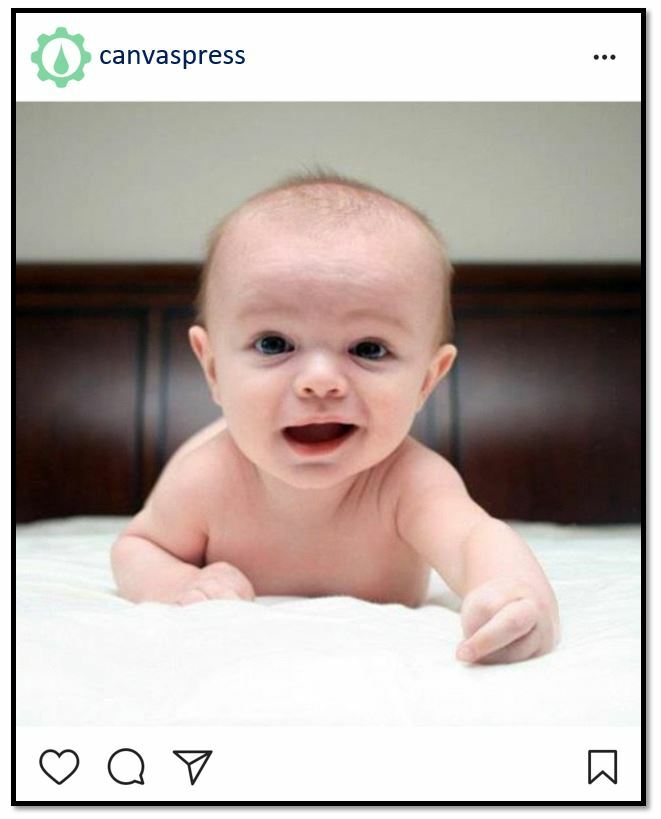 Did your best friend just deliver a precious baby? Consider taking one of her photos from Instagram to order the perfect baby gift – an image of her little one displayed on a canvas that she can showcase for the rest of her life. You can also opt to put pictures of your own baby on canvas that you can hang up in a nursery or in a more popular area such as the living room. Even as your baby grows older, the memory of it as a newborn will remain the same when you commemorate it on a piece of canvas art. Want a great baby photo design idea? Consider combining photos of mom, dad, and the baby in a photo collage on your Instagram canvas print!
2. Wedding Photos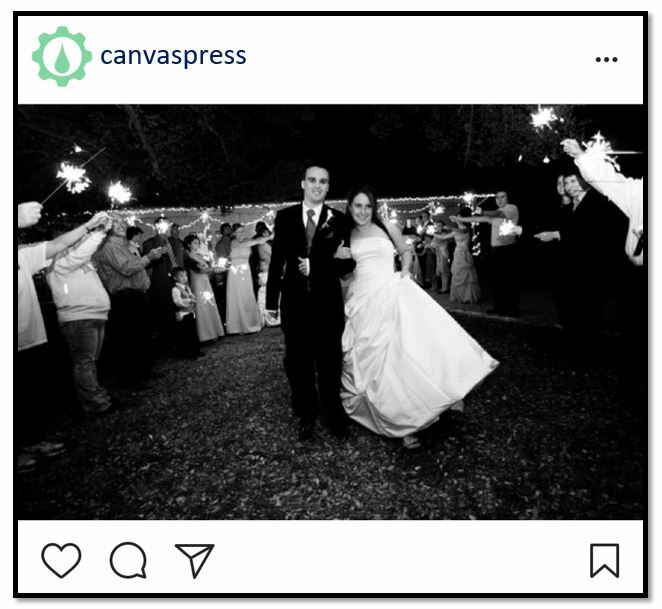 A wedding is a once-in-a-lifetime event where two people promise to love each other for as long as they live. You can choose to commemorate this important day by adding memories of it to a piece of canvas to hang up for everyone to enjoy. Don't worry about choosing only newer images – any photo that has been uploaded to Instagram, regardless of its age, can still be included on your canvas. If you have the chance to get Instagram photos of old family weddings from many years ago, consider putting them on a canvas and giving them away as Christmas and anniversary gifts. Since canvas art gives off a sophisticated, high-quality appearance, they are the perfect solution for showcasing wedding memories.
3. Pet Images on Canvas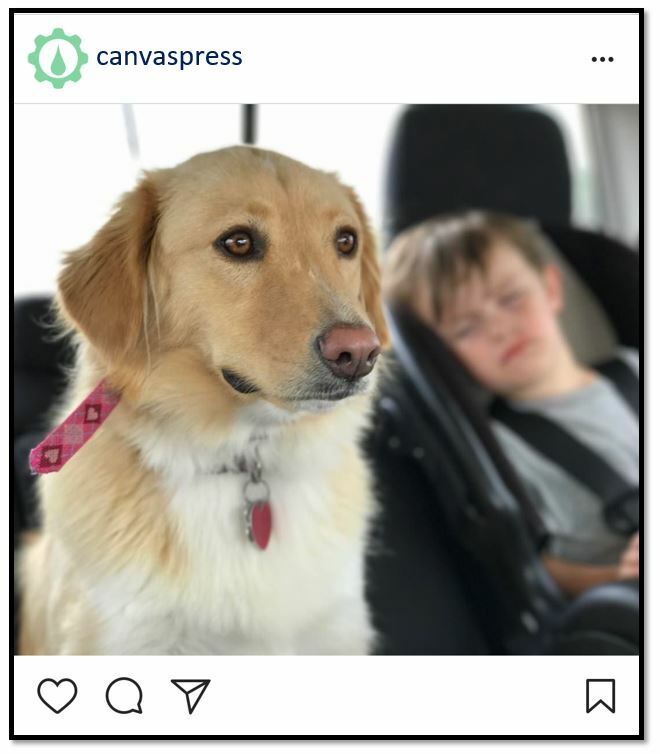 Have you found a picture of your special puppy on Instagram? Using the how-to steps listed above, you can choose to pull this image and put it on a canvas to display around your home. A canvas print of your pet allows you to freeze time and commemorate your furry friend's life. Canvas prints also give you a great gift option for the pet lover in your life.
4. Family Reunions.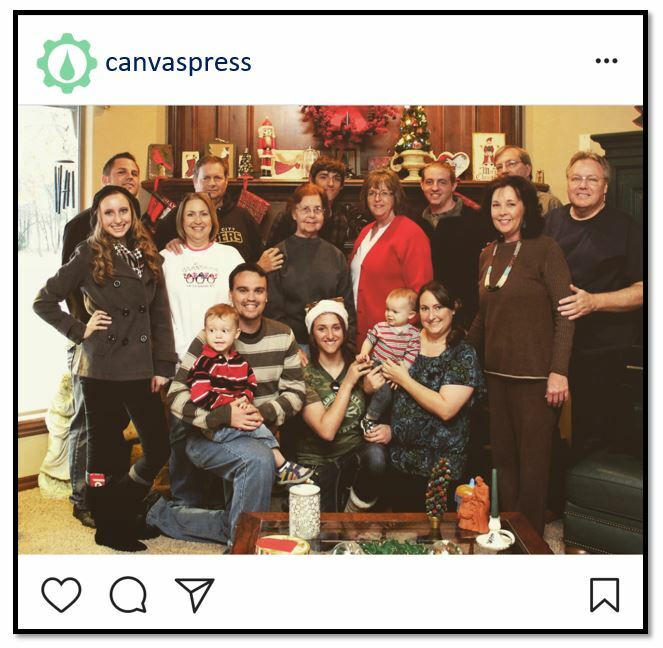 Often, people put pictures from family reunions on photo sharing sites such as Instagram. If your family recently had a get-together, you should consider getting one of the photos and putting it on a piece of canvas art to enjoy forever. Family reunion photos are a great gift idea for older members of the family who may not be involved on social networking sites and will treasure the images of those they love most.
5. Images with Text.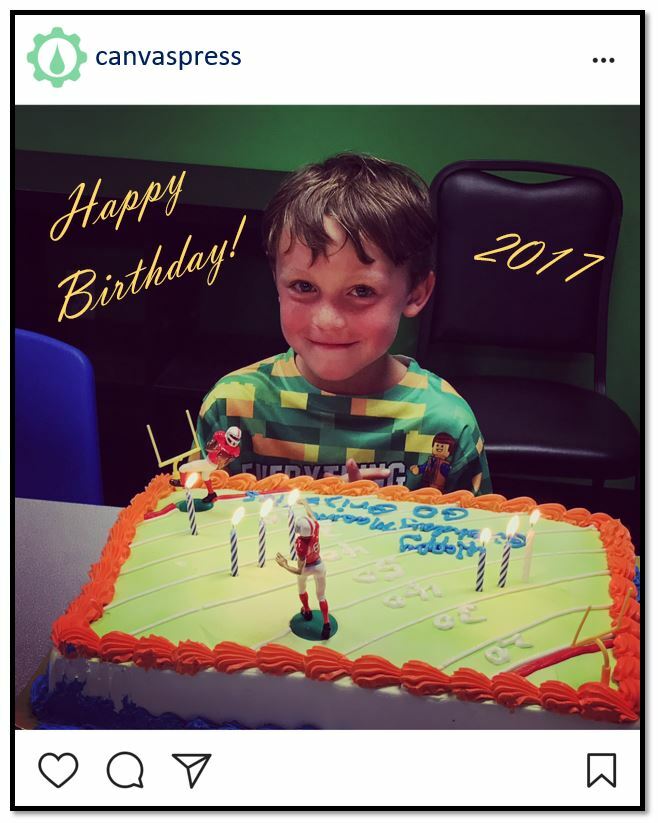 Thanks to our easy-to-use canvas design software, you can easily add text to your images to make them more personalized. When you are going to put an Instagram photo on canvas, consider adding text to your image. Great text ideas include birth dates, names of people included in the image, song lyrics, and phrases such as "happy birthday" or "I love you" if the canvas is going to be a gift for someone special.
Are you ready to make your own canvas print from an Instagram picture?
Don't worry –it's not as hard as it sounds! Use our step-by-step guide to help you design your special canvas print and put your Instagram memories on display in your home for everyone to enjoy.
Step One:
Find a Photo on Instagram. Before you get started, you will need to find a photo for your canvas print using Instagram. Choose a photo that is not only clear and in focus, but also holds an important place in your heart. These special images might include birthdays, your children, a newborn baby, a family pet, or a wedding. If you are not the original poster of the photo, make sure that you have permission to use it on your canvas print!
Step Two:
Copy the Photo to Your Device. Once you've located the photo on your Instagram app, open it to its full size and then quickly screen-shot it. If you own a smartphone, this can be done with the click of two buttons. Using the editing options on your phone, crop the photo to remove any unwanted information about the poster, comments, etc.
Step Three:
Send the Image to Your Computer. Now that the Instagram image has been saved to your iphone, send it as an attachment to your own email address. Access your email from your laptop and download the picture attachment to save it to your computer.
Step Four:
Choose Your Canvas Thickness. Go to the Canvas Press designer and choose the thickness you want for your canvas. The thickness determines how far the canvas will stand from the wall once it is hung. A thin canvas such as the .75" thickness will cling against the wall, while a thicker canvas such as the 2" will stand out and give off a bolder appearance.
Step Five:
Upload Your Image. Locate the Instagram image that you downloaded to your computer, and then upload it to the Canvas Press Builder. It can be tricky to locate these images, so make sure to look for it in your "downloads" folder.
Step Six:
Adjust the Picture to the Canvas. Once the image has been uploaded to the Canvas Press Builder, you will be able to see it displayed on a virtual canvas. At this point, you can use the builder to change the size, rotate the image, and flip it so that it will be just right!
Step Seven:
Options and Extras. The Canvas Press builder gives you the chance to change the image colors, enhance the photo, and do touch-ups. You can also choose to add text to the canvas and give it a personalized touch.
Step Eight:
Place Your Order and Enjoy Your Canvas. Once you've finished designing your canvas, all you need to do is provide your order information and wait for your new canvas piece to arrive. With our quick service, you can expect to receive your new canvas art in as little as two to three days!
How to Use Canvas Art from Instagram
Once you have your canvas art piece, you can choose to use it just like any other picture. Photos on canvas are elegant enough for a formal setting such as a living room, but also relaxed for use in bedrooms and dens. Since Instagram photos that have been added to canvas are personalized and special, many people choose to give them away as gifts for birthdays, baby showers, graduations, and anniversaries.
Although technology is great, we've all had experiences where it has failed us. Because of device crashes and glitches on sites like Instagram, some photos are accidentally deleted. Even the images that remain on the sites are often lost in the huge library of photos available and their appreciation is short-lived. When you put an Instagram photo on canvas, you are guaranteeing that it won't get accidentally deleted and giving it the opportunity to be enjoyed for years to come. Forget sorting through countless photos to find your favorites – instead, add them to a canvas that can be hung on the wall and enjoyed daily.
While we all enjoy looking at photos on networking sites like Instagram, there is nothing like having a physical image hanging on your wall. Thanks to Canvas Press, it is now possible to retrieve your photos from Instagram, put them on a piece of high-quality canvas, and hang them up in your home or workplace. So, the next time you see that Instagram photo that is simply too good to just keep online, take it offline and add it to a piece of canvas art that will be treasured forever!