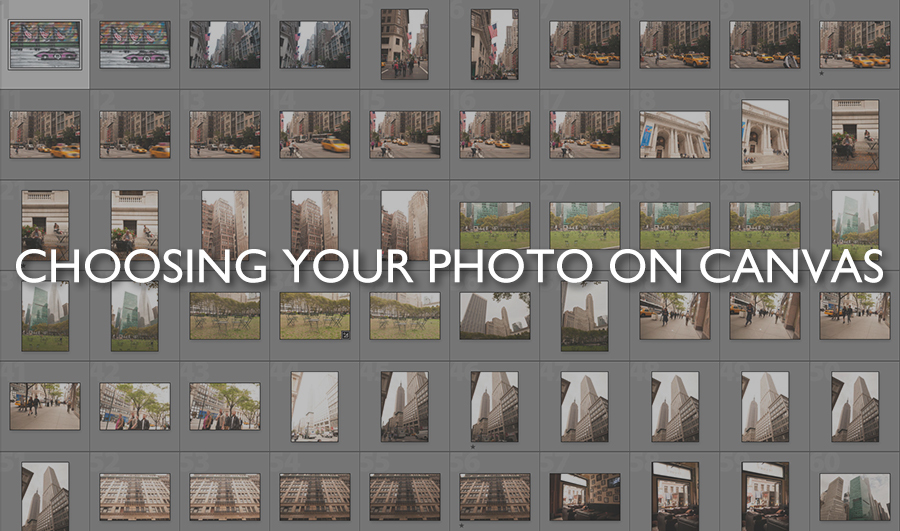 When it's time to create new wall art and choose a photo to enlarge and have printed on canvas, how do you make the choice? Even if you do not take photographs every day, you might have hundreds of images to choose from. Following are a few tips and tricks to help you choose which image is right for your next photo on canvas.
How to Narrow Down Your Photo Library
The easiest way to begin choosing a photo to print on canvas is to start thinking about the subjects that are important to you and where you will be hanging your new canvas print. Especially if you have hundreds or thousands of images to select from, just diving in to your photo portfolio can be overwhelming. Think about considerations such as:
Do you have a theme, or are you looking for a specific memory? If the time has come to commemorate a specific event, it is much easier to narrow your focus on photos to have printed on canvas. If you haven't already, try separating photos that reflect the memory you are looking for from other photos in order to concentrate on those that are most important to you.
Do you want to tell a story? Especially when paired with other photos and artwork, a canvas print can tell a story about you, your family, your goals–nearly anything! If you are looking to tell a story in a central place in your home, think about photos that you have that might help roll out your narrative.
What size are you looking to have made? Although even Instagram photos can make great canvas prints, if you want a very large-sized canvas, the quality of the photos you are considering may be a tie-breaker in deciding which photo to use. If you are not sure whether a given photo will work, the professionals of Canvas Press are always happy to help.
As you go through your photo library and answer these questions, you may want to copy the photos that are favorites and contenders for your next photo on canvas into a new and separate folder, such as "Possibles" or "Might Print." Copying pictures to a new location helps you compare your selection, and also helps ensure that you do not make permanent changes to the original image file.
Tips to Make It Easier Next Time
Once you've gone through your top image picks and selected the perfect photo for your next photo on canvas, you might be thinking about ways to make the selection process easier for next time. One great way to do this is to select your favorite images from each photo session as you upload them to your computer and save them in a folder for future printing. You might also consider keeping tabs on your most liked or commented upon photos on social media for ideas on what to print next!
This article is written for Canvas Press. To find out more about Canvas Press' products visit www.canvaspress.com.