Our fabulous intern, Melissa, has found 5 imaginative and unique ideas on how to make a wall collage using canvas prints and/or photo paper prints. I will let her take it away...go for it Melissa! Thanks Eric, there are a ton of great ideas out there to create your very own photo collage based on your style. Here are 5 ideas to get your creative juices flowing. Idea #1 - This is a great example of how to use floating shelves to showcase your photo collages. This photo collage is perfect because it has a great black and white theme that helps tie all of the pictures together. This wall collage uses different size photos to make it look unique. This is very simple to do yourself, if you already have the shelving up, you just simply place the photos you want to use or canvases on the shelf in whatever unique way you wish to display them!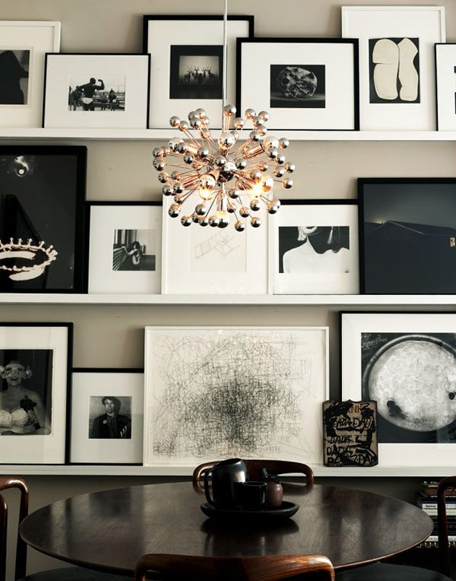 Photo by: David Prince Photography www.davidprincephotography.com/ Idea #2 - If you'd like to know how to make a wall collage out of photo canvas with a modern flair this is a great example of how to achieve that look. In this example, there are many different sizes of canvas along with different pictures on each one of them. In this example, you can create the pictures on canvas yourself, or have a professional like us take care of that for you. This collage has many different canvases that fit perfectly together to form a larger scale rectangle, showing how symmetrical the canvas collage is, while still using multiple canvases. This is a great easy way to display a photo montage of a family trip, or any other special occasion.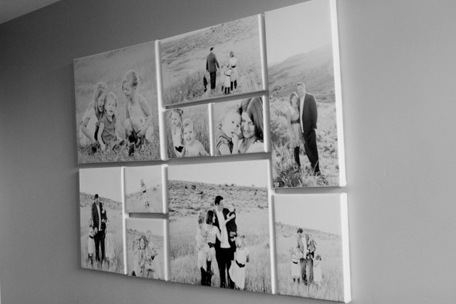 Idea #3 - This is a fantastic example of how to spice up your staircase with quirky pictures of your family! Again, this wall collage has a black and white theme, but it could easily be done with color photos too. With this collage you could have each strip of photos on one large canvas with the pictures going horizontally, or have multiple canvases to create the film strip photo montage. This is a great way to take up a large, very tall space with your favorite photos. Let us know if you need help with a project like this. We can help you size and layout the images so everything is perfect. However you decide to do it, you will come out with a fantastic staircase wall collage that all of your friends will envy!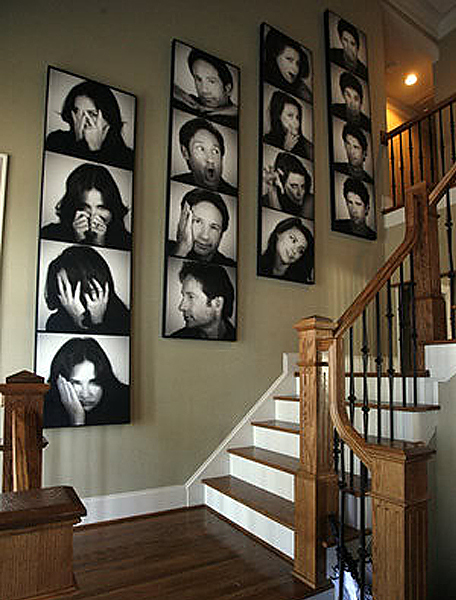 Idea #4 - Here's a great wall collage idea made with a mixture of framed pictures and other art pieces. For those of you who have that eclectic style, you will appreciate this wall collage. Some people may not think to incorporate framed pictures with paintings, but in this example they go together pretty nicely. This collage incorporates many different sizes and shaped pieces but ultimately coming together for one piece of wall art. While most collages have some sort of theme, this one really does not, but seems to pull it off just fine.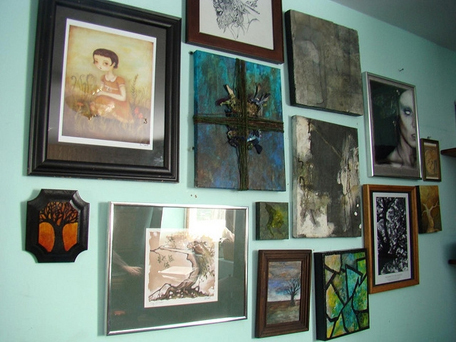 Idea #5 - Never know what to do with all those drawings your children have created for you? Here is an idea on how to put some of your favorite ones into a wall collage to display around your house. This is a combination of framed pictures that are all horizontal or rectangle to take up the tall wall space and create a fun collage. This would look perfect in a mud room like in this photo (below) or placed in your kitchen. You can do this yourself easily with just a few frames and some of your children's artwork they are always coming home with. You could also scan your pictures in to us and we could print them for you on canvas or on photo paper. But now you have the perfect idea of how to display all those pictures you've been saving!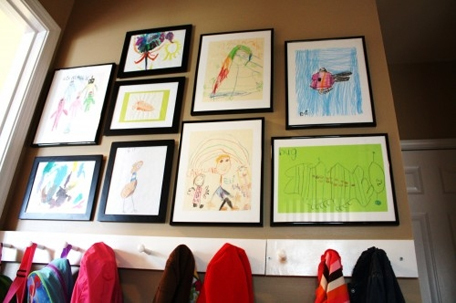 I pulled all of these ideas on how to make a wall collage with prints from our Pinterest page. If you want to see more great ideas take a peek at our page by going to:
http://pinterest.com/canvaspress
Photo Credits:
Idea #1
- comes from plastolux.com and the photo was taken by David Prince Photography
Idea #2
- comes from Jon and Leslie blog. It's a fun blog...check it out.
Idea #3
- comes from the set of the movie "The Joneses"
Idea #4
- comes from the Flickr stream of Nicole Resseguie-Snyder
Idea #5
- comes from houzz.com
This article is written for Canvas Press. To find out more about Canvas Press' products visit www.canvaspress.com.